Change dimensions on posted documents & transactions and update historical transactions with new dimensions.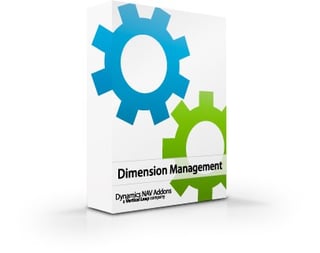 Add or change dimensions without having to reverse out and recreate documents and transactions.
Have the freedom and flexibility to create and assign new dimensions to customers, items, and vendors.
Report on historical data by updating dimensions.
Posted Transactions & Documents
Use this addon to add, change, or delete any dimension values on either posted transactions or posted documents. This is especially helpful when users accidently forget a dimension or assign the wrong dimension during posting. Users can update any transaction with new or corrected dimensions without going through the long, tedious process of reversing transactions and posting corrections.
New Dimensions on Historical Transactions
Reports are based on dimensions! If transactions are posted with incorrect or missing dimensions, reports will be inaccurate and worthless. Save time and money by simply making corrections!
Delete dimension related entries In ANALYSIS VIEWS and rebuild the data with corrected dimension values.
Simply Open a Document, Navigate on It, and Select "Change Dimensions".
OR
Batch Change Dimensions Multiple Documents using a Filtered List
All Ledgers are Updated!
All items In the NAVIGATE window are updated.
When you NAVIGATE on a Ledger Entry, all related entries are updated.
When Change a Dimension on a Ledger Entry but DON'T Navigate, Only the Ledger Entry is changed
Audit Trail
When users make changes to dimensions, a complete history of the change is retained. All historical information is available including:
When the change was made
Who made the change
What it was before it was changed
What it was changed to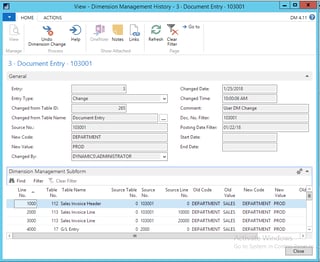 Safety
If a dimension value was changed in error, an "Undo" function is provided, which creates a reversing entry and restores the original values.
Users may opt to disallow changes to dimension value on data in "Closed Periods" to prevent altering published reports.
Ease of Use
By using Dimension Management, you can improve your analysis and reporting by updating dimensions. Save time and effort by updating old transactions with correct dimensions.