Empower Your Team with Business Central SaaS

, Microsoft's Cloud-Based ERP
Are you a small to medium-sized business that has outgrown your current accounting software solution? Look no further than the SaaS version of Microsoft Dynamics 365 Business Central. With innovative features and the ability to access your data any time and anywhere, Business Central is the cloud ERP solution you've been looking for.
Business Central is the next generation of the software known as Microsoft Dynamics NAV or Navision. It is an all-in-one business management solution, built with the Cloud at its core. It equips you to access your data wherever you need it. The best part: Business Central meets your specific business and operational needs. Our consultants and developers work with you to establish strategic goals and then mold your system to meet them.
No matter what industry you're in, Business Central SaaS is ready to help you gain data agility, flexibility, and efficiency with the Cloud.
Business Central SaaS in Action
This short demo illustrates Microsoft Dynamics 365 Business Central SaaS's main features, including Role Centers, Item Cards, Microsoft 365 integration, and more.
What Do You Need in Your ERP System?
Have you thought about all the features you want in your ERP system? Microsoft Dynamics 365 Business Central SaaS has a wide range of options, so you can build the model that fits your business best.
Innovia Consulting is ready to help you implement these Business Central functions and more:
Manufacturing
Distribution and Advanced Forecasting
Warehousing
Financial Management
Custom Development
Business Analysis
Service Management
Relationship Management (CRM)
ISV Solutions
How Does It Compare?
If you are like most businesses, you are thinking about Business Central SaaS as a replacement for your accounting system. Do you use QuickBooks or Sage at your business? If so, we've specifically narrowed down the reasons you should consider switching to Business Central. Each list comes in a convenient and free eBook that you can download, read, and share with your team.
Even if you decide now isn't the time to switch, these resources can prepare you for when that time comes.
Do You Need a New Business Central Partner? Would You Know if You Did?
Do you already have Business Central SaaS but aren't quite getting the results you hoped for? Or maybe you're happy with the system, but your partner doesn't provide the value you'd expect. Or are you not sure?
If you're struggling to decide, our guide to the top 5 Signs It's Time to Find a New Business Central Partner can help you determine if your partner relationship is part of the problem instead of the solution. You can download this FREE eBook today and equip your team to recognize the symptoms. Catch them early, and you can be proactive in seeking out the partner you need.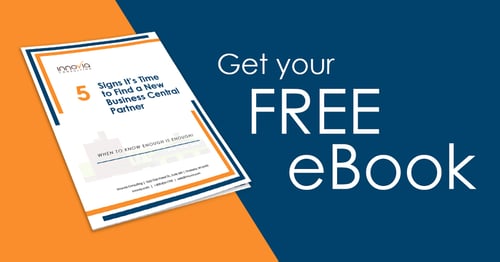 A Partner You Can Trust
We believe you should get top-notch service from your ERP partner and have your needs addressed promptly. We believe that your Business Central system should be right the first time, which is why we are willing to work for free to resolve an issue we made. And we believe in continuous improvement, which is why we provide free resources (such as blogs and webinars from our expert team members) so you get the most out of your business investments.
Since 1999, we've:
Worked with 100s of customers from all different industries and sizes.
Carried out an average of 25 Microsoft Dynamics projects every year
Completed 100s of upgrades and system integrations and 1000s of customizations
Innovia is a Gold-certified Microsoft Dynamics Partner and has been a key Microsoft Partner since 1984. Our consultants average more than eight years of ERP experience, so we really know how to make Business Central work for you.
We would love to chat with you about becoming your Microsoft Dynamics 365 Business Central partner. You can follow the link below to contact us today. Or you can email us at info@innovia.com or call us at 800-834-7700 to learn more. We look forward to hearing from you.