When you can't find what matters most, it's easy to feel lost. Even if you have ready access to your data, does it make sense? Or is it just an endless spreadsheet?
With Power BI, you can connect with your data wherever it is, relate it based on the keys you define, and then build striking visualizations that put this information into a form that allows you to draw insights from it.
The KPI dashboard of your dreams is here.
There's no end to small, repeating tasks that feel like a waste of your people's time and energy in every business—copying information from one place to another, sending notifications across different communication systems, and managing who's approved what and when are just a few examples.
Microsoft Power Automate allows you to remove this friction by letting you easily define rules, triggers, and actions across all the systems you use. Whether you want Business Central Approvals to be handled through Outlook, surveys to be distributed based on service case closures, or something as simple as automatically tweeting photos added to a SharePoint folder—Power Automate can help!
How Power Automate Connects with Business Central
Having a fantastic system like Business Central ERP is incredible for keeping information together and ensuring everyone's on the same page, but do you ever wish you could access something specific more readily? Or maybe interact with your BC data in connection with another system?
If you've ever thought, "What if it looked like that?" when looking at your business systems, Power Apps is the product for you. It streamlines the app development process by giving you intuitive no-code/low-code tools to build the app you always wanted.
How Business Central Integrates with Power Apps
More Insightful Data, Better Tools, and Greater Efficiency

with the Microsoft Power Platform
Data is everywhere, but are you able to use it effectively and efficiently? When you run a full-featured ERP like Microsoft Dynamics 365 Business Central, you have all the information you need in one place, but how do you access it and take action based on it?
There's excellent news for you! As a Microsoft product, your Business Central system is ready-made to connect to the entire suite of Microsoft tools, including the Power Platform.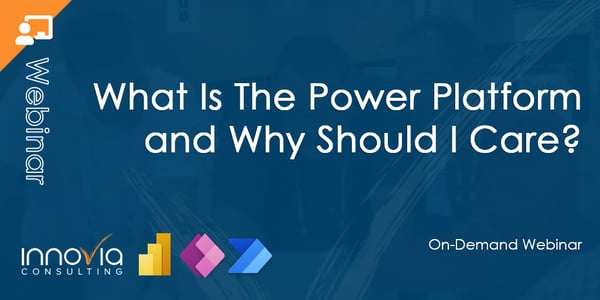 Think of Power Platform as the canvas on which you hold all the different paints of your data together. The colors can blend at the edges, showing where things connect. As the user/painter, you have visibility and can take action over the whole thing, and a change in one part can affect how another part behaves in intuitive ways.
Power Platform is a collection of four different applications that work together and with all your data sources.
Each of these products expands what is possible for your business and amplifies the contributions of each team member.
Innovia Power BI Reports
At Innovia Consulting, we developed a portfolio of reports in Power BI to help you see the meaning behind your data. With visualizations, tables connected to multiple data sources within your Business Central, and calculations of several KPIs built-in, these report packs can help you analyze your business operations and give you the information you need to make critical business decisions.
Our selection of templates can help your business visualize and monitor its data for accounting, purchasing, inventory, sales & marketing, & auditing. With 20+ templates currently available, you are bound to find several that meet your business needs.
Power Platform and Business Central
If you are already an Innovia customer or use Microsoft Business Central, you're probably wondering how Power Platform fits with this product specifically.
In short, the skies are truly the limits. With the ability to directly access Business Central data and use it elsewhere, we can help you do things like:
Take your approval process out of Business Central with Power Automate so that your approvers can respond to these requests without leaving Outlook. You also get a helpful Approval tracking page, so if you miss an email or need to catch up all at once, you can handle all your approvals in one place.




Track your most important KPIs from Business Central for Finance, Manufacturing, and more! Because your Power BI reports and dashboards get data from the source, you can ensure the data is fresh when you need to see it. Just a few of the possibilities include:

An Accounts Receivable dashboard to track outstanding invoices, who is paying late/early, and more.

A Sales and COGS dashboard to track your margins at any time.

An item price tracker that lets you know when your most recent purchase was outside the standard price you set in your system and which production BOMs include it so you can proactively make changes.
Allow your operations team to enter data from their work without needing to sit in front of a PC. Create a mobile app that gives them all the functionality they need to document their work right in your ERP. No more middle-man spreadsheets, external systems, or notepads!
These are just a few of the use cases we've seen for Power Platform with Business Central. As we talk to you, we'll likely come up with more. The true potential of Power Platform is that it can be tailored to meet your needs and built to handle your processes—all without losing the integrity of having the actual data in one ERP system.
Ready to Get Started? Innovia Consulting Can Help!
If you're ready to get the analytics, automation, and customized app solutions that will help your business work better, Innovia Consulting is here to assist you.
Innovia can provide the know-how to get you started connecting all the data sources that matter to you and developing the dashboards, apps, and automated workflows you need with its Power Platform specialist.
Like what you see and want to know if it is a fit for your business? Be sure to reach out to your Customer Success Manager or set an appointment with one of our solution specialists today.
See the Power
From impressive dashboards to easy-to-use apps. The Power Platform is customizable to your companies' unique branding
Power BI for Manufacturing