Dynamics ERP Software for
Made-to-Order Manufacturing
As a job shop or made-to-order manufacturer, you operate in a highly fragmented, unpredictable landscape. It's just part of the job. But all the different variables, such as changes in energy prices, construction spending, and commodity prices, make it easy to feel like you're not the one in control.
Let Microsoft Dynamics 365 Business Central (formerly known as NAV or Navision) software help disarm this volatility with a single system that connects all the moving parts of your business. This best-in-class ERP system streamlines everything your business does, including quoting, order entry, inventory control, production, labor collection, shipping, invoicing, and more. This synergy drives productivity, improves decision making, and generates value for you and the business. Most of all, it puts you back in control of your business.
Microsoft Dynamics 365 Business Central lets you deliver on-time while minimizing inventory levels and the number of unfinished products. It is a complete, quote-to-cash software solution that fully integrates into just about any software you need it to.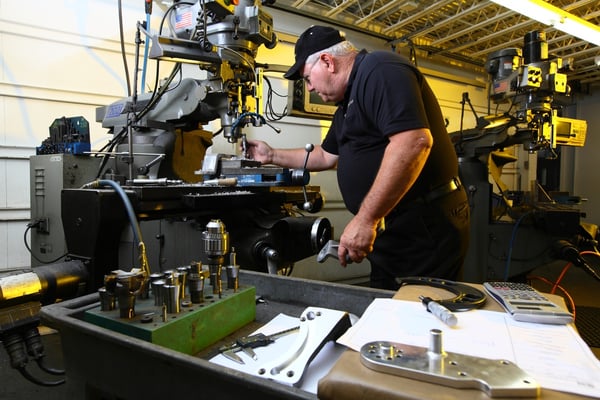 Do I Need an ERP at My Job Shop?
An ERP system like Business Central can help just about any business succeed, but as manufacturing expert John Grant argues, it may be more pivotal to job shops than other type of manufacturer. The fast and unpredictable nature of these operations puts tremendous strain on both material resources and staff, so anything that makes information more challenging to access and share is going to be a significant hindrance.
Grant offers five questions to ask yourself to determine if it is time your shop implemented an ERP solution.
Do you struggle getting the inventory visibility you need to ensure that demand can be satisfied?
Are you entering the same information into several different systems or spreadsheets?
Are your quotes and cost estimates inaccurate and taking too much time to generate?
Do you have difficulty getting the job costing information needed to make timely decisions?
Are you concerned about the ability of your existing financial/accounting system to fit your future business needs?
If you answered "Yes" to any of these questions, it is time your business put an ERP system in place, and Business Central is one of the best options for your industry with its unparalleled flexibility.
Powerful Tools at Your Fingertips
Because so much of what you do is custom and order-specific, it is not enough to create a single production line and let it go. You need the ability to manage a staggering amount of variables and keep up with design specifications at each step of the process.
To meet these challenges, Microsoft Dynamics 365 Business Central gives you features like:
Automated Estimates
Quick Conversions of Sales Orders
Optimized Costing
Dynamic Run Planning
Shop Floor Level Scheduling
Just-In-Time Job Generation and Inventory Restocking
Automated Shop Floor Labor Collection
Automated Material Requirement Planning
Together, these tools help you achieve real-time job tracking so that nothing falls through the cracks, your team is ready for the next job each time, and your customers are happier with faster production and fulfillment.
Cost-Savings Across the Board!
With the power of Business Central, you can finally take control of your costs and revenue generation. You avoid costly mistakes--such as quote, estimate or shipping inaccuracies--and reduce bottlenecks by efficiently managing inventory and production.
These measures lead to:
Higher profit margins
Better staff productivity
Improved cash flow
Freed-up capital to use elsewhere in your business.
Perhaps you will finally be able to invest in those engineering projects you have on the back burner to improve your product offerings.
We Help You Integrate and Automate Processes
With the expertise of Innovia and the capabilities of Microsoft Dynamics NAV, we've continued to be very competitive in the market while saving a huge amount of operational costs. We couldn't have done it without Innovia's guidance and owe much of our continued success to the Innovia team.
Mary Lowe Lowe Electronics

We've Got Your Back with Business Central Support
Just like the products you produce, your job shop itself is unique. We know this and let that reality guide our entire process. We invest the time to understand every aspect of your business before we build your ERP project. Because Innovia has been a Microsoft Dynamics Partner since 1984, we have the experience to back our recommendations.
We know Business Central / NAV so you don't have to. Let's get to work.