Customer Voice Brings You the Survey Feedback You Ne

ed

The first step to improving something is to learn what can improve. Every business today operates in what has been called a customer "experience economy." In this model, companies that pull ahead of the competition don't do so by offering the lowest prices or the most advanced solutions; they differentiate themselves by how the customer interacts and does business with them—both interpersonally and technologically.

With this new paradigm, it's no surprise that feedback has become a treasured commodity, and one of the most cost-efficient and successful ways to gather that data is through surveys.


Learn more about Customer Voice by watching the video below:
Why Surveys?
Every organization has someone they want to get feedback from—customers, vendors, employees, shareholders, donors, or anyone else. Surveys have the advantage of being:
Easy to distribute and (hopefully) easy to respond to.

Able to provide both quantitative and qualitative feedback.

Accessible technology, with many options for how to conduct them.



What Is Customer Voice?
Customer Voice is a Microsoft survey platform built into Dynamics. It uses data you already have in a Dynamics 365 Customer Engagement system or in Microsoft Dataverse to segment your survey audience and personalize the surveys to encourage a higher response rate.
In turn, once you get a response to your survey, it's stored in Dataverse so you can easily reference it within:
Your CRM

Power Apps

Power Automate

Power BI

And more!



Where Does Power Platform Come In?
You can use Customer Voice without it and send surveys directly to your stakeholders, but Power Platform makes this process even better.
Imagine you had a customer who purchased a product that you were trying to decide if you should keep as is or make changes. You need feedback.
What if automatically, after two weeks of the ship date, your customer gets a survey to see what they think? No one has to remember to do it; it just happens with Power Automate.
Imagine, too, that you sent a quarterly satisfaction survey to your customers and one of them responded that they were very unsatisfied with your service. Traditionally, you may not have been able to respond until you sat down to review your results manually. With Power Automate, you can get a Teams notification immediately when this happens, email a supervisor, or do any number of tasks within your CRM. All automatically, as soon as the survey comes in!
Use Your VOICE
Of course, just because you can create a survey doesn't mean it will be a good survey. At Innovia Consulting, we can help you build your surveys both from a technical side and according to best practices. We're lucky to have talented staff members who have worked on scientifically-built surveys for decades. Including:
Mary Malone, for over 20 years, Mary has been a senior executive in two of the leading survey companies in North America. She brings a wealth of experience to Innovia customers. Mary provides your company with expertise, practical guidance, and a passion for improvement...
Dan Drubert joins Innovia from the world of surveys. He has experience working closely with Mary in his previous role. Dan collaborates with executive teams to help provide in-depth analysis of survey data and distills this information into actionable insights.
As you can see, the Innovia Customer Voice team will provide your company with decades of experience through a team that has developed synergies in the approach to survey execution through close collaboration.
What's the process to build a survey, according to this team? It comes down to using your VOICE.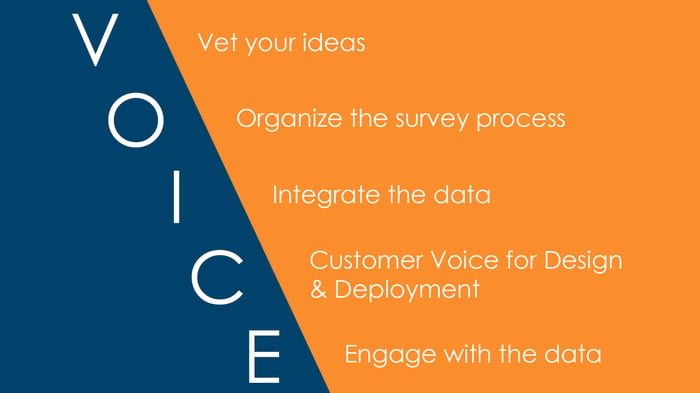 Learn more about each step in the use your VOICE process by watching our series of videos below.
Customer Voice Pricing and Packages
Customer Voice is included in Dynamics 365 Customer Engagement subscriptions (please note that this is a different platform than Business Central). If you do not own Customer Engagement, you can still purchase Customer Voice for $200/tenant/month for 2,000 responses each month (with the option to add more at a reasonable rate).
Our three main packages and additional offerings are outlined in the PDF Below
To get the most out of Customer Voice, we also recommend having an active Power Automate and/or Power Apps subscription, either separately or through your Microsoft 365 package.
Learn more by reaching out to your Innovia Customer Success Manager, or if you don't have one, fill out the short interest form below, and we'll reach out.