Ready to Empower Your Business with the Cloud?


Azure is an Industry Leader
If your business is fighting with expensive on-premises servers or scrambling to find ways to allow your team to access your data anywhere and from any device, you may be considering a move to the Cloud. This topic becomes a crucial one when it comes time to purchase new servers or upgrade Microsoft Exchange. If you are doing the math and thinking a Cloud migration might be the best path forward for your business, consider Microsoft Azure as your platform of choice.
Read on to discover what makes Azure unique and why businesses large and small trust it to host their crucial applications, including Microsoft Dynamics 365 Business Central, Microsoft 365, and much more!
What is Azure?
Microsoft Azure is a Cloud computing service created by Microsoft to build, test, deploy, and manage applications and services through a global network of Microsoft-managed data centers. Simply put, your data is stored on servers in someone else's building that they pay to maintain. You can access everything remotely anytime and anywhere you have an internet connection. These servers are backed by the billions of dollars Microsoft has spent in research and development. You won't find a more secure, robust, reliable Cloud than Microsoft Azure.
Why Should My Business Choose the Cloud?
If you aren't yet convinced that the Cloud is right for you, here are a few points to consider.
Moving to the Cloud allows you to focus on your core business rather than managing an IT business. Managing your own servers and internal network takes financial resources and labor that could be repurposed to other facets of your business.
Upgrading your servers can be a costly task. If you are already looking into adding or replacing servers, now is the perfect time to see if the Cloud is a better fit.
Are You Ready to Get Out of the IT Business?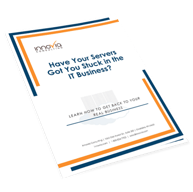 If that question sounds a bit strange to you, consider this: with all the servers you need on-site, how much of your company's budget goes to running servers and not running your business?
If you're looking for a better way, Azure is it! Get your free eBook to discover how to get out of the IT business and into your business.
Why Azure?
If you decide that the Cloud makes sense for your company, Innovia believes Azure is worth your consideration. As the fastest growing Cloud infrastructure platform that is also owned and managed by the largest software company in the world, Azure is a robust, secure option for all your Cloud needs.
In Microsoft's own words
"Azure is an ever-expanding set of Cloud services to help your organization meet your business challenges. It's the freedom to build, manage, and deploy applications on a massive, global network using your favorite tools and frameworks."
Azure is backed by industry-leading security, built from the ground up to keep your data secure. Its proactive compliance is trusted by organizations as diverse as enterprise businesses, governments, and startups. All of these great features are backed by a team of experts from both Microsoft and Innovia Consulting.
How Much does Azure Cost?
Great question! One of the key benefits of switching to Azure is that you pay for what you use. With on-premises servers, you often find yourself in a situation where you "overbuy," purchasing more server capacity than you need because you think your loads might increase before your next refresh or you want to prepare for possible spikes.
With Azure, you pay for what you use, so your cost goes down when your loads are light. When they increase, you pay more, but only as long as you need the extra resources. Microsoft has built a helpful tool to give you an accurate, customized cost estimate. You can find that price calculator here. You can also contact Innovia, and we would be happy to have our network engineers help you through the process of determining how much an Azure Cloud platform will cost you to deploy and maintain. We think you will be pleasantly surprised by how inexpensive it can be!
What If I Work in the Government or at an Agency that Serves a Government Entity?
Microsoft understands that government bodies and those that work with them require enhanced security and compliance. That's why Azure now offers a Government Cloud solution, and Innovia Consulting is one of the select few Microsoft Partners that can service it. The Azure Government Cloud is the right choice when you need top-of-the-line data security.
Contact Us to Learn More about Azure
Reach out to your customer engagement specialist today to get started with Azure. Don't have one? Contact us by phone at 800-834-7700, email sales@innovia.com, or follow the link below to a short contact form. We look forward to helping you configure Azure for your business's unique needs.