Business Central On-Premises

partner Innovia is here for you!
Are your IT systems disconnected? Is crucial company data hidden in an endless list of spreadsheets? If so, you may be dreaming of a system that keeps your information in one place so you can access it without fuss to find the answers you need and move on with your day. That's where Microsoft Dynamics 365 Business Central comes in.
Available as both in Software-as-a-Service (SaaS) model and on-premises, Business Central is the latest version of the popular Microsoft Dynamics NAV (formerly known as Navision) platform. It is a modern ERP that connects with all the latest Microsoft products seamlessly, allowing you to do things like tackle sales orders from your Outlook inbox or visualize your transaction histories in Power BI.
You also have access to Microsoft Partners like Innovia Consulting, who can help you plan how your system should work, determine the correct specifications to accomplish your goals, and implement it all--on time and on budget. Unlike some solutions that require you to hire an expert, your Business Central partner builds an excellent system and provides the support you need to keep it that way.
What functionality does Business Central On-Premise Include?
Microsoft Dynamics 365 Business Central on-premise has many modules that cover specific business functions, including:
Financial Management
Manufacturing
Distribution and Advanced Forecasting
Warehousing
Service Management
Relationship Management (CRM)
And many more!
While this list might seem extensive, there are even more possibilities with third party app (TPA) add-on solutions. Business Central is one of the most highly customizable systems out there, with a thriving market of independent software vendors offering solutions that further extend your ERP functionality. From EDIs to sales tax to payroll, the options are nearly limitless. This flexibility allows your Business Central deployment to encompass all your data needs.
How Much Does Business Central On-Premise Cost?
Two factors go into Business Central On-Premise pricing:
Licensing
Your partner's service rates
You can find our most up-to-date service rates here.
Depending on which modules and license type you choose, Business Central licensing prices vary; however, they are highly affordable for most businesses. In general, the most significant influence on your overall cost is the number of users, but you can find the latest rates on our pricing page.
Why Should My Business Choose Business Central On-Premise?
The cloud seems to be everywhere in technology today. It is the latest way to build applications and, therefore, gets a lot of attention. However, we have found that, while many businesses thrive in a SaaS environment, certain factors do make an on-premises deployment more appropriate to a specific company.
On-Premises can be the right choice for you if:
You need complete control over when and how updates occur, particularly if you are running custom software that connects with your ERP.
Your data expenses are fixed, and you do not want to risk increasing costs due to higher consumption.
You have an unstable internet connection at your location.
You can read more about the pros and cons of SaaS vs. On-Premises vs. Cloud hosting (a third, hybrid option) in this recent blog post.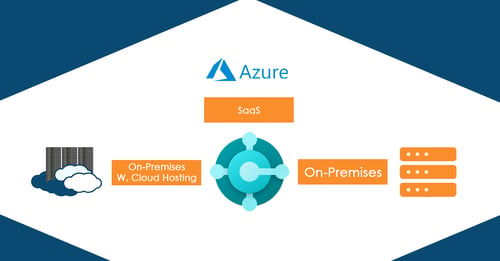 What If I Already Have Business Central On-Premise? Can Innovia Help?
Yes, we can help.
Changing partners is easy with Business Central, so we would love to talk to you about your goals. No matter how far along you are in the process, we can step in with our expert consultants and developers to solve any issue you've been facing.
Since 1999, we've:
Worked with 100s of customers, focused on the manufacturing, distribution, and food industries.
Carried out an average of 25 Microsoft Dynamics projects every year.
Completed 100s of upgrades and system integrations and 1000s of customizations.
We work closely with Microsoft to improve your Business Central experience every day. Our experienced consultants average more than eight years of ERP experience. Most were users like you before becoming Dynamics professionals, so they know what you're going through.
Not Sure If Your Ready to Change Partners?
It's not easy to know if it's time to change partners or not. That's why we compiled a free resource guide, 5 Signs It's Time to Find a New Business Central Partner. It helps you determine if your relationship with your partner has run its course. Then you can make the best decision for your business--whether that's to leave or to stay.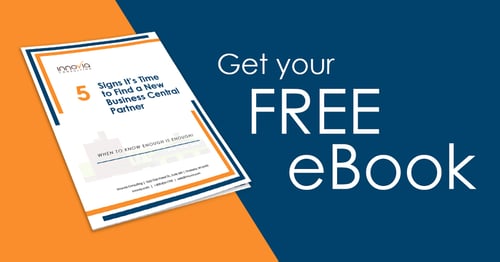 Is Business Cetral on premise and a partner like Innovia right for my business?
If you've gotten this far, then chances are you have an interest in Business Central On-Premises. So why stop the conversation now?
We would love to chat with you about becoming your Microsoft Dynamics 365 Business Central partner. You can follow the link below to contact us today. Or you can email us at info@innovia.com or call us at 800-834-7700 to learn more. We look forward to hearing from you.