When it is time to set up your Dynamics 365 Business Central system, one of the crucial first questions is how you will deploy it. With older versions of Dynamics NAV and Navision, you would always need to provide adequate IT infrastructure at your facility to support the system. For most businesses, this requirement took the form of a server closet or room, where they had the physical server(s) stationed on-premises. With Business Central, though, you have more options!
First of all, I want to acknowledge the expertise of my team, Team Endeavor. They helped me put together and verify the information in this blog. It's an honor to work with such a talented group of BC/NAV professionals!
Let's explore three different models for deploying your system and why you might choose each one over the others. Although almost 90% of new Dynamics 365 customers today choose an "in-cloud" deployment, where your system fully lives within Microsoft's Azure infrastructure, both on-premises and on-premises with Cloud hosting options have their advantages for some businesses.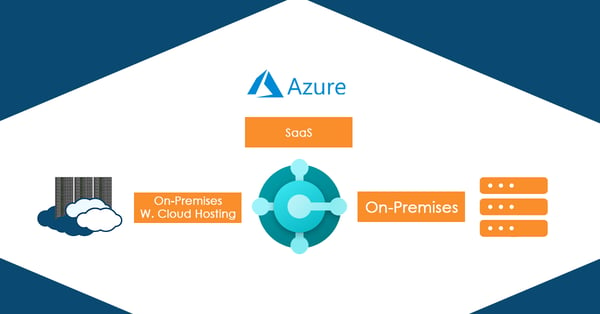 Full SaaS Implementation

In a full SaaS implementation of Business Central, your entire system and database are hosted within Azure. This option has many significant benefits, including:
You minimize the amount of hardware and IT expense on server maintenance.
With servers out of your building, you don't have to buy the expensive hardware and refresh it when it reaches end-of-life. Your IT team can focus its efforts on strategic initiatives instead of keeping the infrastructure running.
You eliminate costly upgrades because Microsoft releases major updates twice per year.
Microsoft applies SaaS updates with minimal intrusion into your operations.
You gain the full strength of Microsoft's information security and data protection.
As one of the largest software companies in the world, Microsoft has invested heavily in security. When your system is in Azure, you benefit from this investment with cutting-edge protection, which continually evolves to outsmart cyber-criminals. Approaching security at this same level on their own is out-of-reach for most businesses.
Your system has a series of fail-safe and disaster recovery services.
Azure's data centers work together to ensure your data is backed up and can be recovered no matter what. Regional outages and disasters have minimal impact on your access because Azure's global network keeps you online no matter what.
You have access to built-in AI capabilities.
Microsoft is a leading researcher into new AI technologies, and as an Azure customer, you have access to this power to analyze your data. The list of Azure services grows all the time, so if there's something you want to know about your information, likely Microsoft's AI features can help you find it.
Your apps and tools in the Power Platform work seamlessly.
Your developers will love how easy it is to connect their Power Apps applications, and Power Automate will help your team do more in their day. Power BI works faster with data on Azure, too.
Full On-Premises Deployment
In contrast to SaaS, a full on-premises deployment keeps your system on your servers. You must manage your hardware, security, and updates mainly on your own; however, it could be the right choice for your business if any of the following scenarios are true for you:
You need to ensure complete ownership of business information.
While certainly not foolproof, hosting data on your server ensures that you fully own it. You have the physical storage where the data is kept, so you decide how and where it is stored and what protocols control its access.
You want to manage updates and upgrades on your schedule.
For many businesses that work with outside software, the team must know that an update is coming to adjust everything else that depends on it. With on-premises deployments, your updates don't happen until you apply them. You have more control over when they occur, even though they tend to be more costly than with SaaS.
You need the flexibility to hire 3rd party vendors or use internal resources to support your environment.
Since an on-premises server is your hardware, you choose who will service it with or without Microsoft's input.
You have unstable internet connections or need to ensure the system runs during an outage.
With full on-premises, your internet connection is less important. Your system can be accessed over the internal network even if the internet goes down. If this is a frequent problem for your business, on-premises may make more sense.
You need complete control of data storage expenses.
While it does tend to be more costly, you can ensure a more exact figure for your data storage expenses using servers you own. Because Azure scales up as you do, your costs increase with usage. With a server, your price is more fixed, which may make more sense to some businesses. You have to weigh whether you value more the predictable cost of on-premises or the ability to scale up on SaaS.
On-Premises with Cloud Hosting
If you're leaning toward on-premises, there's another option worth considering that can minimize some of its drawbacks. By choosing Cloud hosting, you maintain data on your servers but have some of the pros of SaaS as well, including:
Support
With Cloud hosting, you have access to Microsoft's support team. They are available 24/7 to help you solve any issue you might face. If your IT team isn't equipped to respond to hosting support issues, this benefit can be significant.
Mobility
One of the most significant benefits of SaaS is accessing data anywhere. When you host your on-premises deployment in the Cloud, you also can access your system as long as you have an internet connection, giving you added flexibility for remote work or field assignments.
Security
You tap into Microsoft's advanced threat detection capabilities with Cloud hosting. You also get the option to backup your data, a critical factor for businesses located in areas with a high risk of flooding, hurricanes, wildfires, or other natural disasters.
Scalability
Your hosting costs can move with your demands and adjust to your fluctuating business needs and busy/off-seasons.
Need Help Deciding? We Can Help!
I hope this exploration of three different deployment strategies for Microsoft Dynamics 365 Business Central has been useful to you and pointed you toward the option that works best for you. However, we find that many businesses are torn between multiple choices.
If that's you, no need to worry! Innovia Consulting has helped many businesses make this decision strategically. Consider scheduling a Planning Engagement, where we sit down with you to study your system, business processes, and more to ensure you get the right deployment to meet your needs.
If you're currently running a Dynamics 365 Business Central or NAV system on-premises, you also have the opportunity to participate in a free Microsoft Migration Assessment. Learn more about this special offer in our recent blog post.
Are you interested in learning more about what Azure has to offer? Visit our product page or contact your Customer Engagement Specialist to get more details.