Track and collect overdue accounts and manage the collection process.
Reduces accounts receivable balances and increases cash flow.
Collection responsibility may be assigned to named individuals.
Instantly identify overdue invoices.
Use the built-in Contact Manager to track and resolve each outstanding invoice.
Comprehensive management oversight functions.
A three day reduction in your Average Days to Collect translates to approximately $8,000 of improved cash flow per million of gross revenue.
Exception List
An Exception List displays all overdue invoices, unapplied payments, and unapplied credit memos related to an account. Accounts may be assigned to an individual Collection Representative or workgroup. The Exception List can be viewed as "To Do" list with constantly updated activity due dates.
The Exception List can be used by managers to monitor and control the collection process.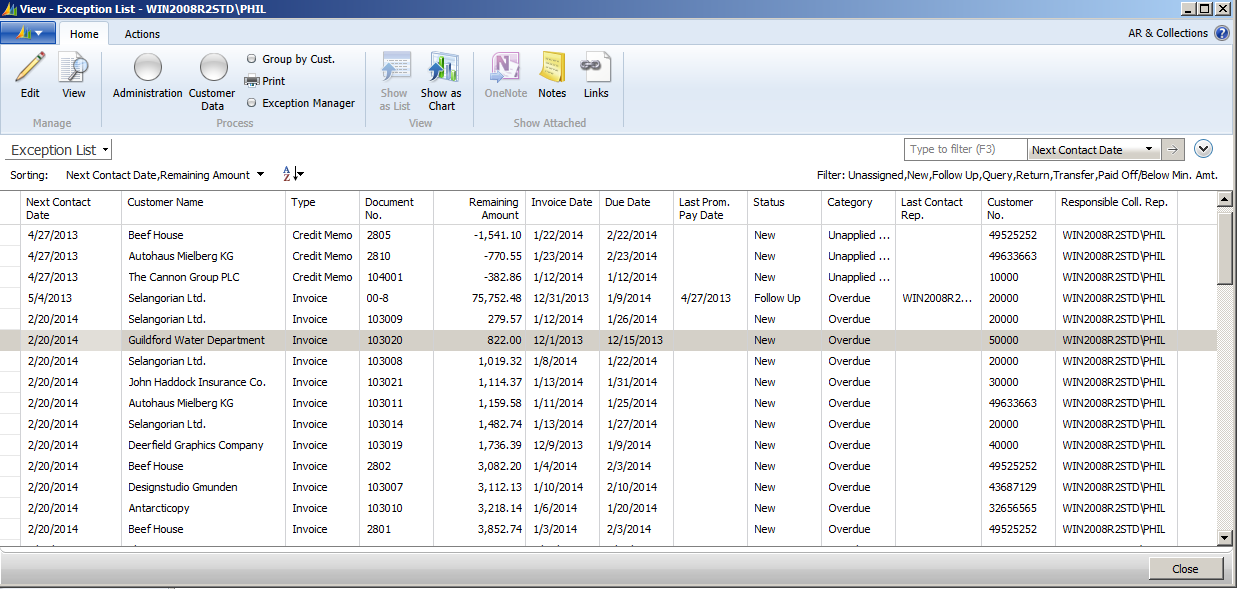 Filter the list to key in on any metric.
Exception Manager
The Exception Manager provides the same general functionality as a Contact Manager, but is geared specifically to the
collection requirements.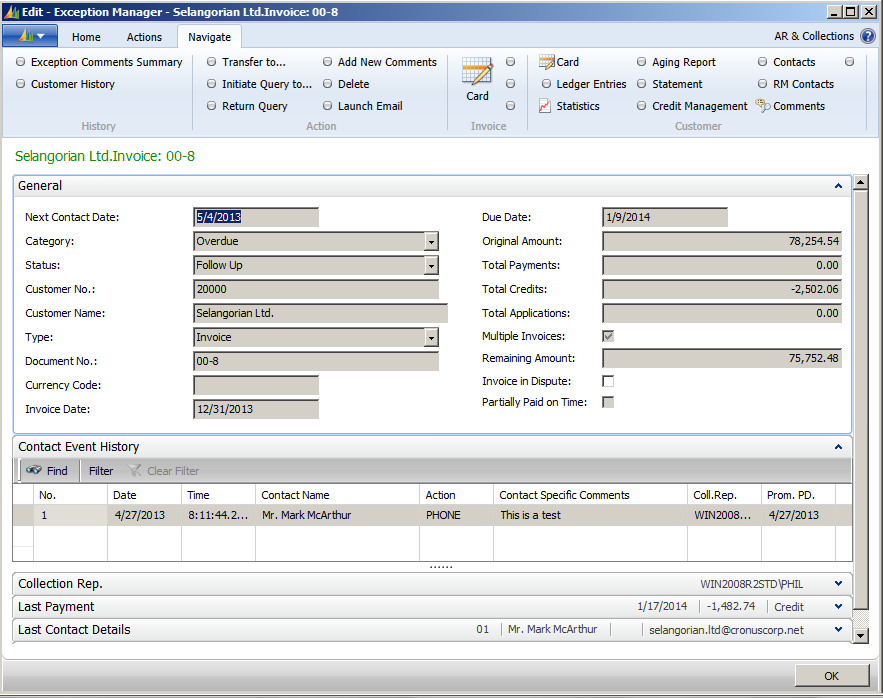 Collections Representatives can access customer's complete payment history, aging reports, open sales order and invoice details, NAV's Credit Manager and other critical information from one access point. Users can reprint invoices or statements and access e-mail from within the application, as well as comments recorded during previous contacts.
Once a contact has been completed, a Next Contact Date is assigned and the invoice is assigned a new position in the Exception List depending on this date. If a customer disputes an invoice, even though it may not be overdue, it can be moved to the application automatically.
Trigger Points
Trigger points determine when an overdue invoice will be added to the Exception List for collection activity.
A default, global Trigger Point (Invoice Due Date + X Days) can be defined for all customers, or specific Trigger Points can be assigned to individual customers.
Users may group invoices from customers so that a single call can be made regarding all overdue invoices.
Categories of payment history can be created so that customers who are chronically late can be contacted sooner than customers who, on the average, are not late.
Partially-paid invoices, customer chargebacks and unidentified payments can be displayed immediately in the AR & Collections Manager rather than waiting for an invoice to become overdue.
Exceptionally large invoices can be treated differently from regular invoices.
Once contact has been made, a follow-up activity is automatically scheduled. If payment is made, the invoice automatically drops off the list.
Occasionally customers, for one reason or another, do not pay their invoices in full. This may be due to disagreements about pricing, damage in shipping, missing merchandise, refusal to pay shipping charges or sales tax, or many other reasons. This causes a lot of extra work for the accounting department to identify and handle these Issues. This process is streamlined in the newest release of AR & Collections Manager
Accounting posts the Cash Receipts journal using a REASON CODE to describe why the Invoice was not paid in full.

Whenever the REMAINING AMOUNT of an invoice is less than the original invoice amount, a line will appear In the Exceptions List indicating that the invoice was paid short, the reason for the short pay, and the remaining amount.

The collections rep may elect to pursue payment in full or to write the amount off by placing a check mark in the WRITE OFF column and clicking on the WRITE OFF button in the ribbon. A Journal Entry is created in the exact amount that will zero out the balance with the application already set. The journal may then be reviewed and posted. The posted entry will contain a REASON CODE of "Write Off" for future analysis.