Even if you have already looked at which type of user licenses you need for every member of your team, there is still an important decision you have to make about your Microsoft Dynamics 365 Business Central or NAV system: your functional licensing.
Functional licensing is exactly what it sounds like. It determines the level of function you get with your Microsoft ERP solution. This can be a little confusing at first but here's an easy way to remember the difference between functional and user licenses:
Functional Licensing determines what your entire company gets with Business Central/NAV.
User Licensing determines how much of this functionality each individual person at your company has access to.
Microsoft Dynamics 365 Business Central and Microsoft Dynamics NAV each offer a different approach to functional licensing. Let's start with NAV.
Starter vs. Extended Pack in NAV
Functional licensing in NAV works like building blocks. Each time you add a piece it simply adds on to your existing purchase. That means that, regardless of if you choose to purchase the Extended Pack or not, you will be purchasing the Starter Pack.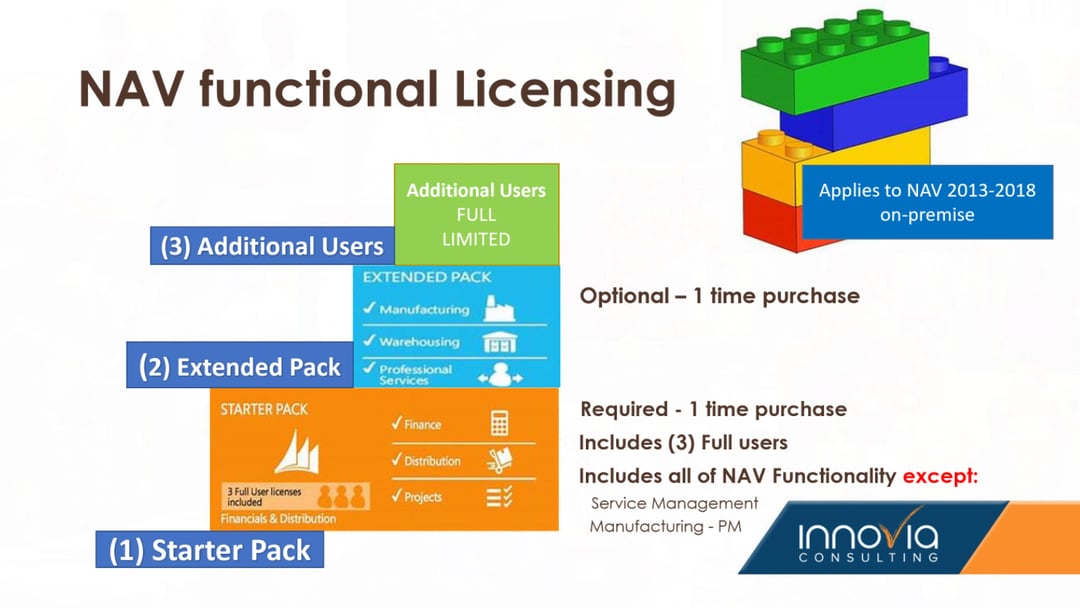 Starter Pack
The NAV Starter Pack license is required for every NAV system and is a one-time purchase. It acts as the baseline version of NAV, and it includes three Full user licenses.
The Starter Pack gets you all the functionality of NAV except for:
Service Management
Manufacturing - PM
Warehousing
Extended Pack
The Extended Pack in NAV, by contrast, includes all three of these areas. Really, if you are not needing access to these specialized functionalities for your business, there's a good chance you can simply purchase the Starter Pack. The beauty of the building block structure is that if your needs change and you need these functions added in the future, it's an easy process to upgrade.
The Extended Pack does not include additional user licenses, so at this point, you will need to purchase all the user licenses you need separately, whether you are on Starter or Extended Pack. That pricing is shown below.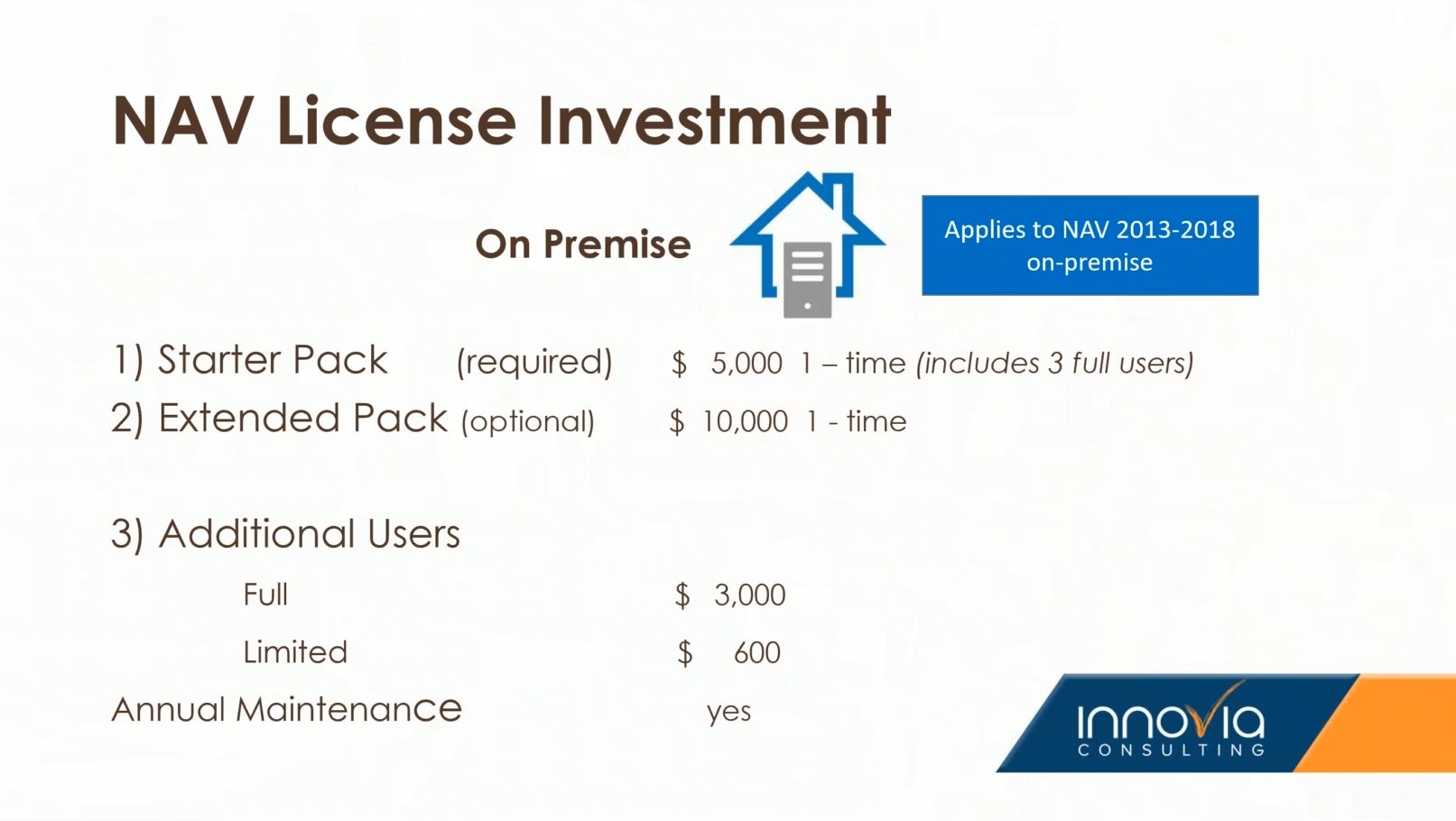 Essential vs. Premium Users in Business Central
Turning to Business Central, functional licensing looks a little different. Instead of being a "pack" the functional licensing is tied to user type. Thus, your users are either Essential users or Premium users.
Here's something to keep in mind, though. Even though this functionality is tied to user type, you cannot mix and match functional licensing in Business Central. This means ALL your users are either essential or premium, and even if one or a few people need the Premium features, you need to upgrade everyone.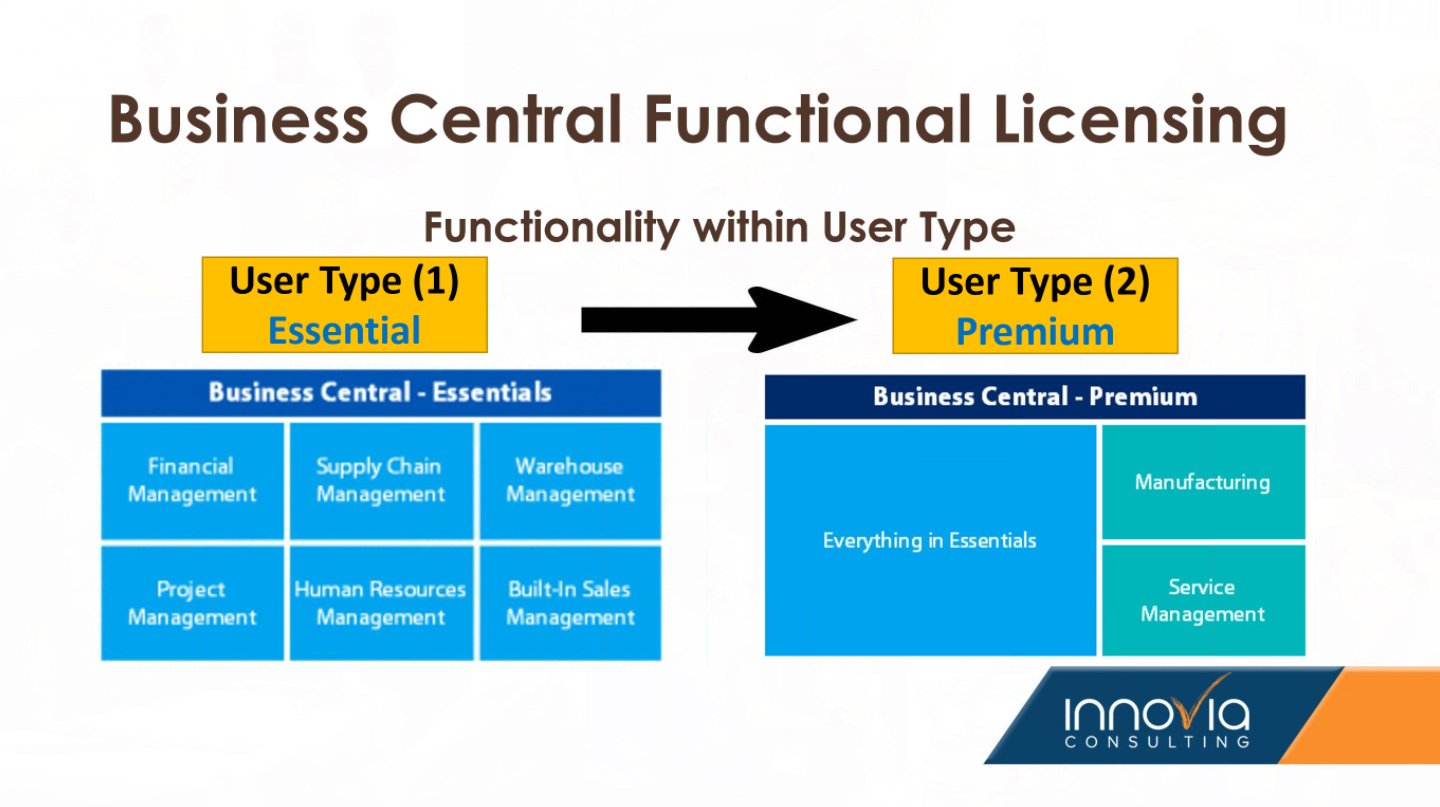 Essential
Much like the Starter Pack in NAV, Essential users in Business Central get most of the functionality of the product. This functionality includes:
Financial Management
Project Management
Supply Chain Management
Human Resources Management
Warehouse Management
Built-in Sales Management
Premium
Premium user types get everything an Essential user gets, as well as:
Manufacturing
Service Management
Again, my advice to you is simple. Look at what you need to do in your system and choose Premium if what you need to do is not included with Essential functionality. After all, why pay for something you won't use? A breakdown of the costs broken down by Essential vs. Premium users, as well as the comparison to Team User licenses, is shown below.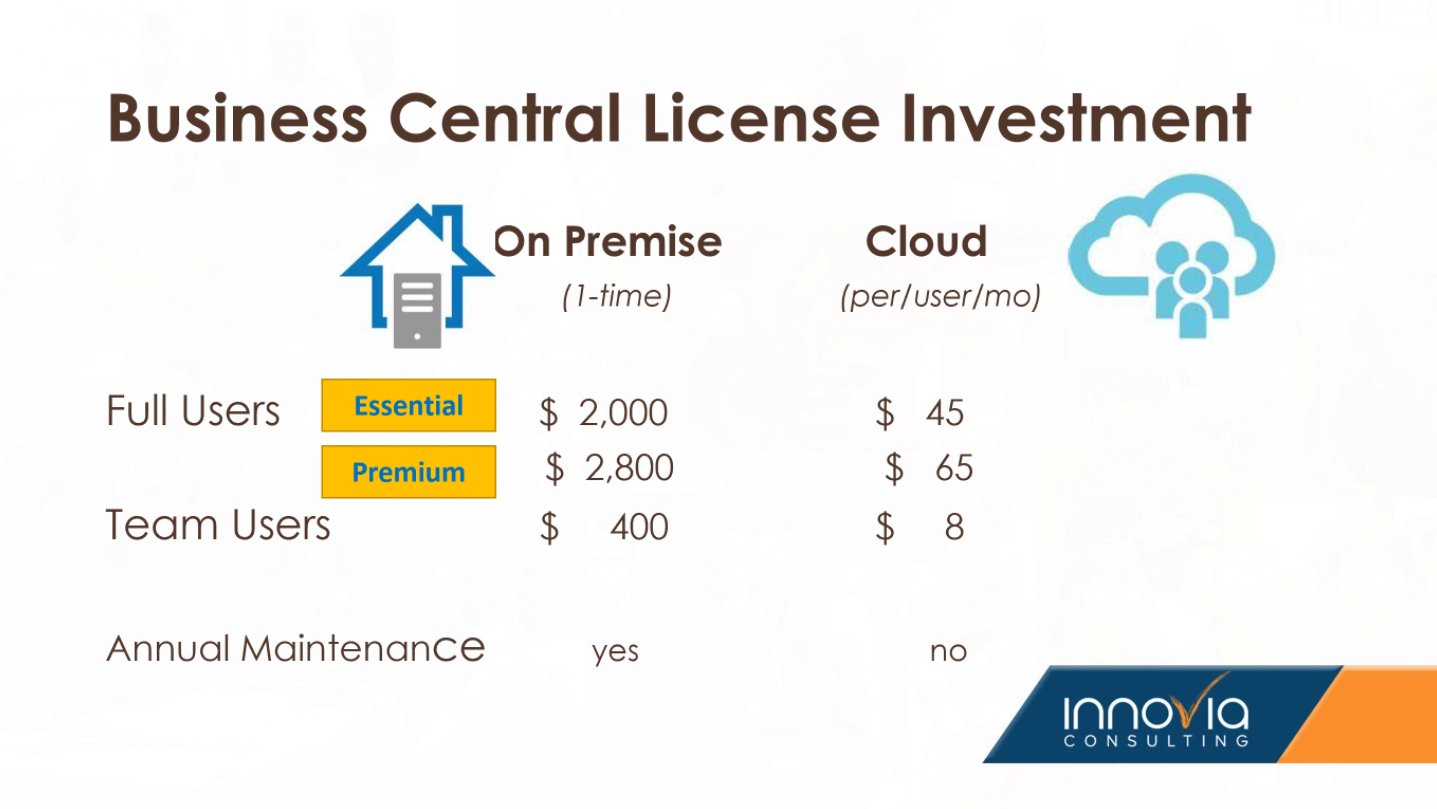 Still want to learn more?
If you've read through this blog and still want to know more about functional licensing in NAV and Business Central, fill out the short form below to view my recent webinar on this subject on-demand. In it, I go over these differences with additional commentary and questions.