If you're on NAV 2013 or later you've probably noticed that way over in the right hand corner of the ribbon, on list views or record card views, there is a button for OneNote. If OneNote has been enabled, it will be highlighted, as in the picture below; if not, it will be grayed out.

I've found many people don't really know much about or use OneNote, so I thought it would make sense to talk about OneNote and some of its capabilities.
OneNote, at heart, is just "a good, old fashioned paper notebook" in electronic form. It's been part of the MS Office package since 2007 and a version has been made free to everyone since 2013. The functionality has gotten a whole lot deeper and richer over the years (it competes with other, very similar tools like Evernote, so there is a need to keep extending functionality). And, importantly it's now cross-platform – mobile phone, tablets, and Macs, with a rich feature set on most platforms. I've actually taken meeting notes with OneNote on my iPad while running a web meeting on my Surface – when the meeting is done, they're already synched to the Surface.
You should know that starting with Windows 10, there are two versions: OneNote - a new app on Windows 10, installed with OS, which works with any PC, tablet, phone or Mac, and OneNote 2016 – sold with Office Suite and compatible with earlier versions of Windows. So if you're an Office365 user on Windows 10, you'll have both.
The differences are not easy to summarize. But, they are spelled out very well in this support note . The good news is that you can use either one or both. But, as the support note points out, newer features are showing up in OneNote so pay attention to it even if you prefer OneNote 2016.
Whether or not you end up using OneNote with NAV, take a look at it for organizing, managing and sharing notes. One feature I'm particularly enamored by is the inclusion of meeting details from the Outlook calendar – details and a little Notes header come in automatically, plus the title of the meeting will show up as the title of the OneNote page: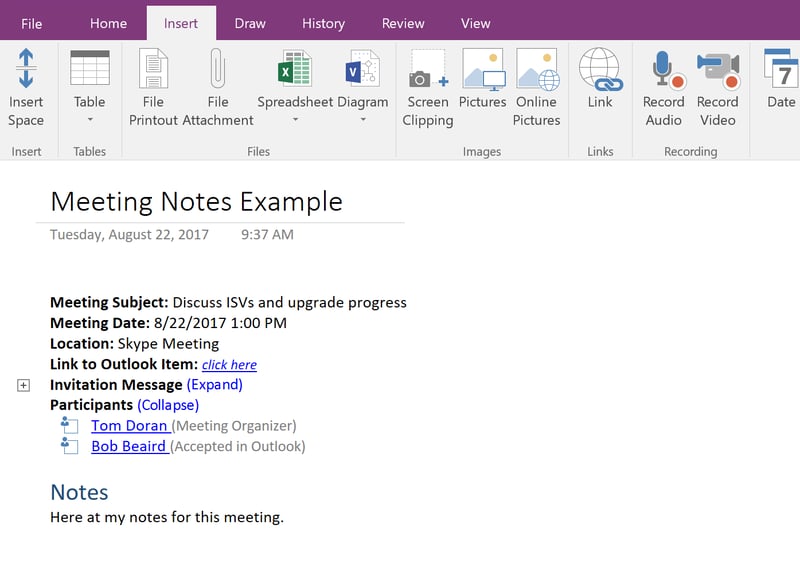 Another feature I've found useful is that you can insert objects of all kinds, including Office suite objects like a Visio diagram, and edit them: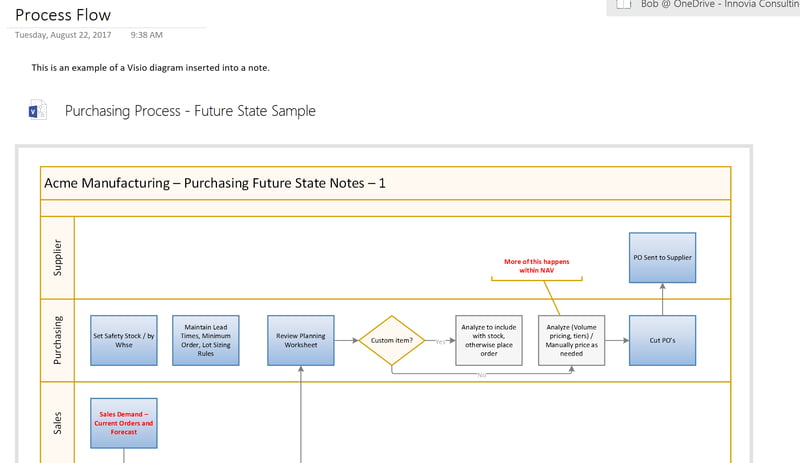 And, in OneNote 2016, you can use page templates if you like: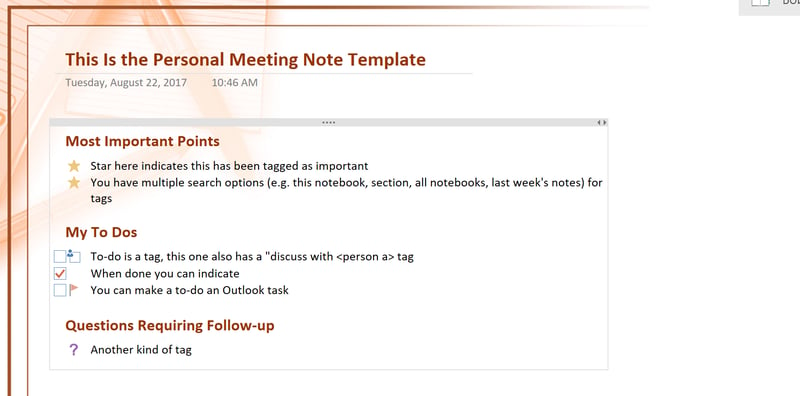 There are countless ways to use OneNote but some of the features I've found most useful, and productive, include:
Tag items as To-Do's (and create Outlook tasks from them), or as other categories and have ability to easily find through search
Draw in the note (including transforming shaky pen drawings into smooth shapes)
Convert handwriting to text
Enter voice notes through Cortana
Capture images through device camera
Record video
Print to OneNote
Share notes with other apps
Collaborate with others by sharing notebooks
All of this data is organized by OneNote into Notebooks, Sections and Pages – a simple scheme, but I've found it quite adequate for my purposes.
If you haven't used OneNote before, or haven't looked at in several years, I hope this has piqued your interest. It's a great tool, even if you don't end up using it with NAV.
Check out our blog page here for more information and other topics of interest, or drop us a line at sales@innovia.com.