It's been eight months since Microsoft released Dynamics NAV 2017 and over those eight months thousands of organizations have made the move to get on the most advanced version of NAV ever released. One of the most popular reasons that these organizations moved to this version is because they want to be able to use all the cool new technology that Microsoft has bundled in NAV 2017.
Let's review our top four favorites.

1. Outlook Add-in
You can use the Outlook add-in to manage business interactions directly in Outlook. You can quickly access financial information, and create and send documents without leaving Outlook.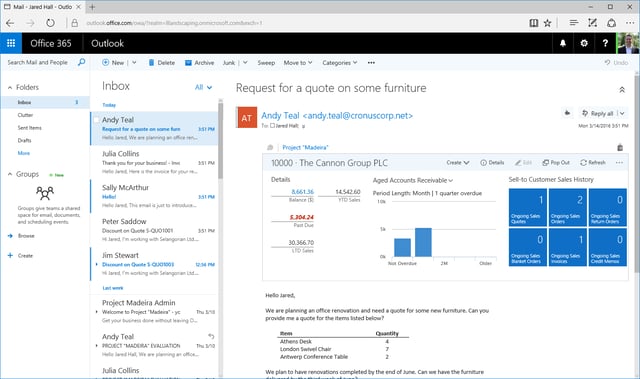 2. Embedded Power BI
You can now use embedded Power BI to easily create insightful charts and reports, and then make them available to your users within your Microsoft Dynamics NAV 2017 role center. Getting started is easy using the Microsoft Dynamics NAV 2017 Power BI Content Pack. Use the sample reports in the content pack and see great examples of what you can do with Power BI and you can be confident that your data is secure because you can leverage the existing Power BI security to manage your reports.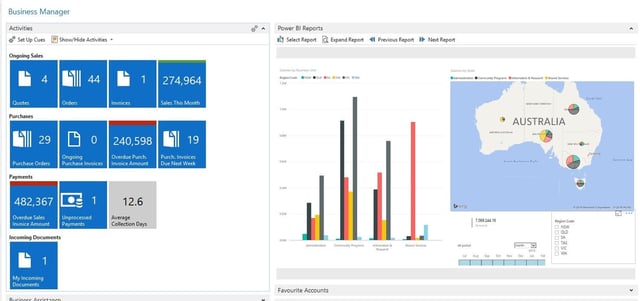 3. Using Cortana Intelligence
Built-in Cortana Intelligence takes advantage of historical data and improves your insights into your predicted sales, helping you manage your stock and respond to your customers. Based on the forecast, the Sales and Inventory extension helps create replenishment requests for vendors, saving you time. You can be confident that you are working with the best predictions because the system uses different machine learning algorithms and compares the results, returning the predictions with the highest quality.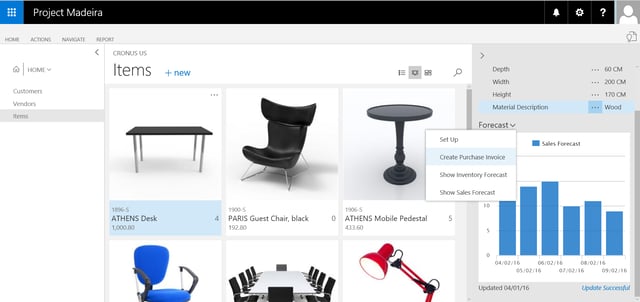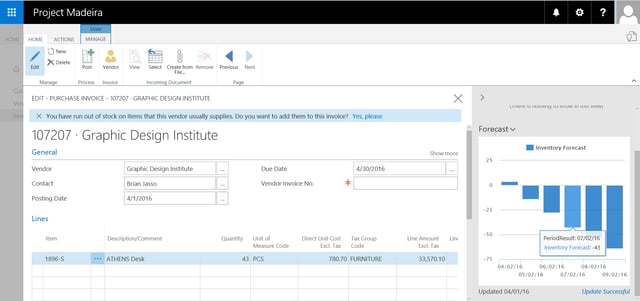 4. Improved Lexmark Invoice Capture Service (ICS)
Automate the receiving of purchase documents using Lexmark's OCR service and save time each and every month. Add PDFs or images as incoming documents in Microsoft Dynamics NAV. Or receive incoming documents sent directly to the Lexmark Invoice Capture Service (ICS). Leverage the different types of devices (phones and tablets) that your employees are using and use the cameras on those devices to capture documents and attach them to the appropriate forms in Dynamics NAV.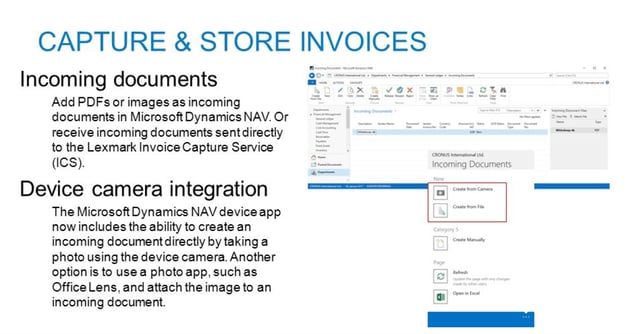 If you believe your organization could benefit from any of these new features in Microsoft Dynamics NAV 2017 please contact us and let us help you build a value statement to get you on the latest version of NAV.