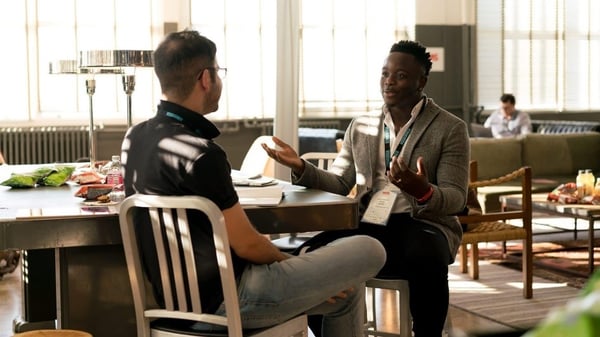 The excitement of getting a presentation, appointment or a demo is exhilarating for a lot of salespeople. The problem is sometimes the salesperson loves their product or service a little too much. So much so that they decide to make the whole sales process about how great the product or service is and why they should buy it.
I haven't met many customers that really care about our marketing plan and sales goals. They get PowerPoints all the time that tell them how great a company is and how their product or service is going to save the day. Customers just don't care how smart we are or why our company is the greatest. They care about how you can help them achieve their business objectives.
What is interesting is that most salespeople assume they know their customer's pain points. Did you ever ask an open-ended question on their current state and where they would like to go? Tell me about your current situation? What are you looking to get out of our discussion? What do you view as success?
Salespeople need to understand that the person they are talking with has had a few bad experiences with salespeople and are in protective mode early in the sales cycle. They need to build trust and see if your company is the proper fit. One way of doing this is by becoming an active listener.
This is where Discovery comes in. It is a mutual sharing of information to learn about each other. When you ask open ended questions like "How did it get to this point?" "If you could do that over, what would you do?" "Tell me what keeps you up at night?" and "What are you looking to get out of this meeting?"
If you do discovery before presentation, then you will be in the top 20% of salespeople. You are building trust during the interaction and seeing if there is a fit. The goal is to see if your product or service will truly help the customer achieve their business needs.
Check out our blog page here for more information and other topics of interest, or drop us a line at sales@innovia.com.
Good Selling,
Steve