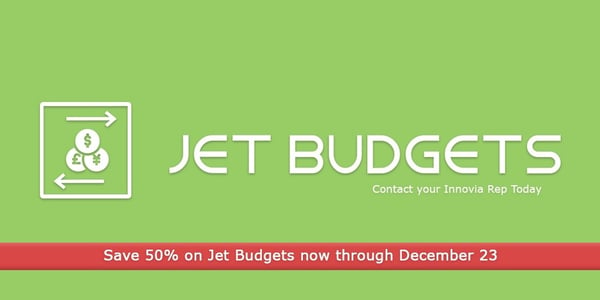 Are you struggling with your budget process? Is the pressure of updating your budget and planning for the next fiscal year preventing you from making other important business decisions? Let the power of the new Jet Budgets tool take your worry's away.
Jet Budgets is a brand new solution from Jet Global (formerly known as Jet Reports) used for streamlining and controlling the budget creation and fiscal planning process. It enables collaboration, automates assignments and workflows, controls spreadsheets, improves accuracy, and saves time for your business. Jet Budgets is an easy to integrate solution for your Microsoft Dynamics Business Central or NAV ERP system.
Jet Budgets is built for small and mid-sized businesses (SMB). To accelerate and simplify the fiscal planning process, which helps you save time and allows you to build highly accurate budgets without over-inflated or complex tools that take months to implement and require substantial technical resources. With Jet Budgets you can:
Cut the budget timeline in half: by creating scheduled, automated workflows that are easy to set-up, fast to implement, and built to integrate with Dynamics instantly.
Control the budgeting process by getting accurate numbers the first time through managed, governed spreadsheets.
Gain immediate value with an intuitive, Excel integrated solution that can build, organize, and report on your budgets the way you need, with the tools you know.
Increase productivity with fast, accurate budget numbers that improve financial performance across departments.
Reduce friction: Jet Budgets has all the functionality you need, nothing you don't. Adaptable budgeting that works with your business needs and planning methodologies.
Jet Budgets integrates seamlessly with the Jet Reports solution you already own for automatic, and impactful actual-to-plan reporting and easy set-up. And with all the added functionality it really is a no brainer to add Jet Budgets today. To encourage businesses to try the new solution, Jet Global is currently offering Jet Budgets for 50% off its retail price. Contact your Innovia account manager to learn more about this limited time offer.
Are you ready to make budget nightmares a thing of the past? Then contact us today to learn more about this solution for Business Central/ NAV. Call us at 800.834.7700 or email is at sales@innovia.com. But hurry, the 50% off offer only lasts until December 23, 2018.