To make sure every member of your team could easily reach the data they need to do their jobs in Business Central, Microsoft created the Role Center. It was designed after interviewing people with various job roles and responsibilities to find out what they needed to see when they accessed the system.
As a result, Microsoft created a set of Profiles for different roles that are consistent across many types of businesses and incorporated them into the default setup of Business Central. They did their homework, so these profiles are great as-is for many people, but you can also personalize your role center to get even more specificity out of your experience.
What is a Role Center?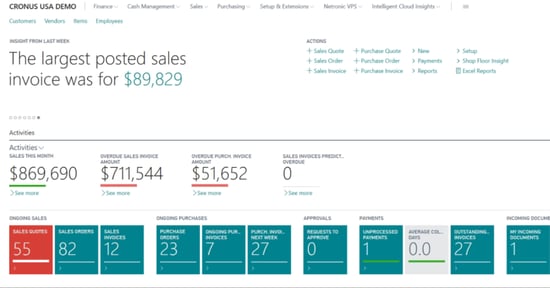 Let's not get too far ahead, though. If you are new to Business Central, the term Role Center may be unfamiliar to you.
Simply put, it is your dashboard in Business Central. It acts as your home page when you log in, showing several pieces of key information right away. What exactly is shown is determined by two factors:
Your Profile
Your Personalization
Let's take a closer look at each.
Profiles
Your profile determines what type of Role Center you see. It will usually tie directly to your job description; thus, it could be something like "Business Manager" or "Accountant."
There are a full set of default profiles that come with Business Central, and each of these profiles corresponds and links to a Role Center. However, this feature is configurable, but only by a system administrator. This flexibility allows you to add roles to your Business Central system that are unique to the way you do business.
Personalization
Now, say you are not an administrator but want your Role Center to work differently than your Profile. You don't want to change it for everyone, just for yourself.
Here's the great news! Your Role Center can be customized based on your specifications with the Personalization feature. Unlike Profiles, Personalization only affects your user account and the way you see the Role Center.
Here are just some of the things you can configure:
The Header Bar at the top of your Role Center showing text summaries of aggregated Business Central data.
Which links appear as Bookmarks on your Role Center.
Which Activities display and how their color-coding is configured.
The Insights that appear below your Activities.
The possibilities are nearly limitless with how you can configure your profile, and since you are only changing your view, you can safely experiment without affecting anyone else on your team.
See Personalization in Action
Personalization of your Role Center is one of those features that is easier to "show" rather than "tell." That's why I highly recommend you watch a webinar I recently gave that walks through the process in an actual Business Central environment. It might even give you some ideas about where you want to start personalizing!
To view this video, just fill out the short form below and you'll get started right away!