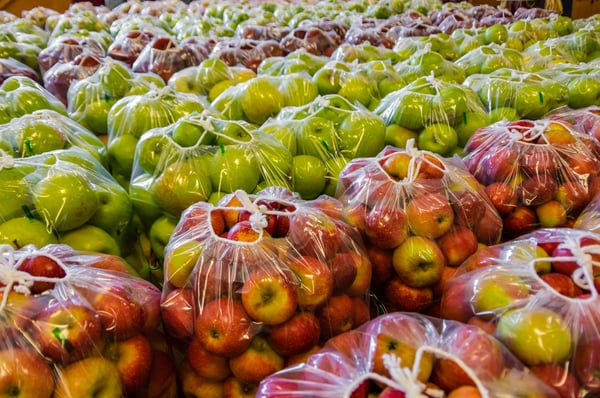 Food production and distribution is big business. In the U.S. it accounts for more than 12% of GDP and in the neighborhood of 17% of national employment. Food wholesaling and distribution represent a large chunk of that, close to $400 billion.
Food service distributors, repackers, brokers, importers, and exporters are the middlemen in the food supply chain. In this capacity, they allow both ends of the supply chain to operate efficiently. Being the "monkey in the middle" is never easy. So it's not surprising to find that one major challenge facing food distribution companies is figuring out how to balance the demands from each end without sacrificing revenues and/or alienating loyal customers.
There is also the issue of widespread and rapid consolidation. This has divided the industry into two camps. On the one side, there are the large national/super-regional players working to realize the efficiencies and leverage the opportunities that their size offers. On the other side, there are all of the smaller local/regional organizations working just as hard to remain competitive in their traditional markets.
Unfortunately, consolidation has not always been translated into increased efficiencies. So …
IF you're a food distributor and you need an ERP System that delivers:
Multi-level Market-Based Pricing
Mobile Access (Phones and tablets)
Automated Vendor Rebates
Automated Customer Rebates
Automated Sales Order Process
Truck Routing and Delivery Schedules
Automated Warehouse
Precise Order Fulfillment
THEN you've come to the right place. Because Microsoft Dynamics Business Central delivers faster systems and reduced waste with:
Faster Systems, Reduced Waste:
Increased Order Speeds by 2x to 6x

Real-Time Reporting
Accurate Demand-Forecasting Models
Reduced Inventory Levels
Lower Inventory Costs
Reduced Waste and Expiration
Traceable Lot Control (FSMA compliance)
And Innovia Consulting delivers:
A Microsoft Dynamics Business Central ERP solution that's just right for you, tailored to your specific goals and needs. We can make that claim with confidence because Innovia has 30 years of experience working with companies just like yours. 30 years of food distribution experience. 30 years of Microsoft Dynamics Business Central experience.
Add exceptional client-focused service and you've found the right technology and the right technology partner to work with on a Business Central ERP implementation that will take you from where you are today to where you need to be tomorrow – and beyond.
We give you the breathing room to focus on growing your business, while we take care of the systems that keep everything running smoothly and efficiently for you. It's what we do best. Whether your food distribution business is a start-up or a Fortune 1000 company, we've got your back.
The Proof Is in the Numbers
Since 1999, we've specialized in making Business Central work and we have the numbers to prove it:
More than 100 Business Central customers
More than 25 Business Central projects per year
More than 350 Business Central upgrades successfully completed
Whether you are looking for a new ERP system or in need of a new Business Central Partner, Innovia is the right choice. Visit us at www.innovia.com. Call us toll-free at 800.834.7700. Email us at sales@innovia.com.
Let's chat about food service distribution.