Microsoft Dynamics NAV is a powerful enterprise resource planning (ERP) platform that's become a mainstay for many industries, especially warehousing. This robust software solution comes with several built-in features to support streamlined and efficient warehouse management.
But in order to make the most of this software and improve daily operations within the warehouse, there are certain extensions that managers should consider putting in place. Today, we'll take a closer look at the existing capabilities of Dynamics NAV, and the most beneficial extensions to integrate into the platform.
Dynamics NAV: Built-in features
Dynamics NAV has become so widely utilized for warehouse management because of the valuable features it includes right out of the box. Helpful functionality for inventory movement and management include:
Automated Data Capture System enables the Dynamics NAV platform to transmit data to and from the handheld devices that workers leverage in the warehouse. Through a web service connection, ADCS can capture data and support automated warehouse workflows.
Warehouse Receipting allows warehouse personnel to establish a put-away directly from the receipt within a single-order environment. This capability, however, must be accessed from a separate interface within multi-order environments.
Warehouse employees can leverage Warehouse Shipment to create a pick for shipment in a single-order environment.
Cycle Counting supports inventory record and data verification, and can be set up for a specific items or at the SKU level.
While these features are certainly beneficial to managing inventory, shipments and other warehouse processes, some managers find that their workers require additional functionality.
This is where the extensions available through a mobile warehouse data collection solution can become so beneficial. Technology of this caliber enables warehouse managers to manage operations directly from the warehouse floor, far better than leveraging paper-based processes and then returning to the office to manually input this data into a warehouse management system.
Let's take a closer look at some of the most valuable extensions to consider:
Inventory and Bin Inquiry
Inventory and Bin Inquiry allows warehouse workers to perform and support inventory inquiries and verifications based on a specific item or bin. In this way, workers can scan an item barcode to perform inventory spot checks, to check for misplaced or mislabeled items, and to call up inventory details including quantities, serial numbers, pictures and more. And because this feature is accessible right from handheld warehouse devices, employees never have to leave the floor to obtain the necessary information for verification.
Inventory and Warehouse Picks and Put-Aways
This extension enables workers to display the entire picking screen directly on their handheld devices. As they scan items, employees can view the description, lot and serial numbers to support accurate labeling. In addition, should warehouse personnel scan an incorrect bin or barcode, this feature sends an alert. Picks and Put-Aways also enables workers to automatically create receipts and put-aways from their handheld devices, which helps them avoid redundant data entry.
Camera Integration
Photos are important for warehouse operations. If leveraged properly, users can record instances of package damage for later review, snap photos of shipments and even take digital images of paper forms for faster and easier electronic filing. Camera Integration takes warehouse camera use to the next level by capturing and automatically uploading images directly to Dynamics NAV.
License Plating
License Plating is a high-demand extension for Dynamics NAV warehouse management. It allows workers to easily create labels for a collection of combined items, including serial and lot numbers, which streamlines transaction management. Workers can then scan a single license plate for multi-item transfer orders or intercompany POs and SOs. In addition, this feature enables warehouse employees to create LPNs during the receiving, picking or outputting processes, and print it directly from their handheld device.
What's more, the License Plating feature boosts the baseline capabilities of Dynamics NAV even further. Users can leverage LPNs to define multiple products or serial numbers, then utilize the resulting barcode to maneuver all items combined within the LPN.
Offline Processing
It can also be particularly helpful to utilize a Dynamics NAV extension that supports offline processing. If any network or other connectivity issues emerge at any point during daily operations, warehouse operations can still take place as they normally would. Busy seasons are where this safeguard truly shines.
Offline processing supported by Scratchpad also means that workers still have a place to capture necessary data in the event that Dynamics NAV isn't working properly. Once NAV is back up and running, this data is automatically uploaded, ensuring employees don't miss a beat and preventing manually data entry.
Insight Works Mobile Warehouse Data Collection Solution
Microsoft Dynamics NAV offers a breadth of functionality for next-generation warehouse management, and it becomes even more valuable with integrated features. These crucial capabilities and more are available through Insight Works Warehouse Insight Mobile Warehouse Data Collection solution. Click here to find out more about how this type of technology can bolster your warehouse management through Dynamics NAV today.
Mobile Warehouse Data Collection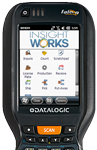 Warehouse Insight is an add-on for Microsoft Dynamics NAV that provides warehouse and production employees with full NAV access via barcode scanners and hand-held computers. Warehouse Insight streamlines NAV's inventory and warehouse functionality to provide intuitive warehousing tools for inventory counts, shipping, receiving, picks, putaways, bin management, and more.
Drop us a line at sales@innovia.com, we would be happy to answer any questions you may have.
This blog originally appeared on Insight Works website, you can find it here