Microsoft Azure has been around for more than ten years, and since its official release in 2010, it has become one of Microsoft's most critical services. Most of our customers first got introduced to Azure as an infrastructure service (or a place to host virtual servers that they didn't have to worry about maintaining), but Microsoft Azure is so much more now.
What Else Can You Do with Azure?
Besides being a cost-effective infrastructure replacement, Azure has expanded well beyond compute and data storage services to help on a wide array of services from artificial intelligence (AI) to the Internet of Things (IoT). If you haven't looked into what's possible using Azure, now is a great time to start because Microsoft is adding dozens of free resources to its Azure offerings. Check out the free offers from Microsoft by bookmarking and visiting this URL frequently: https://azure.microsoft.com/en-us/free/
For those looking to learn more about Microsoft Azure in general so that you can better understand how it can benefit your organization, check out the free training resources on Microsoft Learn.
Want to Save Even More? Learn about Azure Reserved Instances
Last but not least, for those of you who have been using Azure as part or all of your infrastructure, are you taking advantage of the significant savings possible when using Azure Reserved Instances? You can save up to 80% from the pay-as-you-go pricing with Azure Reserved Instances and Hybrid Benefits. Azure Reserved Instances still allow you to pay monthly, but you make an upfront commitment on compute capacity.
This approach makes sense for most of our customers because their infrastructure needs stay relatively consistent from year to year. You can purchase Azure reserved instances in one or three-year terms, with three-year terms offering the most savings.
You can also learn more ways to save money by listening to my Innovia Conversation podcast about Azure (embedded above), as well as checking out my upcoming webinar, "Get the Most Out of Your IT Spend with Microsoft Azure."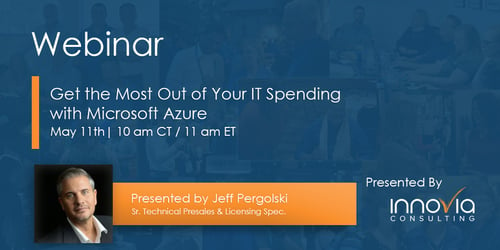 (If you're reading this after the webinar, there's good news: you can watch it on-demand now by following the same link!)
At Innovia, we truly believe that choosing Microsoft Azure is a sound long-term investment for your business.