Welcome to the fourth installment in our series of PowerPoint tutorials. If you missed the other blogs and wanted to check them out you can follow the link below.
Today, we are taking a closer look at the animations available in PowerPoint. To access these animations please select the animations tab in your main navigation ribbon.

An animation in PowerPoint is a visual effect that draws attention to a particular aspect of your slide. It is similar to the transition, except instead of being applied to the whole slide it is connected to the text, images, shapes, and any other objects you might have within one slide. Animations are a great way to point a viewer's attention to a specific spot of your slide and also really help boost the overall professionalism in your presentation.
To get started select the slide that contains the object that you want to animate. Then select the object that you want to animate. In the image below I have selected the text box that I have cleverly labeled "Line 1".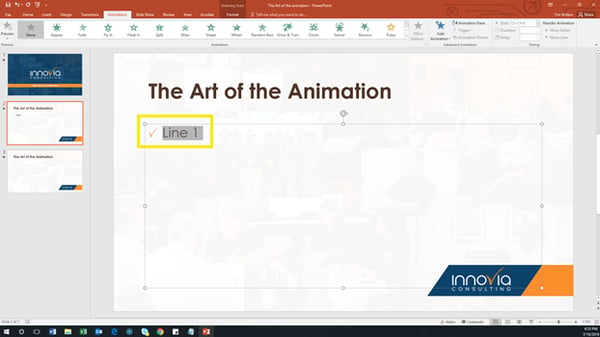 After you have selected what you want to animate the next step is to choose and apply an animation. For this example I have decided to add the Float In animation. To add this animation all you need to do is click the animation from the upper ribbon. If you have applied this correctly you will see a quick preview of the animation and a little box appear to the left of your chosen object. This box will have a number in it and that number is the sequence for all the animations in your current slide. In this example that number is a one because it is the first animation we added to this slide.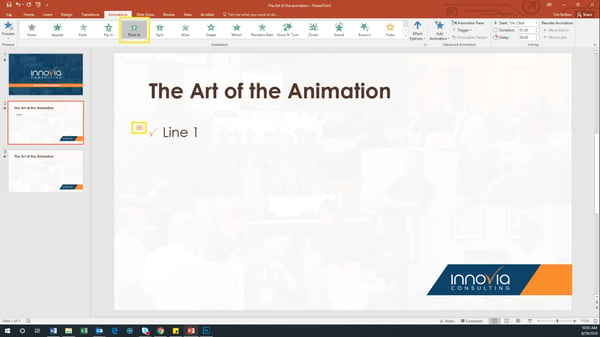 And voila, you have added an animation to your presentation (pretty easy right!).
I would recommend setting aside some time to try each effect so you can see how each animation looks. Just select each option in the same way we did before and you can preview all of the animations. Some quick things to point out, there is a preview button on the far left of the main navigation ribbon (highlighted below), you can use this to preview something again and via the dropdown menu you can turn off animation auto-previews (not recommended). To access all the animations you can scroll through using the up and down arrows on the right side of the animations menu (pictured below). If you want to view all your transition options at once then select the third option which expands all your options (second picture below).

As you may have noticed there are 4 different types of animations. Here are some brief explanations that explain what these 4 types of animations do.
Entrance
These types of animations are used when you want to make an object appear.
Emphasis
These animations help you to draw attention to an object on your slide
Exit
These animations do the reverse of an entrance, thus they make objects disappear.
Motion Paths
The most difficult type of animation, these options will make an object move along a defined path. I will cover these animations in more detail in a future blog.
Like transitions, animations also have some effect options giving you even more flexibility when it comes to designing your PowerPoint. In the example below, I have chosen the Split animation and have selected the effect options dropdown to the right of the animations ribbon. The first set of options are directions and enable you to further control the way the animation plays. The second batch of controls are the sequence, here you can determine whether this effect applies to all your bullet points at once, or each one individually. Each animation has its own set of customizable options. Make sure you play around with these choices and find the one that works best for your presentation.

Continuing down the ribbon there is an option called add animation, this button is mainly used if you want to apply a second effect to the same object. The dropdown you will see is very similar to the one you access if you select all animations.

The next option in this menu is the animation pane. By clicking on the Animation Pane you will activate a window on the right that lets you organize your selected effects.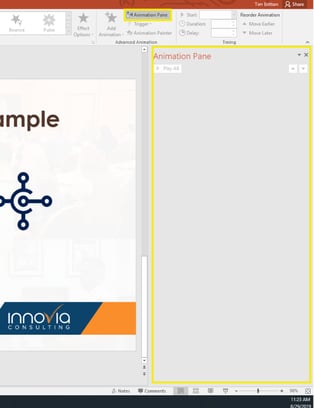 Let's explain how this works with an example. Let's say I want each bullet point to come in separately then want the Business Central Logo to appear a few seconds after the second bullet point.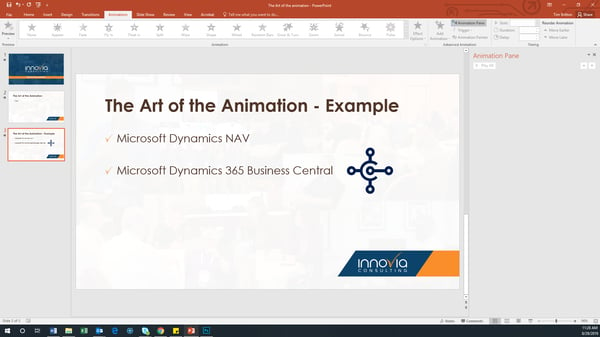 We start by adding the 3 animations separately. Please note the boxes appear with the numbers and the 3 effects have appeared in the animation pane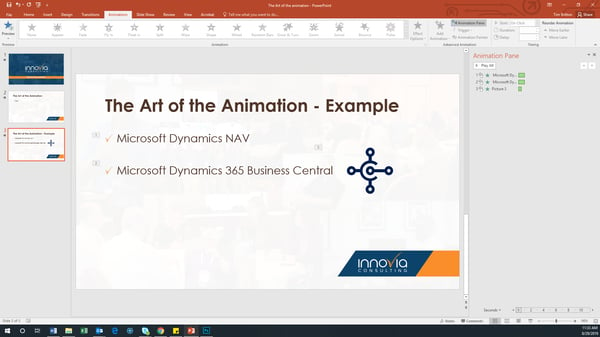 Now before I continue with this example let's talk about the advanced options for animations.
Under the animation pane section in the ribbon is a feature called trigger. This option allows you to trigger an animation only by clicking on a certain object in your slide. It's an interesting feature that gives you even more flexibility in your presentation.
Moving to the right there is a section called timing. These options give you complete control to the exact order, animation duration, and timing of your effects. These effects are also available by right clicking each individual item in the animation pane.
Within this menu you see an option called start, this allows you to determine whether you want an effect to be activated with a click, with the previous animation or after the previous animation. Duration lets you control how long the animation lasts and delay lets you add time before an animation occurs. To the far right of the timing panel is an option to reorder the animation effects within your composition, you can also do this by clicking and dragging a particular animation to the desired new location.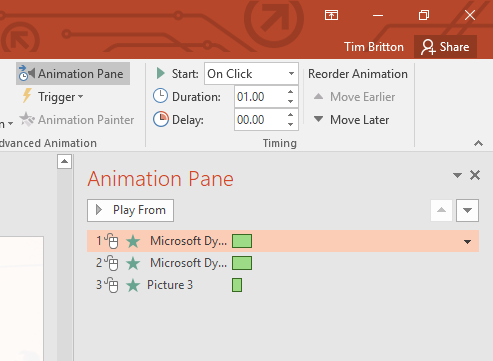 Now back to our example:
In the animation pane pictured above you see that our 3 effects are in place and in the right order. The mouse icon indicates that each effect is applied when you click next slide on your slideshow. We don't want the third animation to do that. So what we do, is select that third animation and change the Start option to "After Previous". We then want to set a delay (let's say 2 seconds) so the animation comes up after the line of text "Microsoft Dynamics 365 Business Central. Did you notice that when changing the delay and start options you moved the green bar to the right? These bars are green (as are the stars) because they are entrance effects. And they move because these bars are actually a timeline. This way you get a visual representation of how the effects are going to flow. If you want to hide the timeline right click and select "Hide Advanced Timeline", conversely if your timeline is disabled right click and select "Show Advanced Timeline" to bring it back.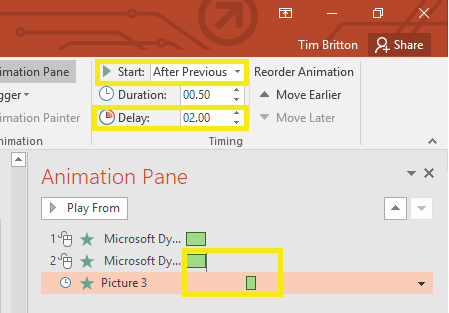 With these animations in place we have achieve the desired result, and this was a really simple example of some of the cool things you can do with PowerPoint animations.
I hope this blog has given you some good knowledge on how to make the most of your animations in PowerPoint, as always please feel free to reach out to us with any PowerPoint questions you may have. You can reach me by emailing marketing@innovia.com.
PowerPoint is included with your Office 365 subscription. Don't have Office 365? Please follow the link below or contact your Innovia rep to learn more about the power of Office 365.