I am grateful for a dear friend and mentor in the NAV space, Cynthia Priebe. It was our first encounter back in 2008 that sparked the flame that ignited into the blaze of passion I now have for our beloved ERP we have called Navision, NAV and now Business Central.
It was a simple encounter where she pointed out that typing "t" in a date field would fill in the current date of 02/14/19 or "today's" date. That tip sure seems like a small thing, but when you work in an ERP and type in the date 02/14/19 more than 100 times a day . . . It becomes a "BIG" thing!
That spark, the first discovery of what secrets lie beneath the surface of this awesome ERP became a passionate pursuit into what this software could really do. My mantra quickly became, "NAV can do anything, how much do you want to spend?"
I believe that passion is a part of the foundation that makes an ERP administrator successful and certainly what made me successful as an admin and CIO.
The more I ventured out in pursuit of knowledge about this magnificent ERP Microsoft built, the more my passion & love for NAV and the people I found with the same love and passion grew. I can't give you a formula for passion, but I can tell you where to find a group of enthusiastic and passionate people who also have a love for NAV to get involved with. These people are infectious and will light that flame in you as well and that community of people is the NAVUG community.
Nothing and no one say's, "I Love NAV" like this community of people does. You will find Cynthia and many of the Innovia Consulting Team, that I am privileged to be part of, there along with so many more end users, independent software vendors, and partners. I couldn't leave out the dynamics community team who take care of all of us, once you attend an event you will see their love and passion for us as a community shining brightly also.
I met many of my co-workers at NAVUG Events and knew because of their love and passion for NAV and for helping people use it successfully, that they were the team of people I would choose to work with if I was to leave the client side and my CIO Career to work on the consulting side. I joined the Innovia team in September of 2018 and have been given the opportunity to spend my days serving the NAV community teaching and mentoring and helping our clients to be successful with their ERP and business and hopefully igniting that same spark in them that was lit in me 11 years ago.
I share with you today hoping you will see my heart and passion for NAV and to say this, "A successful administrator should have a passion for the ERP and the people who use it."
So for the love of NAV ~ until next time!
Holly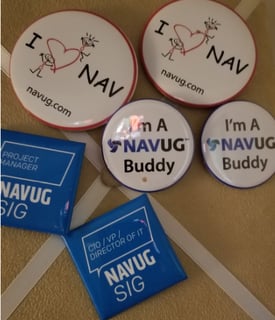 Below are some of the upcoming
live events I will be attending - come join us!
All of the NAVUG events can be found at www.navug.com

NAVUG Miami Chapter Meeting
February 22 from 11:30 AM – 3:30 PM

NAVUG Focus - March 13-14 in Houston TX

NAVUG Southern Ohio
April 12th from 10 AM – 2 PM

Innovia Customer Conference - April 24 - 25 www.innovia.com/customer-conference