Understanding your cash flow is important to any successful business. Microsoft Dynamics NAV helps you view your cash flow with the following quick and easy setups using the new "Assisted Setup" feature available starting with version 2017.
Assisted Setup
From the "Assisted Setup" page, select the "Set up Cash Flow Forecast" option and click the "Start Setup" function on the Actions tab of the ribbon. Click the "Next" button.
The questions listed here are basic setup questions. What are your cash account g/l account numbers from the Chart of Accounts? How often would you like the cash flow forecast updated? Would you like to use Cortana Intelligence? Click the "Next" button.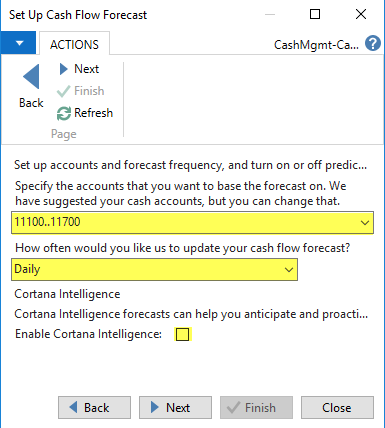 The questions listed here are in regard to your taxes. How often do you pay your taxes? How many days do you have to pay your taxes? Do you pay your taxes using a G/L Account or using a Vendor? What is the g/l account/vendor no. that is used? Click the "Next" button.
That's it. A simple Cash Flow Forecast will be setup and ready to use once your click the "Finish" button. The Cash Flow Forecast, Chart of Cash Flow Accounts, and Cash Flow Setup page will all be populated with the answers to the basic questions asked during "Assisted Setup".
If you have a much more advanced way of calculating your cash flow forecast, the Cash Flow Forecast can be modified at this point as well.
You might want to setup manual revenue and expenses for amounts that you cannot post yet. For example, future payment of salaries or future revenues. This can be added to your cash flow forecast by populating the "Cash Flow Manual Revenues" page and "Cash Flow Manual Expenses" page.
Cash Flow Manual Revenues
Cash Flow Manual Expenses
You may want to utilize the Cash Flow Payment Terms option. What are Cash Flow Payment Terms? Here is an example: You have a customer that always pays a little late, 21 days let's say. So, it's more accurate for the cash flow forecast if you populate 21 days for the cash flow payment terms instead of the base 14 days. To accomplish this, a few setups must be completed.
Place a check mark in the "Consider CF Payment Terms" field to use Cash Flow Payment Terms instead of regular Payment Terms.
Cash Flow Forecast Card
Populate the Cash Flow Payment Terms Code on customer and vendor records.
Customer or Vendor Card
Updating your Cash Flow Forecast
Once all your cash flow setup updates are completed, the cash flow forecast will update automatically the next time the job queue runs.
If you recall, earlier during assisted setup, we answered the question "How often would you like us to update your cash flow forecast?" In our example, I selected "Daily". By answering this question, we setup a job queue entry called "Cash Flow Forecast Update" that will update our cash flow forecast daily.
To learn more about cash flow forecasting in Dynamics NAV 2018, view the webinar below.