Your business is doing great! You have more customers than ever before and are expanding rapidly. You may even have more than one warehouse. The only problem: your technology is no longer meeting your needs.
This blog was adapted from two blogs (Part 1 and Part 2) from our ISV partner Insight Works.
This story happens again and again around the world as businesses outgrow the functionality of QuickBooks for managing a complex warehousing and/or distribution operation. Don't get us wrong; QuickBooks is a fantastic piece of software that meets a real business need for smaller and emerging businesses. However, at a certain scale, it is missing key warehousing functionality.
Five Signs QuickBooks Isn't Meeting Your Needs
If you are not sure if you're ready to switch, consider if you are seeing any of these five signs that you have outgrown QuickBooks:
Lot Tracking Becomes a Real Challenge – The online version of QuickBooks lacks lot tracking for your product. Without this feature or a customized solution, you are probably finding yourself relying on manual or spreadsheet-based lot tracking systems. These options are inefficient and error-prone, putting your business at risk.
Unshipped Orders Become Unmanageable – At a certain scale, your team can't simply know the status of your unshipped orders. QuickBooks does not let you track sales order management, so again your team must resort to risky spreadsheet alternatives to stay organized.
You Have Multiple Warehouses – One of the quickest ways to find the deficiencies of QuickBooks is to try to run multiple distribution sites out of it. It simply does not have this capability.
You Need to Implement "Batch Invoicing" – QuickBooks requires you to invoice each customer separately instead of easily batch invoicing multiple clients.
You Are Discovering Unique Industry-Related Challenges – QuickBooks Online offers no industry-specific features. To pull ahead of your competitors, you need to solve the unique challenges of your market, and you need tools that do that.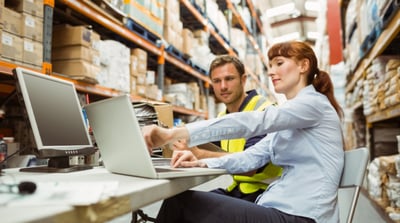 How Business Central Can Fill These Gaps
If you are facing any or all these challenges, you need to give Microsoft Dynamics 365 Business Central a look. Not only do you receive an industry-leading ERP solution, but with the Warehouse Insight add-on cloud subscription from Insight Works, your warehouse will have everything it needs to stay organized and keep your business moving (and growing).
Enhanced Security
QuickBooks has a weak offering for user roles and security options. The larger your company, the more important these features become. Business Central allows you to tailor these to fit your needs, as well as giving you unprecedented visibility through audit trails.
More Scalability and Reporting
As we explored above, QuickBooks does not scale to multiple locations well. Business Central, on the other hand, grows as big as your business does. You will be able to:
Access your data 24/7 wherever you are through the online reporting portal
Track your accounts payable down to the order
Integrate easily with PowerBI
Track sales performance
Give every user in your business the right security clearances so they have enough to do their job without seeing something they should not.
Everything Your Warehouse Needs with Warehouse Insight
Innovia Consulting is happy to offer the Warehouse Insight add-on to our customers as an ISV option. With a wide range of compatibility with barcode scanners and hand-held computers, this solution helps you manage your inventory counts, shipping/receiving, bins, and much more. Combined with Business Central, your business can avoid costly mistakes and inaccurate data collection common to manual processes.
To find out more about how Microsoft Dynamics 365 Business Central and Warehouse Insight from Insight Works can revolutionize your business, reach out to Innovia today.