As a business with a thriving Microsoft Dynamics 365 Business Central system in place, you know how valuable a strong ERP can be. There's one other critical piece you need though: great people to run your business!
Wouldn't it be great if you had an HR solution that had the same data-driven, integrated approach you've come to love from Business Central? Even better, what if this all-inclusive HR suite tied into your existing ERP?
You don't have to imagine it with ADP Workforce Now®!
Solving your workplace challenges
There's no question that businesses all over the U.S. are experiencing a wide range of challenges to their ability to recruit, retain, and develop top talent.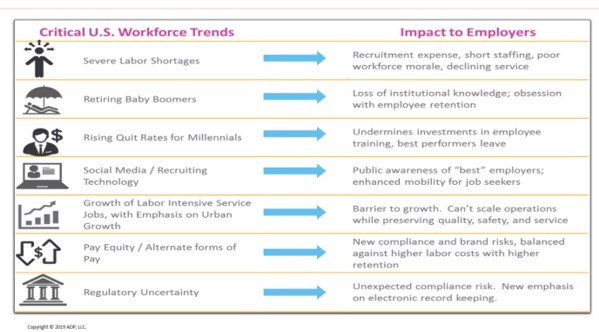 ADP developed the ADP Workforce Now® solution to address these challenges and more. This all-in-one HCM platform helps you manage people smoothly through recruitment to retirement, and all the steps in-between. Let's take a closer look at how ADP Workforce Now® helps you in several pivotal stages of your employees' relationship with your company.
Recruitment
Recruiting is one of those tasks that, without the right technological solution, becomes a substantial burden at scale. ADP Workforce Now® takes the headache out of this process and lets you scale your recruiting efforts to any number of openings.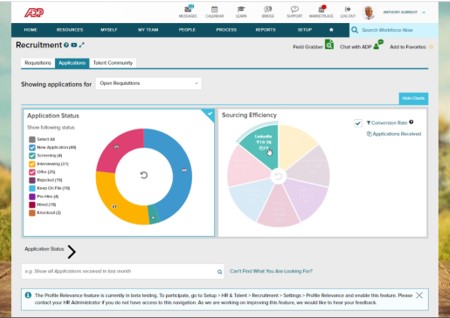 ADP connects with several online job boards (including Indeed, Monster, and LinkedIn). Once applications come in, ADP Workforce Now® presents each candidate to you with a clean, easy-to-read resume format. You can schedule interviews, request more information, and classify each candidate, all on one screen.
Onboarding
Once you've selected a candidate for a position, they go through a guided onboarding process that you define. Set each step, present any form of media (e.g. a welcome video or photos of their new colleagues with short bios), and set up any required forms you need them to complete.
This step-by-step process ends by prompting them to download the ADP employee app, which is a powerful tool for accessing any HR resource they could possibly need on the go—including time-off requests, pay stubs, benefits information, and more.
Performance and Reviews
ADP Workforce Now® has a flexible, built-in performance management tool. It allows managers and employees to set custom goals and report on them.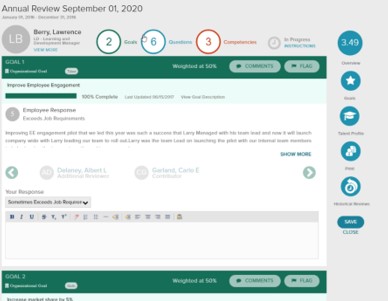 You can even set up automatic calculation of compensation rate changes based on certain performance thresholds. This makes it easy to, for instance, calculate the actual change in salary someone would receive if you wanted them to receive a 4% raise for an Above Average performance rating.
On a related note, if you require employees to hold certifications, you can set up expiration dates on these in the system and they'll automatically be reminded to renew.
Benefits
Filling out benefits paperwork by hand is extremely time-consuming and sometimes unclear. That's why ADP Workforce Now® includes guided benefits enrollment. Employees go through each category, select the right option for them, and see clearly exactly what will be withheld by paycheck, by month, or by year.
Once you switch to this kind of online enrollment process, you'll find it impossible to go back to paper!
A truly integrated experience
These are only a few of the features of ADP Workforce Now® (not even mentioning payroll, which is one of the features ADP is most widely known for). They help you keep your team at their best so they can keep giving your customers their best.
Best of all, it works seamlessly with your Microsoft Dynamics 365 Business Central system, which is particularly helpful in keeping employee records accurate and assessing performance. In fact, ADP Workforce Now® is the largest Open HCM ecosystem in the world, so all the other tools you use likely connect with it.
Want to learn more?
Adding ADP Workforce Now® to your ERP system through Innovia provides you with exclusive benefits. You don't want to miss this opportunity, especially if you are already an Innovia customer.
ADP's Rob Boysen and Tyler Hahn recently gave a webinar discussing all the features of ADP Workforce Now® and the benefits you get purchasing it through Innovia to integrate with your Microsoft Dynamics 365 Business Central or NAV system. You can watch it on-demand now.