The future seems like it is getting closer every day, and recent advances in technology and a global pandemic appears to have helped it along.
In accordance with this thrust into the future, Microsoft launched Windows 365, a cloud-based service that "introduces a new way to experience Windows 10 or Windows 11".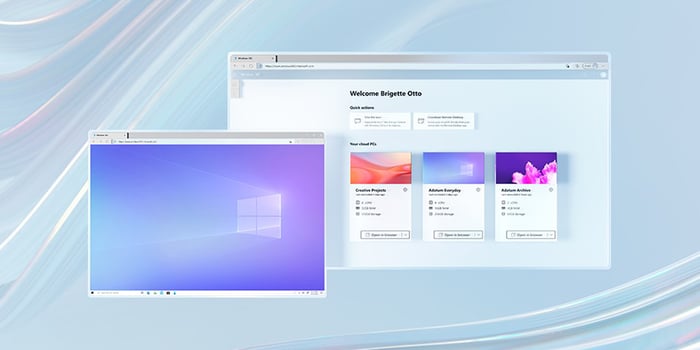 Windows 365 offers you your personal complete cloud-based PC experience, assessable anywhere and on any digital device.
What makes this so special and innovative, you ask?
First, Windows 365 allows users their own Windows 10 or 11 cloud-based PC environment that they can access anywhere, on any device seamlessly. This means that no matter where you are or your situation if you have an internet connection, you have access to all your data and files in an environment familiar to you, configured to your settings.
That's pretty cool, but what are the benefits and implications for something like this? I'm glad you asked.
Here are 5 reasons you should move to Windows 365.
1. Unique Cloud-Base PC Environnent
Hybrid work environments are here to stay. The ability for an employee to have a seamless experience across all platforms regardless of the hardware is paramount. A salesperson can access their information the same irrespective of whether they are in the office, on a laptop, mobile device, or wherever.
The ability for this cloud-based environment to easily work with all hardware makes it cost-effective for companies. They can save money by purchasing hardware that meets, not exceed the requirements of the user.
2. Easy to Scale
Windows 365 allows companies to actively create and manage Windows licenses and workspaces easily with minimal hardware consideration. With the cloud model, companies can activate and deactivate an account, scale up or down any subscription, and control permissions at any time. This gives companies the ability to quickly and easily scale as needed. Windows 365 will also give you suggestions on ensuring your users have access to what they need and how to optimize your user's experience.
Again, the cloud-based environment works well on all hardware which helps companies grow by allowing them to choose the hardware that meets their needs and budget easily.

Windows 365 is compatible with other Microsoft security software.
3. Microsoft Cloud Security
Cloud hosting means that your data is protected and backed up by the best cyber security available. Your cloud PC uses multi-factor authentication to keep out unwanted intruders. The Microsoft Cloud offers constant monitoring, threat detection, and anti-malware, stopping threats before they can come close to your data. Also, by using Microsoft's cloud, you don't have the additional security concerns that come with hosting on your physical servers.
4. Easy Integration
Windows 365 easily integrates with all products and partners Microsoft ecosystem offering easily customizable and safe work environments. Microsoft has a library of trusted apps and developers. Microsoft also allows you to create and distribute your own secure apps.
5. Easy Collaboration
With the workplace moving to a hybrid environment, companies must be agile and secure while allowing data sharing and meaningful collaboration. That is a tall order, but Windows 365 has an arsenal of built-in tools like Microsoft Teams, and add-ons to help you and your team share ideas, data, and documents securely. Cloud hosting gives all of your employees access to everything they need.
These are just some of the surface-level benefits of Windows 365.
The bottom line is, no matter how beholden you are to the idea that you must physically possess all your servers and software, the benefits of cloud computing now drastically outweigh the on-premise model.
That being said, Windows does allow you to download a version to your computer in case you need it.
The future is closer now thanks to increased internet speeds and access and the need for people to be more mobile. It's time to embrace this change with a trusted company that has the means and drive to shape the future of computing.
Contact Innovia for all your Microsoft questions.
Contact Innovia about Windows 365 today!