OneDrive for Business is a fully functional platform for storing, editing, and sharing your documents, spreadsheets, and photos. Built on the foundation of SharePoint and provided as part of the Office 365 suite or as a standalone service, managing the information that's important to you is now as easy as 'one, two, three'. The Office 365 web applications provide a familiar interface to the products we know and use every day. Microsoft has also designed OneDrive so that sharing your documents has never been easier. You can easily invite people inside and outside of your organization to view and even edit documents that you have stored.
OneDrive has quickly become my default location for saving just about everything I write down. It's convenient. It allows me to leave my laptop at home and pick up anything I'm working on, anywhere I might have left off, at any time! I'm going to share a few ways that OneDrive makes things in my day a little easier.
Access Anywhere
What I love about OneDrive is that the Office web apps are at your fingertips wherever you have access to a computer or, really, a device of just about any kind. I have updated documents using the web apps while staying with relatives over holidays on my tablet. I have even reviewed and double-checked numbers on my phone while waiting for my car to be serviced. The best part is that they are all setup and ready to use with your OneDrive service. You just login to your account and you're ready to create or edit your documents.
The default portal view is similar to File Explorer in Windows: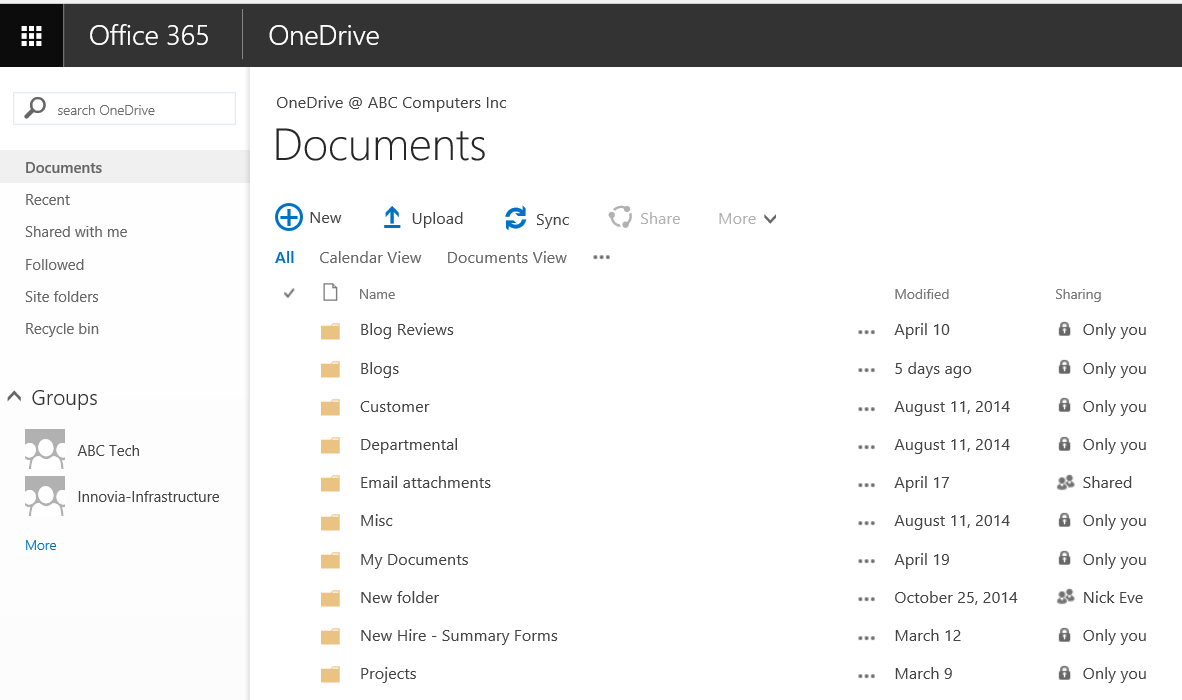 Excel Online: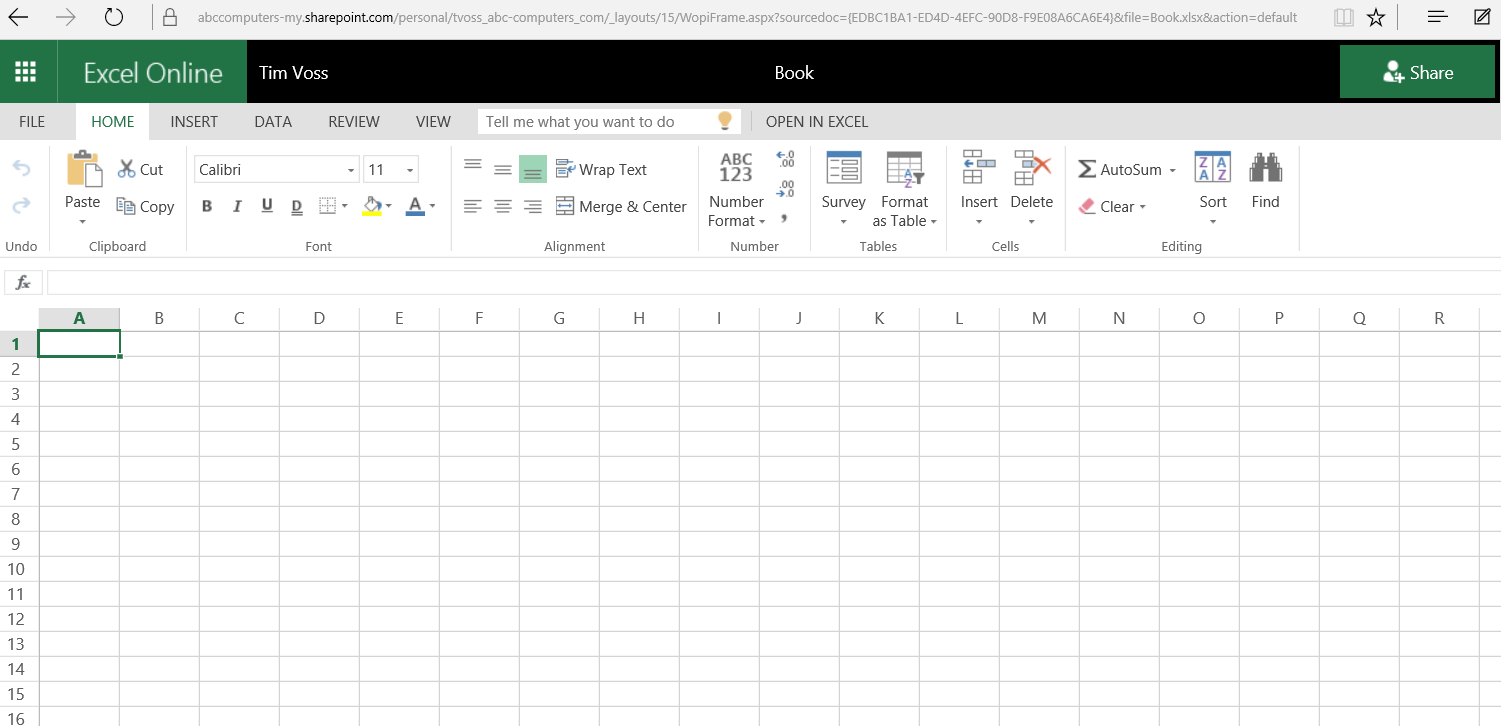 Syncing
Syncing your OneDrive files and folders to your Windows device or computer allows you to manage and edit your files locally all while they're saved safe and secure in The Cloud. Your files can be delivered to you across any platform on any device, any time you need them.
To sync OneDrive for Business to Windows File Explorer, open the library in a browser and selecting the Sync option.
1. Sign in to Office 365 with your email@yourdomain.com account.
2. Select the App Launcher
, and then select OneDrive.
3. Select the Sync button from the default screen.Note: If you don't see a Sync button, select the Library tab and then select Sync in the Connect & Export group.
In OneDrive for Business, you may need to click Settings
> Show Ribbon to show the Library tab.
4. At the prompt, click Sync Now to start the sync app wizard. The wizard automatically fills in the name and web address of the library.
5. Select Sync Now in the wizard to start syncing.
If you synced OneDrive for Business, the library appears in File Explorer and can then be saved to your Favorites.
Sharing Documents
Sharing documents with colleagues is easy. If you are editing the document locally and already have it open, you can click File > Share > Invite People. If you are viewing the file in your OneDrive folder, you can Right-click > Share with OneDrive > Sign in. The sharing configuration window is the same either way. You can select if the person you are sharing with can edit or only view the document. One last option is to require them to sign in or authenticate with their Windows Live account prior to viewing the document. I typically leave this checked when sharing documents with coworkers but I have used it both ways when working with customers.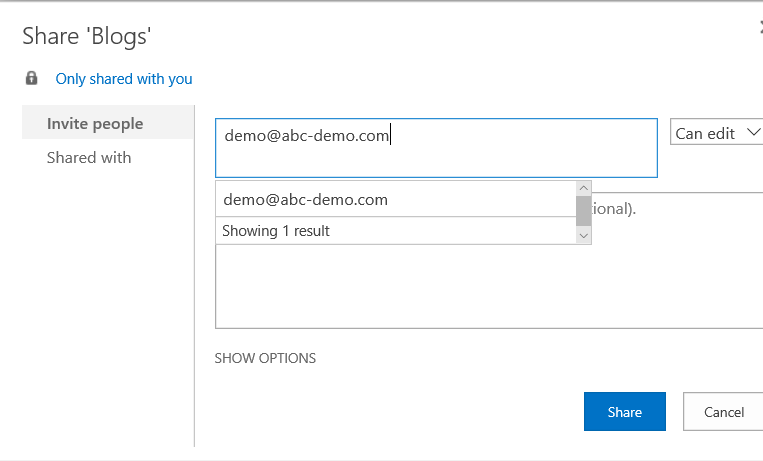 With the Shared With option on the left, Microsoft makes managing who has access to the document as easy as they made sharing the documents. You can easily prevent unwanted access to a document that you no longer need to share.
These are just a few ways that OneDrive makes life a little easier for me each day. Watch our recorded webinar as we explore more of OneDrive and walk through setting up the items we discussed here, as well as other OneDrive features and user friendly tips.
For more information on OneDrive