If you are shipping your product to many different customers you know that each customer often has very specific requirements for their shipments. These requirements might be special labels, a special packing list, or acknowledgement. If you are shipping in NAV using E-ship then packing rules can make meeting those requirements easier. Packing rules have been around for a long time so, even if you are not on the latest release of NAV, you still have the option to use packing rules.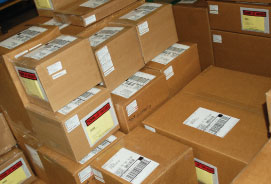 Packing rules can be defined and assigned to customers and even ship-to addresses. You can have packing rules that are defined for groups of customers or for a specific customer. Packing rules are defined under E-ship, Setup, and then assigned to the customer or ship-to address.
A few examples of things that can be done with packing rule are:
On Close Package, print a custom report. This might be a detailed contents report.

On Close Order, print a custom packing slip. The customer might require that there be special instructions or even their own logo on the packing slip if you are doing blind shipments.
On Close Package, print a custom package label. This label might show the contents of the package when the contents is a mix of items. This is often used by the customer's distribution center to give them better visibility of what is being received.
On Close Package, print a custom item label. This label would be used to print specific attributes of the item in the package, such as customer item number, barcode, dimensions, or weight.
If you are using EDI to receive orders from your customer they probably will require some type of UCC label. Even though this is a standard format sometimes customers have slight variations from the standard. With a customer specific packing rule you can define a UCC that meets their requirements without interfering with other customer's labels.
You can control some of the actions related to Bill of Ladings with packing rules. You can auto create the BOL, release, and even post the BOL with a packing rule.
You can define a special label for the BOL if needed.
Another requirement of EDI is the ASN. With packing rules you can control some of the functions and format of the ASN.
These are just a few of the things that you can do with packing rules. They can help you be more efficient in your shipping process. Rather than rely on someone's memory, notes on the order, or notes on a pad in the shipping department, use packing rules to automate more of your shipping process. This will result in more packages shipped without adding people and happier customers since you are providing them with the information they need.