By Jim Augenstein, Lanham Associates
For many companies using Microsoft Dynamics NAV, the question of EDI adoption is not 'if' but 'when and how'. Retailers of all sizes as well as aviation, automotive, healthcare, manufacturers, and many other types of businesses all dictate EDI compliance as a fundamental requirement to engaging in trade with them. It's important, it's virtually mandatory, and there's a lot to consider when making decisions about which EDI solution is best for your company.
The "Inner Beauty "of Embedded EDI
When selecting an EDI system, one of the key questions is whether to choose an external or an embedded EDI solution.
In the NAV ecosystem, Lanham Associates' ACE (Advanced Commerce ERP) EDI is unique in that it provides all of the tools needed for a complete EDI compliance solution embedded in NAV. The alternative (an external, stand-alone system) may provide some of the tools needed but may still rely on additional programming to integrate the EDI data into NAV. Or, even worse, it may rely on manual data entry.
Perhaps the most important part of an EDI solution is the integration with your internal business processes yet many companies use a number of software packages, often not integrated, to try to accomplish this task. Convoluted? Yes. Complicated? Yes. Why not take a more efficient approach by incorporating the mapping and cross-reference process inside NAV? By using native NAV data, Lanham's solution acts as a seamless extension for EDI inside the ERP system. Translations and integration required in external solutions are simply not necessary.
This single mapping process between the EDI documents and the business system database provides users with a consistent user interface, NAV native drill-down capabilities from either a NAV business document or an EDI document to the related transaction detail, and a logical place for EDI archives. It's all right there inside the business system in a familiar format - no switching back and forth between computer screens. New orders that arrive via EDI are kept with all new orders and are also easily viewed in the EDI archives. All documents follow this flow, making your EDI seamless within NAV.
Let's take a closer look
An example of how intuitive the NAV native drill down can be is seen in the EDI Trace window below. It shows all transactions that were created by and associated with an incoming 850 Purchase Order. The user can then drill down to view any document.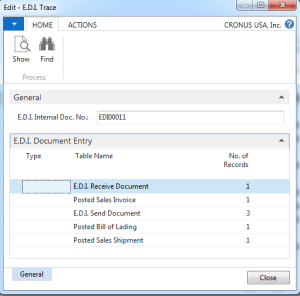 Cross-Reference Engine
Another crucial element of the EDI translation process is the cross-referencing of incoming data to NAV customer data. Your trading partner typically orders an inventory item using one of several numbers, none of which may be the number you use to identify that same item in your system. For example, your trading partner may send an order using UPC numbers only, however your NAV Item No. is not the UPC. This means you will need to cross-reference the UPC. The simplest approach to maintaining these cross references is in your NAV database, where it is fast and easy to update when needed. The external system approach, on the other hand, requires duplicate data entry or transmission of another data file to the translation service provider.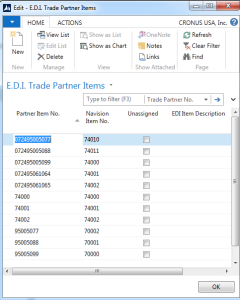 Direct Connection
The advantage of connecting directly to your trading partners using a secure protocol like AS2, FTP, or others is simple: eliminate the middle-man. When connecting directly from NAV to the trading partner, EDI transactions travel securely straight to and from your trading partner, eliminating the transaction fees required when a VAN (Value Added Network) is used. Be aware, however, that you only enjoy the direct transmission cost advantage if you are translating the EDI documents locally. There is a price to pay if another entity provides this service, which is why Walmart, Target, Bed Bath & Beyond, and hundreds of others support the direct connection.
See It In Action
The examples given illustrate just a few of the advantages of choosing an embedded EDI solution. You can see additional live examples during the upcoming webinar, in which we'll discuss these points and more as we demo the "inner beauty" of the most widely adopted Dynamics NAV EDI solution – ACE EDI from Lanham Associates.