I had the opportunity and privilege of running the famed Boston Marathon a few weeks ago on April 20. This is the world's oldest annual marathon.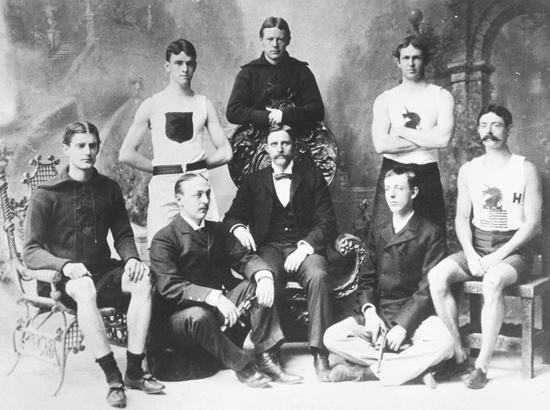 The first Boston Marathon was on April 19, 1897 with only 15 participants and 10 finishers. This year there were around 30,000 runners.
The Boston Marathon is a race you have to qualify for by completing a certified marathon course within a certain amount of time. The Marathon is always on Patriot's Day, which is the third Monday in April. I qualified for Boston by running the Fox Cities Marathon in Appleton, WI in September of 2013 with a time of 3:25:23. For my division, I needed to finish under 3:40. I was able to increase my starting spot a little bit by qualifying again at the Fox Cities Marathon the following year with a time of 3:20:35. The way the time cutoff works, the 2013 marathon is the one that actually got me into Boston.
This was my second time running in the Boston Marathon. The first time was when I was 19 years old. I loved it so much that I wanted to do it the following year. I loved the whole Boston Marathon experience along with the Boston culture: the people, the Bostonian accent, the subway system used for transportation, the tall buildings and unique neighborhoods, and the history. Unfortunately, a knee injury prevented me from going back the following year and kept me from running for quite a while. I got back into running again a year or two later but it wasn't until 2013 that I finally qualified again.
Luckily, we didn't have a harsh winter that year so I was able to continue training after the marathon in September and do long runs every other weekend or so.
In the months leading up to the big race, my family and I made hotel reservations, booked our flights, and did some research on things to do while in Boston. As April got closer, I got more and more excited about going to Boston and running in the Boston Marathon. I had done a few 20+ mile long-distance runs, so I felt fairly prepared.
The Monday of the Marathon came sooner than I would have liked but it was time to get up and going. I had to get to the Boston Common by a certain time to get on a bus that shuttled us to Hopkinton, the start of the race. I was sitting next to a person from Argentina so it was interesting to hear how they trained, how many marathons they had completed, etc. When we arrived in Hopkinton, everyone gathered at a large field where they anxiously awaited the calling of their wave and corral in order to start heading to the starting line.
It seemed like I wasn't there very long before they called my wave and corral. It was time for me to head to the starting line. It seemed like we walked about a mile. We passed several volunteers along the way wishing us luck and checking our bibs to make sure we were in the right group. When I got to my corral, I got rid of my Green Bay Packers sweatshirt. Any clothes left behind were donated to charity. I hoped to bring the Packers spirit to Boston!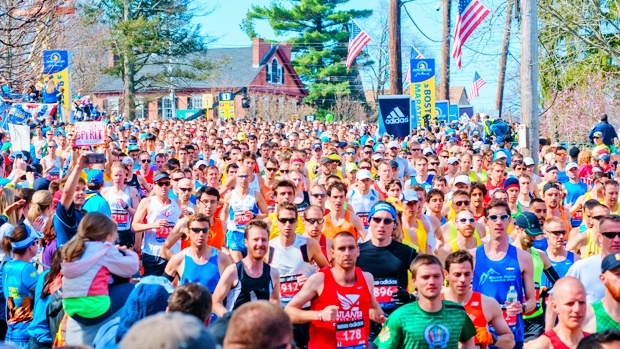 At almost 10:30 ET, my wave started. We were off! Excitement was in the air. Spectators along the way were fantastic! I believe they are a big part of what makes the marathon so great. Even with the rain starting to come down and continuing to come down for the rest of the day, the spectators still were there to support us. There weren't just a few of them, either. There were few parts of the 26.2 mile course where there were no people along the sidelines. The loudest group was probably the Wellesley College girls. I could hear them from a half mile or further away. They are known for giving kisses to some of the guys as they run by.
I felt pretty good for about the first 15 miles or so. But then my legs were starting to feel tired. As I got further along, I could really feel the effect of the downhills on my quads. I was wondering if maybe I did too much walking and standing on my legs the couple of days before. But I kept pushing and tried to hold my pace as much as I could. I knew I was slowing down. I was running through puddles and people were passing me up. My body would have liked to start walking or just be done but my mind tried to stay strong, and I kept pushing all the way to the end. I was excited to pass the big Citco sign which meant there was only a mile to go! Even though I was excited, this last mile seemed too long. I just wanted to be done! I used whatever I had left in me and kept running and finally I was closing in on the finish line on Boylston Street. I finished with a time of 3:26:47. I was so happy to be done!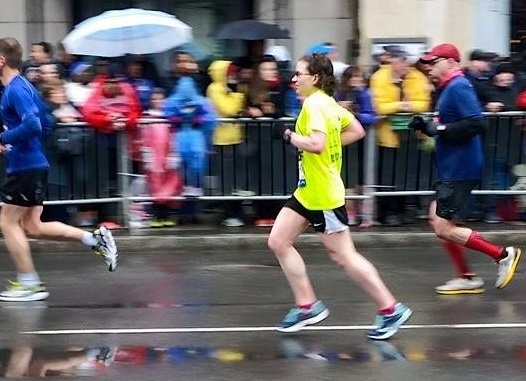 Shortly after we finished, we received our finisher's medal, a heatsheet blanket to keep warm, water, fruit, and protein. For running, the temp seemed fine, but once I finished, because I was all wet and was no longer running, I was cold and tired. I couldn't wait to get to the bag 'n tag to get my sweatshirt and pants. It seemed like forever to get there though. I was also excited to see my family. After we found each other and I got my stuff, we headed back to our room. I couldn't wait to get there so I could eat a good meal and relax. I was surprised to get a little present and congratulatory note from the owners of our rental unit. They were such nice people and made our stay very enjoyable.
The Boston Marathon experience is one I treasure very much. I love the atmosphere, the volunteers, the spectators, the fellowship of the other runners, the course, the hype, and everything about it. It makes all the time and effort put into making it there well worth it. It was great being amongst all the other runners that also qualified, knowing they each had their own story of how they got there. I felt part of a club. Being around all the other runners is like being with my running family. We all understand each other, what running means to us, and all the time and hard work it takes to get there. We know it's not easy to qualify for the Boston Marathon and are amongst a small percentage of runners who make it to Boston.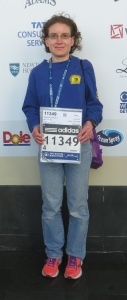 I hope I inspired you to go do what your heart desires. If you set your mind to something, you can do it! I was blessed to be able to do the Boston Marathon again this year. I thank God and family for being afforded the experience and for all the support they have given me throughout the years. I hope others get the opportunity to do the Boston Marathon someday. I know I would do it again if I got the chance!