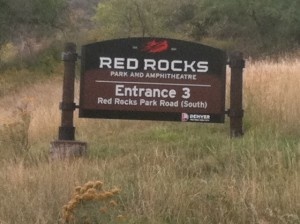 So let me start with the following statement…..if you haven't seen at concert at Red Rocks in Colorado then you haven't seen a concert. I've seen concerts in small theaters, stadiums, large acoustically perfect auditoriums and nothing compares to the sound and atmosphere at Red Rocks. As the sun sets behind you off in the distance you can see the lights of Denver coming alive. The sky is open above you and you are high enough in the mountains to see stars that you can't see at lower elevations. It is just an amazing sight. Then of course the concert starts and you forget all about the surroundings.
For those of you too young to know…..CSN is the 60's group made up of David Crosby, Stephen Stills and Graham Nash. These 3 men with the extraordinary voices and musical skill have been creating hits and beautiful music together and apart for over 40 years. They came from other highly successful groups to make these amazing harmonies. If you ever see the original Woodstock film you will see them doing a couple of songs. That was only their 2nd gig. They have done a few more since then.
When you go to an event featuring someone you admired in their youth, you expect them to not be as good in their older years. The athlete can't jump as high or throw as hard; the racer can't keep up with the younger racers; the actor doesn't have the same looks. I can honestly say that CSN retained their vocal range and were able to push out the old hits and new music with the same force and quality as they did in the 60's.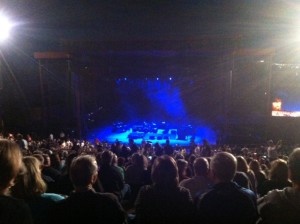 CSN played 2 sets totaling over 3 hours. Not bad for three guys in their 70's. They still maintained their strong political statements as was their wont during the tumultuous years of the 60's and 70's. But the main focus was always the music. All 3 took opportunities to sing songs from their solo careers but the music was most beautiful when the trio sang together. Three legs of the stool, performing exactly what was required to create perfection.
Music has the ability to take you back to simpler times. Times spent listening to LPs late at night or cassette tapes as you drive down the road in your VW bug. Yeah……I'm old. Live music, when done by consummate professionals who should be long past their prime, can release all the stress of the day to day and allow you to simply revel in the beauty. CSN showed that 70 is not the new 50. 70 is cool and will always be cool! If you are fans of CSN and get the chance to see them……DO IT!