This past August I was privileged to be a part of a humanitarian team that helped provide cisterns for storing clean drinking water to the remote Maiuni Village in Kenya, Africa. It gave me pause to see the impact of what clean drinking water will do to improve the quality of life for our fellow mankind.
As companies and individuals here in the United States most citizens take the basic necessities of life for granted. As responsible companies and individuals when we take to heart that doing good and doing well go hand in hand, we raise our entire team to a higher level of wellbeing. Then being responsible we make a bold statement that clean water should be the basic right of each individual on this planet
To understand the process of doing good and doing well, it all starts with individuals that are catalyst. They are the glue, the stickiness that attracts others that want to lead and help. The origin of our trip started years ago with an amazing leader born in the Maiuni Village, Nicholas Syano. As many of the Kenyan citizens, Nicholas is a smart, driven individual that wanted a higher education whose knowledge would somehow lead to bringing his village an improved quality of life.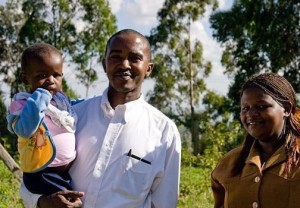 Nicholas' path in life lead him to the University of Stevens Point, WI, where he earned a master's degree in Natural Resources. Talk about 6 degrees of separation! This education led to building relationships with individuals from the Greater Portage County (WI) Rotary Club, which led to meeting David Yeghiaian, the Rotarian District Governor and along with fellow Rotarian leader Brandon Taylor where they created a project plan to help create a sustainable, harvestable crop of trees known as Melia Volkensii. What does this have to do with clean water? Please read on.
A Rotary grant provided for 40,000 seedlings which after being harvested systematically over the next 10 years provides the village with over 3 Million dollars in revenues. The Melia tree is native to the area, grows rapidly in an arid climate to over 80 feet tall in just 5-10 years and mind you has similar hardwood properties and value as mahogany.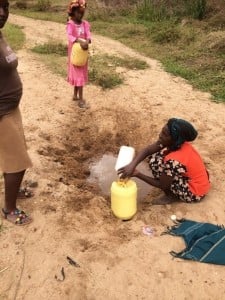 So what does this tree have to do with water? Interesting. A Rotary grant this year paid for the seedlings and 17 water cisterns but it's not enough to also get cisterns for the rest of the 350 homes in the village for storing clean water.
By providing a recurring revenue stream (no pun) the village when harvesting trees can continue to purchase the basic necessities and enough cisterns to continue the plan, thus answering the statement that clean water should be the basic right of each individual.
To understand the depth (again, no pun!) and why this water issue was a huge obstacle to overcome, you have to understand the area. Kenya only gets rain during two seasons every year. After the rainy season, it becomes dry, arid. Rivers dry up. Without cisterns, the only source of water is for villagers to dig four feet down in a dry river bed for muddy water to drink that day.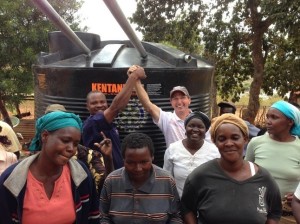 These cisterns or "tanks" during the rainy season capture the rain water that runs off the mostly tin roofs, through the gutters and pipes and store it during the long drought times. It's a clean, reliable source of water.
So you ask, why not dig wells? Wells need equipment with moving parts that require maintenance and there is simply not the money to fix or availability of parts. It was found that after installing wells, with the hostile arid environment they simply break down and can longer be used.
This Rotarian sponsored humanitarian trip was co-lead by David Yeghiaian and Brandon Taylor. The amount of planning, pleading for dollars and execution was a daunting task of project management. Rotary requires that a sponsored project meet the core values of Rotary, being health, education and most important sustainability.
So with good planning over two years of time, an approved project in hand and a team of seven of us we went to Maiuni Village in Kenya in August 2014 to provide assistance and oversight that the project was being well taken care of.
We were greeted by an amazing, dignified, joyful people that were the most incredible hosts. We were brought gifts of fresh fruits to make your tastebuds pop, and of course goats, chickens; and yes the same chicken you saw that afternoon was on your plate for the evening meal. What's the difference between an alarm clock and a meal? An ax.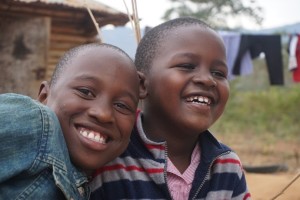 What was learned is that the citizens of Maiuni Village in Kenya arguable know more about the value of life, love and happiness than we. For that statement, take as an example - dental health. In the entire country of Kenya there are only 5 Dental Hygienists. They don't have major dental issues because they don't eat the same sugary, starchy, unwholesome foods that we eat. Their diet gives them good health, long happy lives. And because they don't have issues with the complexities that we bring upon ourselves here in the western world, they live with a sense of communal love that we only dream about.
So I ask you, who teaches who?
It was a joy of be a part of such a wonderful project. It was a joy to see our leaders at Innovia help make attending a trip like this possible and to understand as a company that our core values support the good in bringing life changing water to those that need it.