We make a living by what we get, but we make a life by what we give. ~ Winston Churchill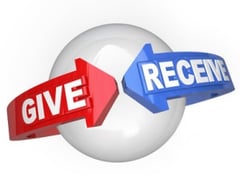 As fall begins, we leave behind the chaos of summer fun, vacation, and prolonged sunshine and transition into a time of slowing down, self-reflection and introspection. Of course, this is not always easy to do as life simply can be chaotic, full of deadlines, and there is never enough time. Before we realize it, work, money, and our own problems and issues become the focus of all our attention. Making a conscious decision to STOP to remind ourselves that there is more to life than just us can be a challenge.
I make a point of reminding myself at this time every year that my fiscal and personal responsibility to my family are first priority, but my societal contribution, which I define as volunteering my personal time – no paycheck—to organizations that need help is just as important. In my opinion, nothing feels more satisfying than giving a few hours of time to an organization that needs help. It reminds me that there is a greater purpose than just "my world," and my personal contributions do make a difference.
It doesn't require a big, time consuming commitment in order to give back. And I find that it's a lot easier to volunteer for something that may affect you or your family personally. For example, we adopted a rescue dog over a year ago from an organization called Homeward Bound (https://www.homewardboundawg.com) in Northern Indiana. They rescue dogs from all over (ours is from Kentucky) and find them forever homes. I have chosen to support this organization by raising money at a few Notre Dame football games, selling concessions in the stadium. It's only a day or two of my time and provides funds to continue treating, spaying and neutering, and saving dogs.
If you can't give your time, a small monetary donation works just as well. Maybe your local YMCA or state police need money to help kids in your area, or maybe you know of someone that could use an extra $20 that you can donate anonymously? Even if you can only afford a couple of dollars, it really does make a difference.
So, I challenge everyone to give just a little time or money to a cause that's important to you – you'll be amazed at how fulfilled you'll feel!