When it comes to options, having more of them is generally a good thing.
The most recent update to the Zetadocs Delivery and Zetadocs Capture Extension for Business Central brings with it additional options in the following areas:
Hard copy printing
Living with COVID-19 over the last 6 months has seen the biggest shake-up to traditional working practices for a generation. Some are even saying we have seen 5-6 years' worth of digital transformation compressed into this period.
Most of your customers will now prefer to receive documents electronically as PDF files because of this change; however, you may still need to cater to scenarios where hard copies are still required.
Zetadocs now includes a hard copy option as an alternative delivery method. This allows you to print off hard copies of reports to be posted in the mail. Zetadocs automatically consolidates all of your customers that prefer hard copies within a Zetadocs batch delivery job into an ordered single PDF file. This is then emailed to the designated staff member or shared internal mailbox for printing. The PDF to be printed is collated per customer so that it's easy to manage the printed output.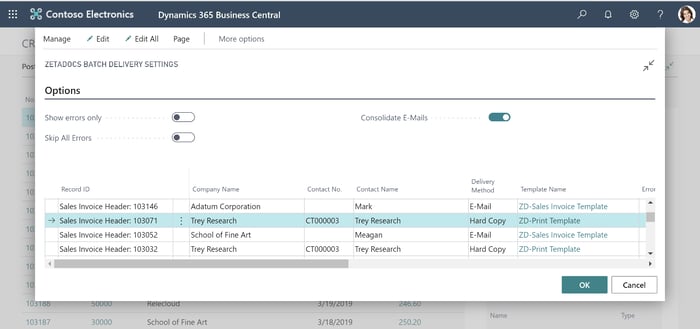 The Zetadocs Hard Copy Printing settings uses the default email sender address as the default recipient for hard copies so that it just works out the box. You also have the option to specify a different email address per record type or per Business Central user that has access to a local printer.
This hard copy option can also act as an automatic failover delivery method in the event the Business Central contact included in a batch does not have an email address assigned.
Document Layouts
Business Central provides a neat way to define different Document Layouts for Customers and Vendors. Once a custom report layout is defined, you can then select that layout from the customer and vendor cards to specify which layouts will be used for different types of documents.
Zetadocs now defaults to the custom report layout specified on the Document Layouts screen for the customer and vendor when sending that report type via Zetadocs. This simplifies the setup of Zetadocs Delivery when you have already specified individual report layouts per customer and vendor.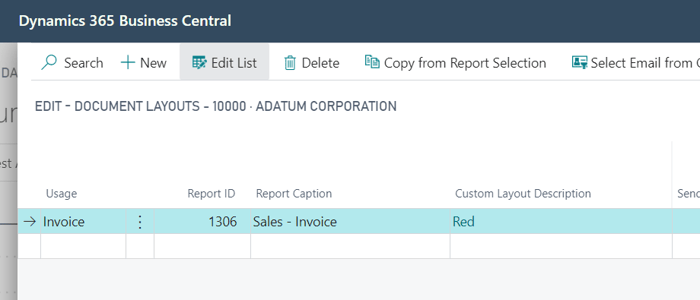 Override Events
Sometimes configuration options like Business Central Document Layouts and the Zetadocs Hard Copy Printing settings options do not go far enough to meet your specific business needs. The two examples described above could be extended by writing AL business logic in a per tenant extension (PTE) that overrides the default Zetadocs behavior.
Zetadocs Delivery Plus customers can override the configured delivery method to Hard Copy based on the value of the document being sent, or set the standard report template used based on the location of the customer record in conjunction with the Document Layout set.
There are plenty more scenarios where the ability to change the default behavior when certain business conditions are met is desirable. Learn more about Zetadocs Override Events and creating per tenant extensions in the Zetadocs SDK Guide, which also includes lots of other customization examples.
Code-customized Base Application
Much of the success of Business Central, and Dynamics NAV or Navision before it, has been due to its ability to be simply customized by partners to suit each customer. Microsoft reintroduced the ability to modify the Business Central Base Application for rare cases when customization was not practical with the standard Extension model.
When you modify the Business Central Base Application, you can break any Extensions that depend on the Base Application. To fix this problem, Microsoft introduced the Microsoft_Application.app file described here.
The Zetadocs Delivery and Zetadocs Capture Extension for Business Central adopts the Application app model so that customers using code-customized base applications, typically industry vertical solutions, can now deploy Zetadocs just like any other Business Central customer.
Upgrade today
The Zetadocs Delivery and Zetadocs Capture Extension for Business Central is available in AppSource for Business Central Online customers, or available for download from the Equisys updates page for Business Central on-premises customers.
We also have upgrade instructions for customers on older versions of our software that are moving to Business Central Online or even migrating to a later version of Business Central on-premises that require an Extension.
Please don't hesitate to contact us directly or speak to your Dynamics partner to discuss your requirements further.