Small and mid-sized businesses make up 99% of the United States economy—so why does it seem like many conversations about integration technology revolve around large-scale enterprises? With a focus on massive global supply chains, "omnichannel" operations, and Amazon Prime-type fulfillment, it's no wonder SMBs sometimes feel left out. And when it feels like all that technology isn't "meant" for you, it's easy to dismiss it as too expensive, too complicated, and just too much for your business.
But here's the thing: just because your brand is smaller doesn't mean that you can't benefit from the same technology being used by enterprises. The same ERP integrations that help multinational corporations scale can also help your business save time, build profitability, and find growth opportunities. Here are three reasons why your small business needs integration.
#1: Your Team Is Smaller
When Amazon, Walmart, or Target has a seasonal demand spike, what do they do? They hire seasonal workers in the thousands to manage the onslaught of customers and orders. But for most SMBs, increasing headcount to keep up with growth isn't an option. So, when orders spike, you're left with two options: work your team overtime (which, let's be honest, is not sustainable) or find ways to increase your efficiency with technology.
Integrations do exactly that by connecting all your systems. Here's an easy way to think about it. If you have an eCommerce platform that isn't integrated, you get a notification every time a new order comes in. Then you have to stop what you're doing and type that order into your Microsoft Dynamics ERP to start fulfilling it. Sure, it might only take a minute for that order—but what if you get 50 orders today? Or 100? It all adds up and can leave you and your team overwhelmed. Integrations automate those workflows, so you can get excited about the influx of orders while having more time to focus on the rest of your work.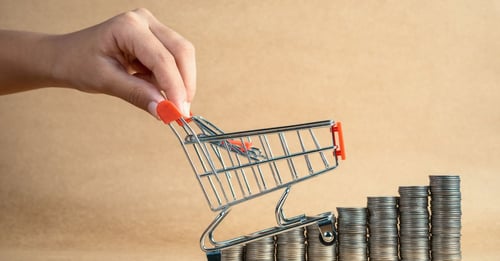 #2: Operating Costs Keep Going Up
If the word "overhead" gets you sweating, this one's for you—and you're not alone. According to the latest survey from TechAisle, reducing operational costs was one of the top 5 issues faced by both small and mid-size businesses. Luckily for you, integrations are here to help.
Let's say you are a mid-size manufacturer. You deliver to a few wholesalers, some key retailers, and you drop ship directly to customers. Packaging, shipping rates, labor, and return costs all play into your operational expenses. It can seem hard to control these costs, but with integrations, it's a lot easier. Integrated solutions like TrueCommerce Pack & Ship can help you choose better shipping rates by showing your spending with each carrier. It can automate key processes like choosing the right package to reduce wasted space (and money). And it can reduce customer returns, not just by bringing data into the system correctly but by validating shipment information before each package leaves your warehouse.
#3: Key Accounts Have High Expectations
Landing a deal with Walmart or Target is huge for your business, but with great accounts come great responsibility to meet expectations. Remember, while they might be your biggest client, you are just one of hundreds of suppliers, and if you can't keep up, these businesses will turn to your competition. Integrations can help keep large customers happy and help your brand grow.
For example, The Little Potato Company grows creamer potatoes found in major retailers like Walmart, Target, and Costco. When it began, the brand was using supplier portals to manage their retail orders, but manually inputting data couldn't keep up, especially when a key client requested even more detailed shipping notices. By implementing a TrueCommerce EDI solution that integrated with Microsoft Dynamics NAV, The Little Potato Company met customers' needs and processed more than 200 orders per week, without overwhelming its team. As an added bonus, the company's been able to grow their business 20% without increasing its workforce.
Still think integrations are just for enterprises? The reality is that any business, large or small, can reap the benefits of integrated technology. The trick is to find the right provider, who understands your unique needs, whose costs make sense for your business, and who has the right support in place to help you grow.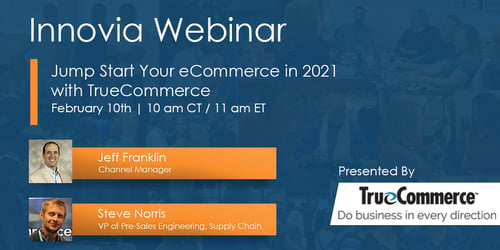 To learn more about the benefits of Microsoft Dynamics integrations, reach out to your Innovia Consultant today. And for more information on how TrueCommerce can help your business thrive online, be sure to join our webinar on February 10th at 10am CT/11am ET (or watch on-demand if you're reading this later).