eOne Solutions comes across several scenarios where customers want full integrations between different systems using their SmartConnect solution. Sometimes, though, it does not make sense to integrate the data. Sometimes, it only makes sense to display that data in another system, which you can do using Popdock. It may sound like a contradiction, but it's for a good reason.
eOne's SmartConnect solution integrates, migrates and automates for thousands of companies worldwide, allowing users to build real integrations that match the complexity and customizations of your business, without a developer, between hundreds of different applications. Using SmartConnect, integrations can live in the cloud or on-premise.
Popdock, with its various functionality, blurs the lines of integration in 5 major ways.
Embedded, actionable widgets – You can embed data from one system into another, without actually integrating the systems i.e., see Dynamics GP data inside Business Central without needing to migrate that data, view Zendesk helpdesk tickets inside Salesforce.
One interface for reporting from any system – In the Popdock interface you can access and see lists of your data from multiple systems at one time, without needing to leave the Popdock app.
Custom reporting across applications – Join data from different applications into one list. An example of this is the ability to see shipping tracking numbers combined with Sales Invoices.
Real-time data access – Popdock doesn't store your data. It provides live, refreshable data that you can refresh as often as you want.
Scheduled exception reporting – Send yourself reports for your exceptions. Examples include credit limit overages, item shortages, daily balances, etc.
Take a look at an embedded widget in Salesforce. We can see Business Central data and Zendesk tickets while logged into Salesforce: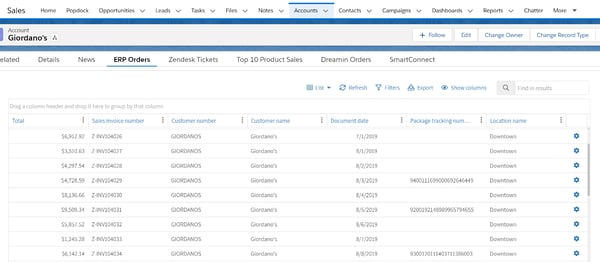 Plus, the two work fabulously together. You can use Popdock as a data source in SmartConnect. This means any list or favorite built in Popdock can be used to power your integrations.

To learn more about this topic, access the webinar below.
This blog is syndicated from our partner, eOne Solutions. You can find the original article here.