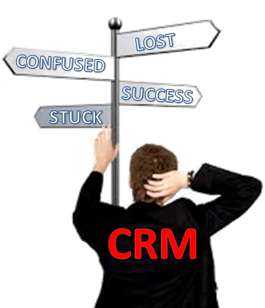 What was the main reason you decided to invest in Customer Relationship Management (CRM)? If you are like most CRM buyers, it was likely to increase sales. Did your Leadership Team have discussions on how to take your sale processes (if you have them defined) and automate them? Most companies do not have methods to measure call activity, account management, opportunity management, or territory management. It is nearly impossible to automate something that is not defined in a process.
To reiterate, what were your main goals in deciding to implement CRM? If you did not define the goals for winning sales and improving the customer experience, then it can easily become used as a compliance tool and create a culture of inspection which creates anxiety. I would suggest using it as a tool for better managing your contacts, opportunities, and account plans which leads to more sales by utilizing CRM as a coaching tool.
According to Gartner, research has shown that the failure rate of CRM is somewhere over 50%. It usually comes down to a lack of focus, lack of commitment, and approaching CRM as a technology rather than a business solution. Many companies fail to use discipline when it comes to defining sales processes and recording activity.
The Harvard Business Review did a study to determine what qualities make a good salesperson, and what drives a salesperson. They said the top two qualities are empathy and strong ego drive. They felt this was necessary since they dealt with failure more than success. Surprisingly the two main drivers for what top salespeople wanted were clarity of task and expectations.
Top salespeople are competitive people that like to know the rules of the game. They like to know what metrics they are being measured on. Many companies will use market share and revenue as metrics. The only problem with this is that you cannot control these. You can influence them, but that is it.
As a management team, you need to choose good metrics that you can control, and that are also relevant to increasing and winning sales.
The culture should be how to create activities that lead to specific results, and how to create account plans with your salesperson and manager that lead to moving opportunities forward. You can control activities and planning, so focus on what you can control.
Experienced salespeople are primarily outcome based and management teams are primarily process based. Leadership needs to have some flexibility to meet somewhere in the middle . It will be an adjustment period for both parties. Focus on winning sales as a team, and not the fact that Bob logged all his calls in on Friday at 4 pm.
To learn more on your sales taking a slide, watch the webinar below.
Check out our blog page here for more information and other topics of interest, or drop us a line at sales@innovia.com.
Good Selling,
Steve