If 2020 has taught us anything, it's that the less tied down to one place you can be, the better. One of the most significant barriers to remote work for many businesses is an on-premises deployment of their ERP system. With servers in-house, your team must have at least a skeleton crew present, limiting your flexibility and ability to do work from anywhere.
What if you didn't need to worry about servers and could, instead, focus on meeting YOUR customers' needs?
If you've been thinking about moving to the Cloud in the past, you might be thinking about it even more today; but taking that first step can seem a bit scary. That's where a well-thought-out plan tailored to your business helps.
By having a strategy, especially one proven to work at companies like yours, you can confidently bring your organization into the Cloud!
Get the information you need to lead your team forward … FREE!
Innovia Consulting has partnered with Microsoft to offer you a free Cloud Readiness Assessment to help you build this plan. You will have a chance to work directly with Microsoft's specialists and your Innovia partner team to determine what will be needed to bring your business to the Cloud.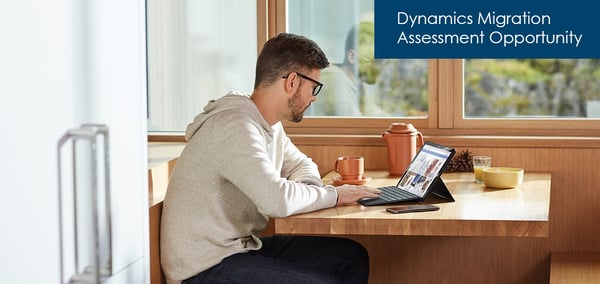 In this assessment, you'll discover ways to overcome common hurdles like:
Ensuring access to all stakeholders and users
Maintaining the functionality and customization you need while making the transition
Precisely estimating the ongoing costs and savings expected
You'll also have the chance to get answers to all the questions you've always wondered about Cloud migrations and ERP deployments--right from the source.
Team up with Innovia and Microsoft to master your Cloud migration
Very soon, Microsoft will begin directly reaching out to on-premises customers to offer this assessment. We encourage you to accept, as it is a no-obligation consultation that helps you plan for the future whether you make a move or not. Your Innovia team will be closely working with Microsoft during and after this assessment, so reach out at any time if you have questions or concerns.
While we expect Microsoft to begin reaching out to you directly, if you can't wait to get started, you may accelerate the process by contacting your customer engagement specialist or filling out the form on this page. We will let Microsoft know that you are especially interested in this conversation.
Do you need to learn more about Microsoft's Cloud options?
If you've read this far but want to understand better how Cloud technology empowers your business, you will want to review the resources we have available about Microsoft Azure. This Cloud service has the scalability to fit any business, unbeatable security, and nearly limitless possibilities. And there's no need to add another vendor, as Innovia can manage it for you.