The Payment Reconciliation Journal is a great tool in Microsoft Dynamics 365 Business Central to quickly reconcile your bank, receivables, and payables by applying payments recorded in the bank to their related unpaid invoices and credits. This specifies both incoming and outgoing payments that have been recorded as transactions on your online bank account. The journal is populated by importing a bank statement as a bank feed or file.
A bank transaction import can be setup utilizing the following 3 methods:
Bank Data Conversions Services is a third-party service which has your bank file formats already mapped for easy import.
Yodlee Bank Feeds is a third-party service which allows you to link your system bank account to your online bank account. This means that the latest bank statement is automatically or manually fed into your payment reconciliation journal.
Data Exchange Definitions allows you to manually map a file from your bank to the payment reconciliation journal.
To import bank transactions into the Payment Reconciliation Journal, select the "Import Bank Transactions" function. Select the bank account from which to import transactions as well as the link to statement file that you may have downloaded from the bank. This function will not only import the payments into the journal but try to automatically apply what it can based on the payment application rules you have setup.
Match Confidence
The Match Confidence field will show the status result of the automatic application. This field will display a value from Low to High to show the quality of the automatic matching of the payment application.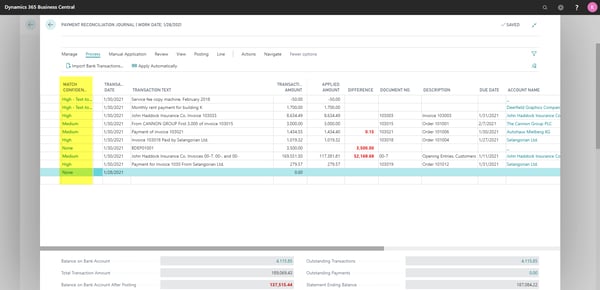 Text-to-Account Mapping
Mappings can be setup between text shown on payments to customers, vendors, and g/l accounts. Payments will then be posted to the specified accounts when posting the journal. Payments would not be applied to any open entries. An example of a text-to-account mapping would be a recurring expense such as bank fees or any electronic payment that is deducted from your bank account.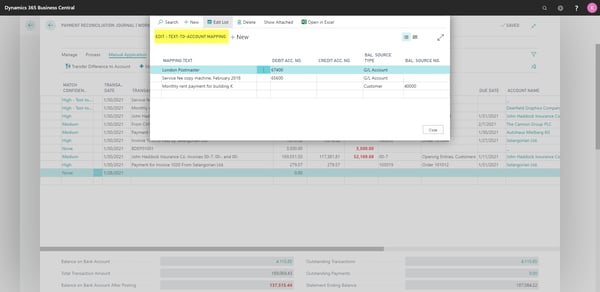 Payment Application
For each journal line, you can show the Payment Application window to see all open entries for the payment and view detailed information for each entry about the data matching that payment application is based on. From here you can manually apply payments or reapply payments that were applied automatically to an incorrect entry.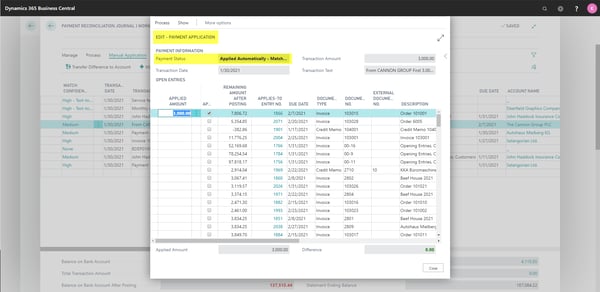 Posting Options for Payment Reconciliation
Two options are available for posting the payment reconciliation journal. First, "Post Payments". This action will post your payments only. If you want to perform month end bank reconciliations, utilize this option. Second, "Post & Reconcile Bank Account". This action will not only post your payments but will automatically reconcile and close the payment transactions for the bank account.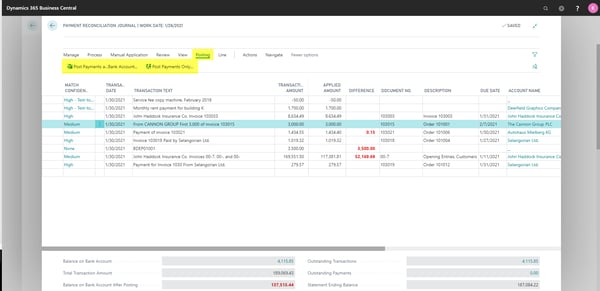 To learn more about Payment Reconciliation in Microsoft Dynamics 365 Business Central, register for our webinar occurring on June 13, 2019 @ 10 am CT / 11 am ET.