One of the most challenging aspects of producing documents as a team is ensuring each contributor collaborates and responds to colleagues' new ideas, concerns, and revision requests. Over the years, Microsoft has delivered new methods to enhance this effort again and again, such as SharePoint document sharing and enhancements to the Track Changes feature.
Now it has set its sights on comments with smart upgrades that make working together even more seamless. Slight adjustments to this longstanding feature are removing barriers and reducing the number of times you have to message colleagues individually about your comments.
Let's look at what's new and how these features can help you work smarter as a team. Everything we're describing today is available in the web app versions of Word, Excel, and PowerPoint today. At the time of this publication, these features are currently in preview for the Windows apps and in the Beta Channel for MacOS versions.
Smart Comment Placement and Hiding
The first thing you'll notice when you open a document with comments from a colleague is that comments appear in your default view. They appear alongside the text as close as possible to where they are inserted in the document.

When you click a comment, it highlights it with a colored outline and draws your attention to it in the text.

What may not be apparent immediately is that comments don't appear in this view if you resolve them. To see resolved comments, you need to open the Comments pane, accessible in the screen's upper right corner. Once you do, a new pane will appear listing all comments in the document.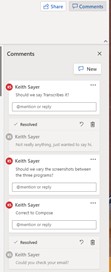 This structure makes sense because as you start working through comments, resolved issues get hidden but not deleted. By default, you will always be focused on ongoing questions, making the whole process much smoother.
Conversation Tools Built into Comments
Microsoft is making it easier than ever to reach the individuals you need to see a comment. Need to ensure a specific colleague reviews something within their expertise? Insert the @ symbol and then type their name. As you do so, their name and email appear in a suggestion list. Click them here tags them in the comment.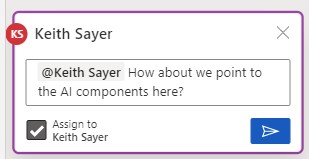 A few things will happen.
Firstly, the person you tag gets an email letting them know someone mentioned them in the comment.

The comment also highlights their name when they open the document to bring them to the right spot.

As you can see above, I also selected the option to "Assign" the comment to Keith Sayer. Now it acts as a task with a checkbox I can mark when I finish it.
Altogether, these improvements to the Comment feature remove team collaboration barriers by making your communications clearer, timelier, and targeted to the right people. It's also beneficial that Microsoft ensures that the comment experience is consistent across its Microsoft 365 products, so you only have to learn the process once.
Are you Interested in Getting Started with Microsoft 365?
Innovia Consulting offers several tiers of Business plans that enhance your Dynamics 365 Business Central or NAV system. We think you'll love the seamless ERP integration, great applications, and enhanced security features.