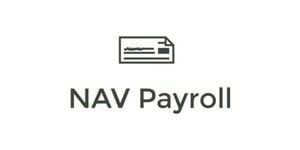 How do you make strategic decisions that will positively impact profitability and increase your organization's competitive advantage?
Evaluating Labor Costs
One area that companies overlook is labor costs which on average accounts for 25% of their cost structure. Detailed labor cost analysis is a cost effective tool that can make an immediate impact and it does not require painful changes to your current processes. You can't manage what you can't measure. And if you can accurately measure your labor costs then you can quickly identify problem areas within your business. How much margin are we actually making per item with this product line? Are the smaller units actually generating higher margins? How is our margin impacted by the new employer taxes or company 401k contributions?
With NAV Payroll, you can leverage your existing NAV ERP solution to integrate labor costs with your item ledger which in turn facilitates a quick calculation of your Cost of Goods Sold.
NAV Payroll is built in NAV, it is not a 'bolt-on' or 3rd party software that requires an import to NAV. This means your payroll team works within your NAV ERP and does not have to bounce between systems. More importantly, this means all of your labor costs are within your NAV ERP solution which allows you to leverage popular NAV features like Dimensions or the NAV Jobs module.
NAV Payroll's outsourcing service 'Painless Payday Premium' is an IRS authorized Electronic Return Originator. If you are a NAV user who outsources payroll tax deposits and document filings, NAV Payroll's 'Painless Pay Day Premium' allows you to continue outsourcing payroll but with the added benefit of your payroll data being in NAV. You get all the benefits of labor cost analysis without having to deal with payroll headaches.
If you are looking for a way to positively impact your organization both strategically and financially we welcome the opportunity to introduce you to NAV Payroll.
Shouldn't payday be painless?
To learn more about NAV Payroll and how you can take the pain out of payday, watch our webinar on demand.