I think it would be ridiculously entertaining to have a business card that read…Holly T. Kutil, Gatekeeper, don't you?
At first thought, you may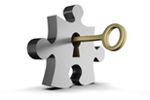 not think being the ERP Administrator and the Gatekeeper have anything to do with one another, but I am here to share my thoughts on just how this role relates to you as the ERP Administrator, your company and your partner.
By definition, a Gatekeeper is the person in charge of a gate, usually to identify (count, supervise, etc.) the traffic or flow running through it. Whatever you want to call it--a guardian, a monitor, or just a person who controls access. Hold on! Is it just me or is this starting to sound like part of the role of an ERP Administrator?
In our case, the "gate" we keep is to the ERP system. As administrators, we are responsible for the integrity of that system and its data. Therefore, it is critical that we indeed become the Gatekeepers of our ERPs, deciding what and who are allowed to it. With so many different people, duties, modules, workflows, securities, and add-ons the responsibility becomes much more than asking "Who goes there?" or "Who is tall enough to ride the coaster"!
In the past, the gatekeeper may have been much like a warden, but in today's business world that could not be farther from the truth. The new "Gatekeeper" must learn to use diplomacy and tact. To be successful as the Admin/Gatekeeper you must become a team builder, trainer, and coach. Honing your skill sets daily in these areas is a must for the ERP Administrator.
Below are some habits and hacks to build some gatekeeper muscle from my CIO toolbox:
Record Training. Make life easy for yourself. Every time there is a new workflow or training session with your partner, record it. This discipline will build a library of training materials that you can use for new hires, changes in job responsibilities, and even corrective action retraining.
Record and Document Workflows. There is a handy tool on your windows computers called the PSR (Problems Steps Recorder) just type "PSR" into your search and up it will pop! Great little tool. You can also use this tool for documenting errors in your ERP to send off to your partner to review and correct.
Microsoft Teams. Teams is another great tool from Microsoft and also part of the "stack" I am sure we will be seeing integrated with our Dynamics ERPs in the future. Training is available from your CSPs (cloud service providers) and also at a cost through linkedin.com/learning. (Side note: I would take advantage of all the learning about the Microsoft Office products if you are using Business Central "NAV" or any Microsoft Dynamic ERPs)
Read-Read-Read. Read Leadership/Team-building books, Read Leadership/Team-building blogs, Read Leadership/Team-building articles on LinkedIn, and when your eyes are tired, watch videos and listen to podcasts.
60 Minutes a Day. Commit to spending 60 minutes each day (yes even on the weekends - hey it's your life and career - go big or go home) to continuous improvement and skill building around the duties and activities of the ERP Administrator and a substantial portion of that time on this area of team builder, trainer, and coach.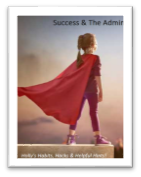 Keep in mind that knowing your role as the administrator is half the battle…you are on your way to becoming a ridiculously successful ERP Administrator!
Will you choose to spend some time building your Admin muscle? I expect to hear about your amazing adventures and accomplishments in 2019.
I am committed to writing "Success & The Admin" Holly's Habits, Hacks & Helpful Hints in 2019! I hope you will enjoy it and continue our journey together in 2019.
Holly