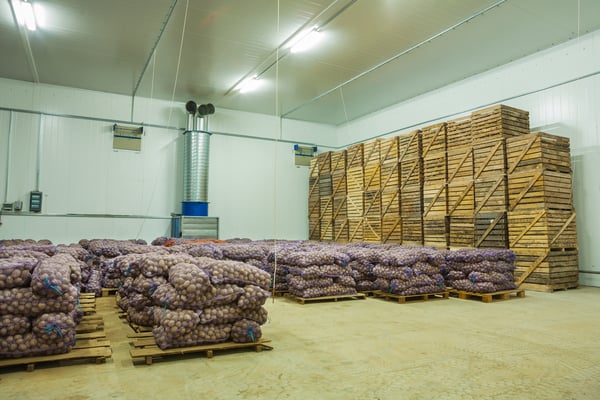 Inventory costs money. Therefore, too much inventory equals money wasted.
Every distributor knows the cost of holding goods in stock. There are different costing methods, but in general, the cost of inventory is expressed as a percentage of the inventory value. It includes numerous variables such as capital, warehousing, depreciation, insurance, taxation, obsolescence, and shrinkage costs.
The key to cutting those costs is an inventory software management system coupled with supply chain management (SCM). That is what Microsoft Dynamics 365 Business Central provides. It has built-in tools to automate and secure your supply chain with optimized inventory levels. And built-in intelligence to predict when and what to replenish. It allows distributors to purchase only what is needed based on dynamically updated inventory data.
Of course, this level of accuracy is critical for food distributors who have to account for "best sold by" and "best used by" dates. Not to mention perishables. With Dynamics 365 Business Central, you can tighten distribution processes and improve inventory management for single- or multi-site warehouses, in addition to handling order processing and demand planning.
Microsoft Dynamics 365 Business Central makes it simple and easy for food distributors to:
Lower inventory cost and risks by more efficiently managing the size and age of inventory with varying shelf lives
View expiry dates and serial/lot numbering across multiple locations
Access information at any time during sales, purchase, transfer process and afterward
Automatically record stock date
Allocate unique barcodes that can be traced back to the original supplier
Track and monitor potential item shortages
Track products from the manufacturer to the shelf
Eliminate wasted activities by integrating sales, warehousing, purchasing, and finance
Access business intelligence by drilling down into accurate data
Achieve business agility with 360-degree visibility into demand, inventory, and logistics across the entire supply chain.
Don't let your legacy systems diminish your profits. Eliminate operational inefficiencies. Implement an Enterprise Resource Planning (ERP) system that addresses food safety issues and quality assurance demands. Stay efficient and competitive. Streamline your entire system and gain instant access to the information needed to make key purchasing, pricing, and marketing decisions.
At Innovia Consulting, food distribution has been our core expertise since 1999.
Whether you are looking for a new ERP system or in need of a new Business Central Partner, Innovia is the right choice. Visit us at www.innovia.com. Call us toll-free at 800.834.7700. Email us at sales@innovia.com.
Let's chat about food service distribution.
Related Article
If You're a Food Distributor, Dynamics Business Central Is Built for You