Over the past few months we have been asked several times to discuss how to fully integrate Planning and Reporting into an Automated Digital Transformation process. The reason most people ask this question, is they realize that it is difficult, if not impossible, to build such a process using disparate standalone solutions and siloed sources of data.
In this blog, we will provide some useful information on how to accomplish this task.
Let's start by defining each step.
Strategic Planning
Strategic Planning is focused on setting company wide organizational goals and objectives for the next 3-5 years. The plan will be used to establish agreement with all employees to work toward common goals, determine priorities, and focus resources so the intended outcomes/results are understood and achieved.
Operational Planning
Operational Planning transforms the Strategic Plan goals, objectives of the company into tactical goals, objectives, and activities at the departmental level for the next 1-3 years. Operational Plans establishes the basis for the annul operational budget and may include: Marketing Plans, Sales Plans, HR Plans, Manufacturing Plans, etc.
Financial and Operational Budgeting
Operating Budget
Operating Budgets covers planned revenue and expenses over a predetermined period. An Operating Budget tracks information from three areas: Expenses, Revenue and Profits. Profit is determined by combining expected revenue with budgeted expenses to determine profit or loss for the budget period.
Financial Budget
Financial Budgets project how cash will be acquired in what period, and how it will be spent over the same period. A major part of a Financial Budget is Cash Flow, which details cash expenses and assigns incoming cash to cover it. A Capital Expenditure Budget deals with major planned expenses, is also part of the Financial Budget. There are several budgets types that may be included: HR, Marketing, etc.
Forecasting
Forecasting aggregates Planning, Budgeting and Actual data to form expectations and predicts future financial results. Most companies today use periodic Forecasting based on YTD Actuals against the original fiscal budget, and Forecast expenses and revenue to predict future period results. The Forecasting frequency can occur weekly, monthly, quarterly or bi-annually, depending on requirements. There are several types of Forecasting models: Sales, Manufacturing, Distribution, etc.
Reporting
CPM reporting tools automatically collect, consolidated, check, and report on your financial and operational data. Reporting packs are distributed as secure webpages, that can also be delivered as a PDF, Word document, Excel spreadsheet or PowerPoint presentation. Automatic processes can be set up to launch your month-end reporting as secure webpages. Reports may contain business content from any source. From any report you may, Drill-down, Drill-through, and Drill-to any number.
Now that we have defined the individual steps in the process, the question remains how to Automate the entire process to make it: Easy to Build, Easy to Use, and Easy to Manage.
The answer is, CORPORATE PERFORMANCE MANAGEMENT.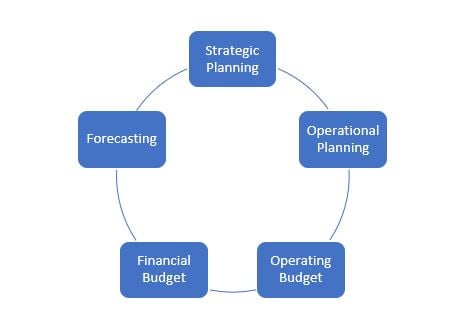 Corporate Performance Management is an All-In-One End-to-End solution providing complete business insight allowing for Data Driven decisions through a combination of:
Automated and Dynamic Reporting, Planning, and Forecasting
Data Warehousing for Multiple Data Sources
Dynamic Data Visualization
Role Based Content
Web and Mobile Content Access
Delivering an intuitive, Fully Automated user experience under complete Security.
Automated Reporting, Planning, and Forecasting
Financial Reporting
CPM facilitates the creation and automatic distribution of presentation quality financial reports to company stakeholders. It allows the management and viewing of financial data in an easy-to-use, real time environment. CPM simplifies report creation by leveraging existing skills, like Microsoft Office, and provides Secure Web access to information from any place and at any time.
Planning
CPM will significantly improve the accuracy of budgets and help teams better understand the impact of business decisions and plans. Budgeting within CPM means there is only one tool for everything, including HR, Financial, Operational, Capital Expenditure, Cashflow Planning, and any additional planning functions that might be required.
Planning within a CPM solution incorporates the process into a larger, corporate-wide closed-loop system which facilitates a holistic approach to the Monthly Financial Rhythm of achieving corporate objectives. In the context of CPM, budgeting will support operational plans allocating resources to the activities needed to achieve the goals and objective of the corporate Strategic Plan. Additionally, budgeting within CPM allows for better internal coordination and controls.
Forecasting
Forecasting within a CPM solution will be future-proofing your business by improving the accuracy and simplifying your forecast process. Forecasts will be created quickly, and allow for comparison against actuals, budgets, previous forecasts and KPIs. CPM forecasting tools will show what's driving the business, allowing for adjusting scenarios to help make more accurate business decisions. Forecasting within CPM means there is only one tool for everything, including: Automated rolling forecasts; Compare forecasts to actuals instantly; Top-down and bottom-up forecasting; Easy to create and manage; and Instantly flows through to reports and budgets.
Data Warehousing for Multiple Data Sources
Data Warehouse and OLAP Cubes
CPM solutions use a Data Warehouse and generally contain a set of data marts created within Microsoft SQL Server. Data Marts are created using OLAP Cubes in SQL Server Analysis Services (SSAS), providing foundational data for all Reporting, Planning, Budgeting, and Forecasting applications. Every business process will have one or more OLAP cube(s), created, customized, deployed, and managed by the CPM software. CPM solutions follow data warehouse design guidelines to promote performance and data consistency across the organization.
Data stored in Microsoft's SSAS database is the way to make it easy to retrieve data whenever and wherever it is needed. CPM templates, for reports or inputs, access results instantly and securely, and eliminates the risk of human error. Storing the data in a Data Warehouse within a CPM solutions means there is only one version of the truth and includes: Real-time data entry on any device; Storing Data correctly and it is never lost; Entering data via Excel or online forms; Feeding Data directly into reports; Providing Secure data capture and storage.
Summary
CPM gives you everything you need in an All-In-One solution, automating your everyday high-value tasks so you can stay agile and focus on your business.
CPM combines operational and financial data to gain deeper insights that matters, allowing you to better measure success and improve planning.
CPM has a full range of features that will drive greater efficiency, collaboration and productivity across your organization.
CPM facilitates a holistic approach to your Monthly Financial Rhythm.
To learn more about this topic, access the webinar below.