Because of the CDC's recommendation to limit face-to-face interaction, many businesses—most likely, including yours—are switching to fully remote work. While advances in technology make remote work more possible today than ever before in history, businesses that are not quite ready for the shift are finding they need to accelerate this process. Innovia Consulting is joining forces with Microsoft to help.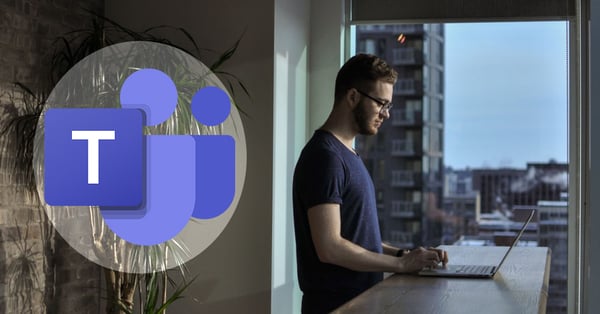 Microsoft Teams is a collaboration application that helps remote workers work together easily and efficiently. It is part of the Office 365 platform. We use it every day to enable our staff to help customers all over the country while minimizing trips back to a central office. Today, it enables us to continue working with our customers without interruption even though all our workers are at home due to the COVID-19 outbreak.
Microsoft Teams can also replace or supplement your existing office phone system for newly remote workers, and with new SKUs available from Microsoft on April 1 you can have a complete phone solution for $20/user/month.
But if you aren't using Teams already, how do you set it up NOW and make a swift transition? The answer varies based on what Microsoft subscriptions you already have. Let's walk through several scenarios.
My Business Does Not Have Office 365
If you do not currently subscribe to Office 365, you could choose to do so to get Teams, certainly, but we have a special offer for Innovia customers that can help you through the next several months without adding an additional cost.
*The below offer is no longer available, please reach out to your account manager or Jeff Pergolski to learn about any current offers for Microsoft 365 (Office).
Innovia customers can opt for a free trial that includes access to Microsoft Teams. This trial runs for a full 6 months, during which your business will have access to Microsoft Teams to amplify your remote work efforts.
Here's how our customers can get started:
If you have not already, you will need to complete the CSP agreement process. Don't worry! Just filling this out does not change any subscriptions or licenses for your business. It simply allows us to help you with your licensing, including issuing your 6-month trial.
Contact your Account Manager or me (Jeff Pergolski). Either of us will be able to help you get your trial.
We initiate the trial for you as one of your CSP partners. As soon as it's live, you'll have access.
One caveat with this trial is that it is limited to 1,000 seats (a.k.a. users). If your business requires more, please contact us and we will find the best option for you.
My Business Already Has Office 365
If you already have Office 365, Great news! You have access to Teams now! Even if you haven't used it previously, it is included in the subscription. Just visit this login page to get started. You can also download the desktop client from this login page if it is not installed on your machine.
While you have no additional costs associated with starting to use Teams, your big challenge now is one of adoption. Preparing employees for a software transition is difficult under the best of circumstances. To help you make it happen quickly, we've compiled both Innovia and Microsoft resources on Teams and Teams adoption.
Innovia Resources to Help
As I mentioned previously, we're avid users of Teams ourselves and several of our team members have released educational content about Teams that can be a big help if you are thinking about implementing or expanding your Teams usage.
Microsoft Resources to Help
Microsoft has released many resources to help you speed up your adoption of Microsoft Teams. Here are a few of the highlights:
Need More Information or Assistance?
As always, Innovia Consulting is ready to help you succeed. If you have any other questions, we invite you to reach out to us either through the Live chat in the corner of your screen, by phone at 800.834.7700, or by filling out our contact us form.
You can also watch a webinar I gave previously about these topics and more, including the release of Microsoft Business Voice.