Are you looking for a solution to automate the accounting for leases under ASC 842? Innovia and LeaseQuery have partnered to help you leverage the appropriate disclosure balances and integrate necessary journal entries with your general ledger in Business Central.
The Benefit of Integrations
Software solutions integrated with ERPs help mitigate the risk of inaccuracies. All companies want to ensure entries are reasonably accurate with an established set of controls in place to minimize error. An integration where employees can click a button to push journal entries from the subledger to the general ledger provides convenience that can't be felt through a manual upload. This ease of use is an added benefit to the already uncomplicated simplistic nature of automated calculations provided by the solution itself.
Learning about ASC 842 through LeaseQuery
LeaseQuery is a cloud-based, purpose-built lease accounting software addressing the new lease accounting requirements under ASC 842. With leased assets now impacting balance sheets significantly, LeaseQuery helps companies eliminate accounting errors that could potentially lead to material misstatements.
As a reminder, ASC 842 provides better transparency of lease obligations and activities by creating a new lease liability and right-of-use (ROU) asset for operating leases. This balance is measured at the present value of lease payments discounted using a rate as of the commencement of the lease. For public companies, the new standard was effective for fiscal years beginning after December 15, 2018. Private companies and private not-for-profit companies had an original effective date for fiscal years beginning after December 15, 2019. However, due to the burden experienced by public companies and the decline in the economy caused by the coronavirus (COVID-19), the adoption date was extended to an effective date for fiscal years beginning after December 15, 2021. Please see below for a graphic that further explains the effective dates.
ASC 842

Public

Private

Effective Date

January 2019

January 2022
The adoption of ASC 842 can be an overwhelming process to undertake for both large and small companies. The accounting department isn't the only team affected by this change. Companies should be concerned about the overall impact on various departments, such as facility teams, fleet management, operations, etc. Implementing a software solution centralizes the current process so everyone has access to lease information, and the accounting and finance team can respond swiftly to changes affecting the measurement of the liability and ROU asset.
Innovia has partnered with LeaseQuery because the software can help customers:
Centralize all lease data in one place, including storage of documents

Generate ASC 842 disclosures as well as rollforwards and forecasting reports

Analyze lease data through a dynamic reporting studio

Integrate journal entries

Automate critical date notifications

Properly account for missed leases, reassessments, and other lease changes

Manage a history of lease changes
In addition to the system's functionality, LeaseQuery has in-house lease accountants that can address various accounting concerns. (e.g., tenant improvement allowances, amendments, renewals, impairments, etc.)
Conclusion
To learn more, you can also join LeaseQuery's upcoming webinar to learn how to adjust your business to respond to the New Lease Accounting Standards. If you're reading this after the fact, great news! You can watch on-demand now.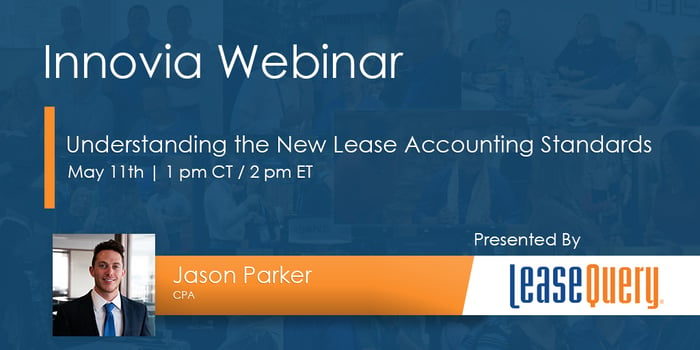 Again, the partnership with LeaseQuery is a path to an easy and transparent solution for lease accounting. For additional information, please contact your Innovia Customer Engagement Specialist, email sales@innovia.com, or call 800-834-7700.