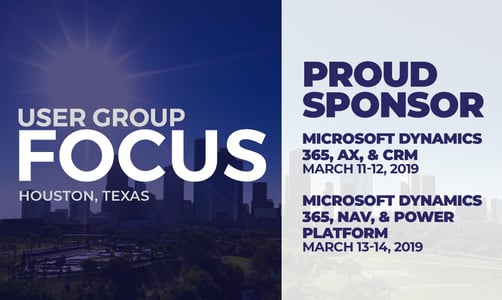 This March [the 13-14th], experience the energy that comes with solving issues, connecting and developing relationships, and learning from technical experts. Discover why Business Central / Microsoft Dynamics NAV users are gathering in Houston at User Group Focus North America.
Why you should join Innovia Consulting at User Group Focus
User Group Focus is a deep-dive training conference comprised of 90-minute, intermediate to advanced-level sessions taught by technical and functional experts. As a sponsor of this conference, we are excited to share in this journey with you.
Attendees will have access to:
Sharpen your skills and learn best practices to further your job role, career, and product investment.
Network with peers who are in similar roles and face the same issues on a daily basis.
Discover 3rd party solutions and what they can offer you and your business.
BCUG/NAVUG will be joined at User Group Focus by fellow user groups – learn more.
Innovia Consulting Sessions
4 Underused Areas of Your BC / NAV System
Wednesday March 13 | 8:30- 10 am
Presented by Tom Doran
The average Dynamics NAV customer uses only half of the available functionality in their operations. Let's unpack more ROI from your existing system as we walk through typically underused features and other hidden gems your users can leverage. On the agenda are Dynamics NAV workflow and Microsoft Flow, Relationship Management, Word templates, and the new In-App Designer - so strap yourself in!
What if Your Process is the Problem: Value Stream Mapping
Wednesday March 13 | 10:15-11:45 am
Presented by Alan Wyne
Sometimes software is not the answer, or at least not the only answer. If we have a bad process, then automation only allows us to do the wrong thing faster. Attend this session to learn how companies have achieved better results by utilizing this lean initiative to gain insight into waste and true points of value for your customer.
Business Central: The Epicenter of Your Company
Wednesday March 13 | 1-2:30 pm
Presented by Holly Kutil
As system admin, you have to know a lot, or figure it out and fast. In 90 minutes, we'll attempt to cover everything you ever needed or wanted to know about being the administrator for Business Central, from core setups to best practices (or at least, help you look like you know what you're doing better).
The Distribution playing field is changing: What does the future look like?
Wednesday March 13 | 1-2:30 pm
Co-Presented by Steve Waltz
Whether you or not you deal directly with Amazon, they and others are changing the world of distribution and with it, your vendors' and customers' expectations. The demand for fluid, real-time (and even predictive) information is exploding. Your ability to know everything about your products and where they'll be when, is fast becoming mandatory. We'll discuss the impacts of changing technologies and expectations on the average BC/NAV customer, and how you work with your existing systems to adapt.
Cracking the CRM Code
Wednesday March 14 | 2:45-3:30 pm
Presented by Steve Waltz
Are you considering CRM? Have you implemented CRM and you haven't been seeing the sales results you were hoping for? CRM isn't selling. It's a Contact Management System. Selling is the art of creating possibilities. In this session we will help you tie together sales processes, and a winning sales strategy to help you take your sales to the next level.
Power BI Reporting for Business Operations
Thursday March 14 | 8-9:30 am
Presented by Alan Wyne
We're "gettin' real" in this deep dive on how you can use Power BI for business operational reporting, including manufacturing, warehousing, and shipping. By the end of the session you will know how to link to your BC / NAV system, have a basic understanding of data tables and fields specific to operations, and how to build and publish dashboards and daily/weekly reports. A discussion of "gotcha's" topics will be included to help you with any issues you may experience working with Power BI. Sample reports will be provided to each attendee at the end of the session.
---
Our Commitment to You
At Innovia, it is our goal to help you become successful, both as an organization and individually. This is why we would like you to join us at User Group Focus and encourage you to take advantage of resources such as the user group communities.
It's time to get registered
Invest in your career and join Innovia Consulting at User Group Focus --