The technology needed to transform your business is no longer only available to a select few. In this blog, we explain how Microsoft Dynamics NAV and Sana Commerce, the seamlessly integrated e-commerce solution, can help your organization go from disconnected silos to data-driven success.
Microsoft's Vision on Digital Transformation
New technology continues to change the way we think about our work — and the way we do it. The introduction of email, the normalization of telecommuting, and the seemingly unstoppable automation of administrative processes are just a few examples of technological developments that have transformed the world as we know (or rather, knew) it.
As explained in this video, for Microsoft the dream has always been to change the way work is done. This digital transformation will help organizations engage with customers, empower colleagues and much more. How? Through transformational technology.
That's what Microsoft Dynamics NAV is. This solution brings together your day-to-day operations without the obstacles inherent to silos, and with the strength and security of Azure.
It's a vision that we couldn't agree with more. That's why we have created a single-stack e-commerce solution built to fit in seamlessly with your existing IT landscape — and your ERP in particular.
What Is Single-Stack E-Commerce?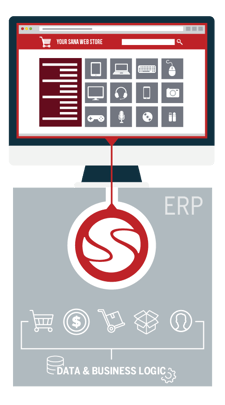 Integrating systems to create an ecosystem that offers more benefits than the individual elements combined. This idea formed the basis of Sana Commerce, our single-stack e-commerce solution.
We designed Sana Commerce for Microsoft Dynamics NAV to perfectly integrate with the system. It is, like the ERP itself, hosted on Azure. It even speaks the same language as Dynamics NAV.
This is because we believe this is the best way to build a successful online sales channel: by using your ERP as the engine. Only then can you create a web store that will help your business realize its full potential.
Breaking Down Silos and Building a Future-Proof System
While your clients are used to buying online(last year, 58.3% of global internet users had made an online purchase), they aren't going to use your web store if they don't get the same deal as when they call or email a sales rep directly. Or if they know that the product specifications in your web store aren't always correct. Or if they experience fulfillment issues.
A web store that fits perfectly into your existing sales landscape while also meeting even the most exacting customer demands doesn't just need the right branding and smart architecture. What it needs, above all (and this is doubly true for B2B organizations) is the right data.
Data that your business already has, such as product specifications, customer pricing, or even tax determination logic. And with an ERP like Microsoft Dynamics NAV, you know that all this data is stored in one place, instead of spread across silos scattered throughout your organization.
That's why we believe in the power of single-stack e-commerce.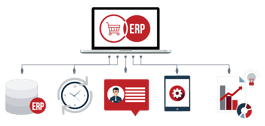 Single-Stack E-Commerce and Your Digital Transformation
We just painted a pretty picture, but it's all very abstract. What exactly does single-stack e-commerce do for your business? And how does it help you with your digital transformation?
Data Integrity
Having a single source of truth for your vital business data helps you keep your data reliable. This is why Sana Commerce doesn't muddy the waters by duplicating the data and storing it in a second database.
Having all your information in one location ensures that your data remains reliable, while also cutting down on administration and maintenance requirements. Your ERP was designed to be your single source of truth. Sana Commerce was designed to use it as such.
Real-Time
What good are even the most sophisticated information technology tools and processes if your information isn't current? Sana Commerce helps both you and your clients by retrieving the most essential data, such as pricing and inventory, in real time.
This means your clients always have access to the accurate, up-to-date information they need to make the best buying decision for their business, and you always have insight into the latest developments.
Single View of Customers
Once you start using multiple sales channels, it becomes even more important to centralize your information management — particularly when it comes to your clients. When they get in touch with your sales or support departments, your representatives need a complete overview of all client touchpoints and purchases to provide the best possible service.
Sana Commerce makes this possible. By keeping one master overview of all customer information, you can provide exceptional customer service, no matter the channel or department involved.
As an added bonus, it also lets your clients view their own account history via the web store — including orders they placed via other channels.
Flexibility
Your business is unique, even compared to companies in the same industry, or even the same niche — and your ERP setup reflects that. Sana's seamless integration with your ERP ensures that it follows your established business logic and data, making it the right fit for your business — even if your business changes.
This includes a shift in strategy from strictly B2B or B2C to something in between. Sana Commerce includes the features you need to meet professional buyer demands, along with the customer experience that consumers are accustomed to.
While Sana offers a long list of out-of-the-box functionalities, we understand that there's no such thing as a truly one-size-fits-all solution. That's why further customization is possible through optional add-ons for payment service providers, online marketing, and more.
Scalability
Your key technology investments have to work for your business both now and in the future. You selected an ERP system that can grow with your business, either in terms of sheer scale or diversification.
We strive to deliver the same level of scalability with Sana Commerce. We are dedicated to closely following the releases of new ERP versions, ensuring that your business doesn't need to keep running on outdated software for the sake of your web store. And, of course, so that you can capitalize on the opportunities afforded by the latest technological developments.
Moreover, it's easy to launch additional web stores to cater to new markets.
Conclusion
Microsoft's vision is to leave behind monolithic suites, disconnected data silos and custom logic. Instead, we should embrace modern, connected applications, along with common data models and connected data.
We agree wholeheartedly, and believe the same principle should extend beyond ERP systems and productivity tools to e-commerce software. With Sana Commerce, you have a web store solution that is based on the same vision that makes Microsoft Dynamics NAV such a transformational technology. Not only to help your sales operations keep up with the changing times, but to meet ever-changing client expectation — now and in the future.
Want to learn more? Watch our webinar with Sana E-Commerce entitled "Thriving in a Changing B2B Sales Landscape with Single-Stack E-Commerce".