Companies are scrambling to keep up.
If distribution centers are the heart of the foodservice industry, trucks are the arteries that deliver life-sustaining goods, from farm to food processor to warehouse to store. But the pandemic and a host of industry factors have clogged the system, causing backlog, cost increases, and a driver shortage. Foodservice distributors are starting to feel the pinch.
The American Trucking Association estimates that there was already a shortage of 61,000 truck drivers at the end of 2019, pre-pandemic. Then the pandemic closed driver schools, shutting down the supply of new talent. Fears of the virus caused some truckers to park their rigs for the early months of the pandemic.
As the economy recovers, consumer demand has come thundering back, and both foodservice warehouses and transportation companies are scrambling to keep up. Carriers say this is the tightest driver market in three decades, with jobs left unfilled. They're responding by hosting job fairs, sponsoring driving academies, and introducing pop-up schools.
The Wall Street Journal reports the squeeze began last summer as lockdowns eased and retailers rushed to restock depleted inventories. As vaccination rates increase and analysts expect shipping volumes to remain strong, there is increasing pressure on the limited number of drivers and trucks. Carriers are in hiring mode, boosting pay and bonuses as they compete with industries, such as construction, for labor. Some companies have reported that wages for recently certified drivers have jumped by 40% or more in recent months. That's driving costs for foodservice distributors.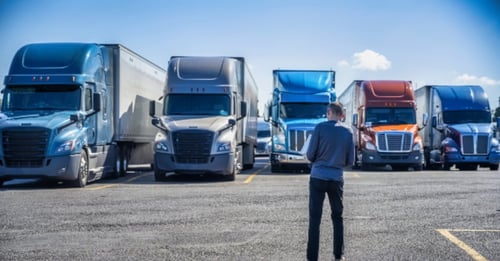 "Per-mile truckload costs rose 8.1% in February 2021 from the previous year, the biggest annual increase since October 2018, according to Cass Information Systems Inc., which handles freight payments for companies." – Wall Street Journal.
Competition is here to stay.
The article also points out additional factors for open driver positions. These include enhanced unemployment benefits, stimulus checks, and a new federal database that tracks drug or alcohol use by CDL holders.
Trucks are also in short supply, and trucking companies are rushing to expand capacity, tripling their orders for heavy-duty trucks in the first quarter of 2021. Add in the global semiconductor shortage, limiting new truck production, and you have continued pressure on the cost of transportation.
The more competitive landscape for drivers is likely here to stay. To offset those costs, foodservice distributors are looking for other ways to drive efficiency in their operations.