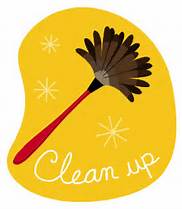 Does your company's NAV need spring cleaning? 10 easy things to look at first:
#1 – Evaluate reports
Take a look at the reports you have to determine if they are still used, relevant, comparable, and consistent. If not, find ways to make small changes gradually to tell a clearer story for your company.
#2 – Evaluate general ledger accounts
Keep working toward decreasing the size of the chart of accounts. Regular evaluation of whether accounts are still used, if dimension controls are effective, and a quick double check on how accounts connect to reporting is worth the effort.
#3 – Journal entries
Use recurring journals as often as possible for greater efficiency. Any time you do the same journal more than once is a good time to use recurring journals, especially if you need to reverse the journal.
#4 – Number series
Let NAV do the work as often as possible by using a default number series. Often times a manual number series is more work than you really need to do and using a default will speed up your process.
#5 – Reconciliation checkbox
Check to see if the reconciliation checkbox is checked on GL accounts. With this on, taking ten seconds to test before posting will help you avoid corrections later. No more backwards journal entries!
#6 – Customer and Vendor lists
Are your customer and vendor lists current and complete? Evaluate these records annually to decide if records need to be updated and be diligent about blocking inactive records.
#7 – Payment terms
When payment terms are correct in NAV, the regular payment run goes much more smoothly. Bypass the manual decision making and let NAV tell you what needs to be paid and when.
#8 – Evaluate processes
Take advantage of spring cleaning time to really look at your current processes to decide if they still make sense for how you do business today. Question everything especially if the answer is "we've always done it that way".
#9 – Make the role center your own
Go through your role center to simplify, simplify, simplify. Remove actions and reports you're not using. Rearrange screens to eliminate left to right scrolling. Take advantage of saved views to reduce repeated filtering.
#10 – Invest in training
Find out how learning more about NAV can save your company money. Create a plan at the beginning of the year, follow through, and document how that training paid off in savings.