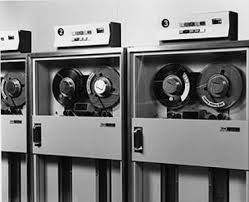 The importance of a quality backup cannot be stressed enough in today's information driven society. Each day thousands of documents, e-mails, files, pictures, and more can be deleted, edited, overwritten, and damaged, making the information they once contained inaccessible. This is where a quality backup system comes in. These damaged, changed, deleted, overwritten files can be restored if a quality backup system is in place.
File based backups to tape drives were the standard for many years but, what the computer did to the typewriter, the image based backups to drives and the cloud have done to file based backups to tape. An image based backup system allows you to capture not only the data files that are important but a complete image of the computer being backed up. From this image the entire computer can be restored or a single file pulled out of the backup and restored if needed. The image of the computer can also be virtualized if needed. This allows a computer with failed hardware to be started as a Virtual Computer on a different host or have the image restored to entirely new hardware using a hardware independent restore. This gives you the flexibility that you need to help preserve the data and systems that are critical to your business. Another advantage to an image based backup is the speed of recovery in the event of disaster. In a traditional file based backup, system data / system recovery often could take days or weeks as the operating system needed to be installed onto a server, then all the programs would need to be installed, followed by restoring the data. With an imaged based system, downtime can be reduced greatly depending on the backup design you are using.
Luckily, today there are many options out there for business customers to help protect themselves from data loss. The following is a list of some of the more prevalent backup strategies: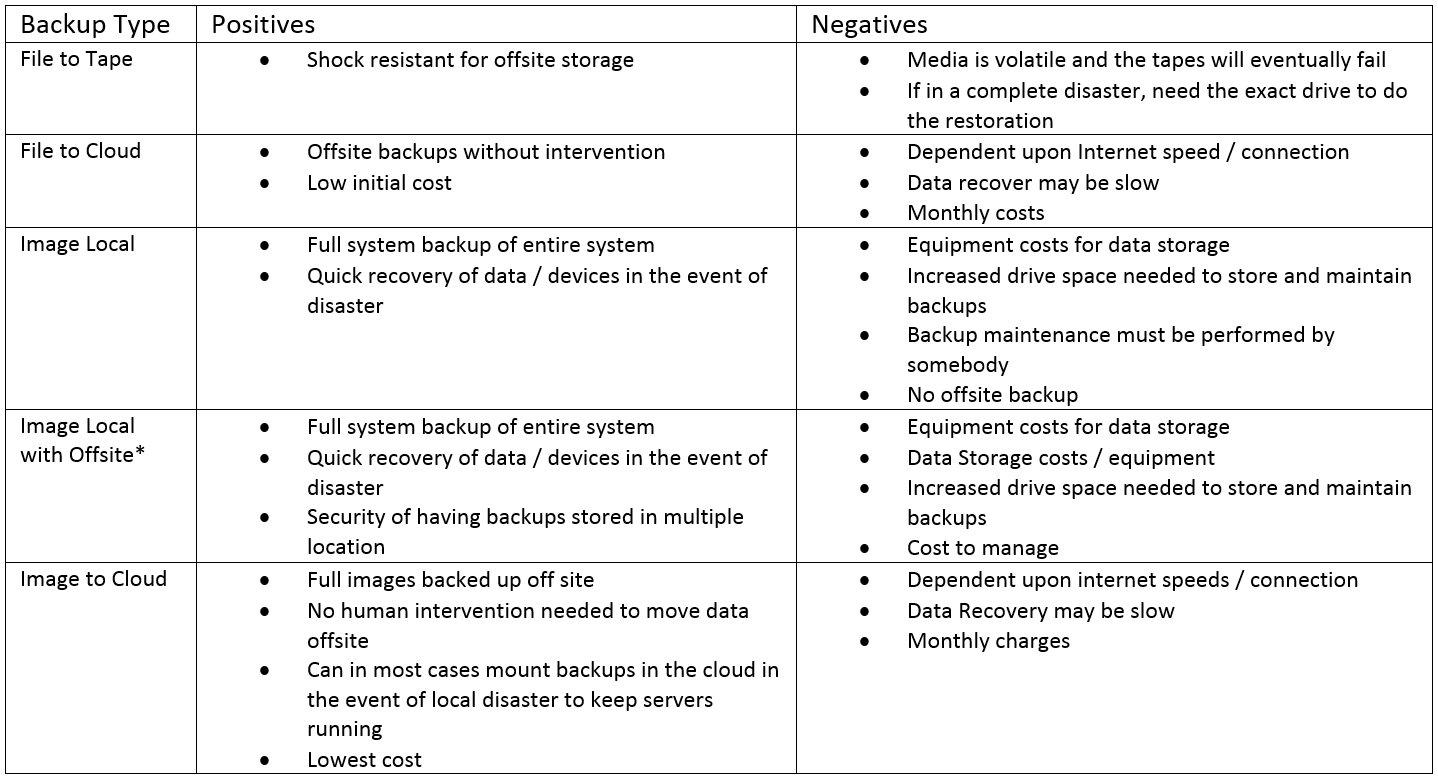 *Often known as a BDR – Backup Disaster Recover Device: an appliance used to replicate other devices or that can have backups spun up and run from the device in the event of device failures.
With the multitude of backup options and scenarios, finding a backup system that meets your needs may appear daunting. But with a little research and a good backup strategy that includes preparing for downtime, a company can find a backup system that will meet their needs. 93% of companies that lost their data center for more than 10 days due to disaster have filed for bankruptcy within one year of the disaster (from National Archives and Records Administration in Washington). With statistics like this, the one thing that becomes clear is that one backup is not enough for your business. It is vital that you employ multiple backups in your strategy in order to ensure that you have a system that will work without fail.
A final thought, which many organizations miss even after implementing a quality backup system, is to test and verify the backups on a regular basis. If you assume the backup is functioning properly and only check on its status when you need to recover data, it may be too late.