When selecting a solution to process credit cards, do you know what to look for? There are a few solutions that integrate with Dynamics NAV, but there are three key things that can help save your business money and keep your credit card data secure.
1. Direct Connection to the Payment Processor.
According to our research, all solutions that integrate with NAV, including Online Payment Services for Microsoft Dynamics NAV, use a gateway to connect to payment processors. By using a gateway, you are paying a fee to the gateway and a fee to the payment processor for every transaction. ChargeLogic Payments connects directly to payment processors, eliminating the need to use a gateway (although you can connect to a gateway using ChargeLogic Payments if you want to). Connecting directly to the payment processor can lower your transaction fees.
2. Downgrades.
ChargeLogic Payments has functionality that helps to minimize downgraded transactions, which cost you a higher rate than what you've negotiated with your payment processor. Transactions can be downgraded for multiple reasons: not performing address verification, not processing level 2 & 3 data, too much time between the initial authorization and charging the card, partial shipment due to backorders, etc. You run a high risk of downgraded transactions by using software that doesn't have features to avoid downgraded transactions, resulting in thousands of dollars a year in fees.
3. PCI-Validated.
The PCI Security Standards Council lists validated payment applications on their website. A validated payment application has been assessed by a Qualified Security Assessor to determine that the application meets the standards of the council. If you visit their website and click the Accept button, you can search all validated payment applications. Both Visa and MasterCard have mandated that merchants use applications from this list. ChargeLogic Payments has been validated by the Council and appears on this list. Note that we were unable to find another payment application for Dynamics NAV anywhere on the Council's list, including Online Payment Services for Microsoft Dynamics NAV. If you are using a credit card processing software for Microsoft Dynamics NAV that is not validated you may have difficulty in getting a merchant account from your bank or you may face challenges when undergoing a PCI audit. While using ChargeLogic Payments does not make a company PCI compliant, it does address several elements in a PCI audit.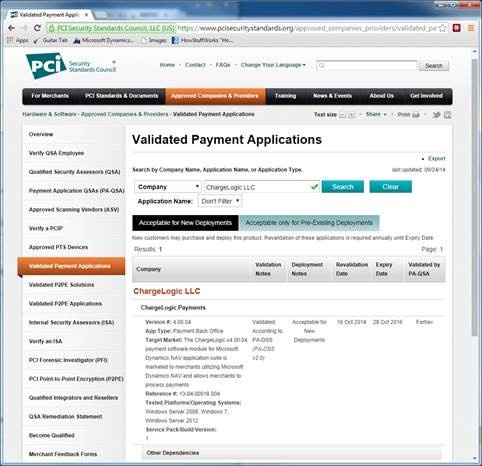 In 2013, we met a prospect at NAVUG Summit. The prospect didn't process a high volume of credit cards and felt that Microsoft Dynamics Online Payments would suit their needs. I met that prospect once again in 2014 at NAVUG Summit. They were never able to successfully implement Microsoft Dynamics Online Payments and are now implementing ChargeLogic Payments. We've taken over several failed Microsoft Dynamics Online implementations. Most ChargeLogic Payments customers see a return on their investment within twelve months of purchase.
Whether you are processing credit cards in the back office, on e-commerce sites, or in person, you want to make this process a secure and efficient part of your business. When selecting a payment application remember the three points above and it will help save your company money, automate processes, and secure cardholder data. Learn more about ChargeLogic Payments, by visiting their website